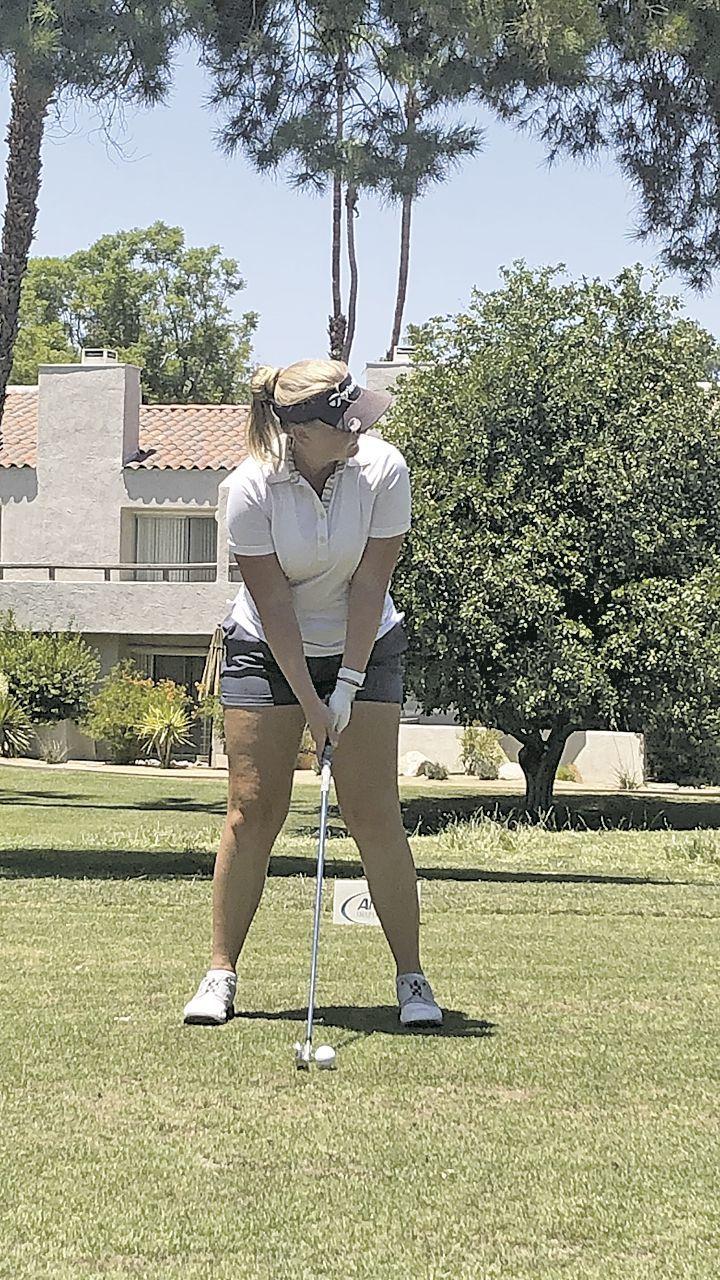 GOLF NOTES: University of Redlands among nation's elite … Three local prep squads each playing from a different spot … REV senior, Tayler Muchmore, favored to win third straight CBL title … Lady Wildcats gunning for fourth straight team title.
Tayler Muchmore shot 41. Kat McIntire, 50, Riley Anthony and Kara Townson, both at 54, and Kasey Reineman, 55.
Those were Redlands East Valley's scores on an unforgettable day when the Lady Wildcats' golfers scored a 254-254 deadlock against Yucaipa on the Lady Thunderbirds' home court along Chapman Heights, which is a far shorter trip for REV than to its own home course in Beaumont.
Cracking a tie in high school golf — nine holes, six players, lowest five scorecards — you go to the sixth players' card to finish it off.
That's the trouble. Jazmin Gonzales-Dabbs, who shot 59, matched Yucaipa's No. 6 player.
"In 13 years of coaching," said Lady Wildcats' coach Sam Patalano, "this has never happened. It's the weirdest thing I've ever seen."
REV is gunning for its fourth-straight Citrus Belt League championship, so that tie didn't help.
It's a virtual certainty that the next two REV-Yucaipa matches will break that tie.
Granted, there's a strong likelihood that scorecards were added up on multiple occasions.
"Several times," said Patalano, who probably sought some help from the math whizzes on his squad.
REDLANDS EAST VALLEY
Muchmore is two-time defending CBL champion. Patalano says, "she'll win her third (on Oct. 23, the date of the league finals) again this year."
Only once has REV dropped a match this season, a three-shot loss against Temecula Chaparral, a team the Lady Wildcats had knocked off at Redlands by 35 shots a few days earlier.
"I found out they changed their lineup," said Patalano, "that they held some of their best players back the day we beat them."
Plus this: At The Golf Club at Rancho California, Chaparral's home track, course workers were aerating greens, leaving automatic two-putts any time a player put a ball on the greens.
"His course, his rules," said Patalano, referring to Pumas' coach Rob Hernandez's dictates. "If I'm on my course, I'd want it that way, too."
Beyond that, it's been REV by 56 and 74 strokes over Beaumont High, a new-to-the-CBL rival beginning next fall, then by 66 over Citrus Valley, 54 and 80 over Cajon, plus a pair of narrow wins over Redlands, by 12 and 19 shots — 10-1-1 overall record.
Then there was that tie against Yucaipa.
There is a discrepancy on that.
At Friday night's football game at Redlands High, REV Athletic Director Rhonda Fouch countered Patalano's claim that he's "never having seen this before in 13 years of coaching."
"He told me," said Fouch, "that he's seen it one other time."
CITRUS VALLEY
It's Meredith Day's second season coaching the Lady Blackhawks' golfers and her mission is far different from her city competitors — Patalano at REV and her sister, Mackensey Farmer, at Redlands.
"I'm trying to get kids to play," she said. "We're a young team with little experience."
As evidence, figure that Clubs Fore Youth has provided a full set of clubs and a golf bag — at no cost, incidentally — to Elizabet Mendoza and Kaitlyn Rodriguez, a pair of juniors in their second season of playing golf.
School track star Sierra Hogan is playing her fourth season.
A quartet of newcomers — sophomore Chloe Bilbrew, freshmen Joleen Liu and Elysse Perkins are new — while junior softballer Layla Evans is also teeing up for the first time.
Citrus Valley's best player is sophomore Makayla Wilburn, another springtime softball player who made last season's CBL preliminaries.
"We've beaten Cajon twice," said Day, noting that P.E. graduation requirements stipulate that participation in sports can reduce students taking one less semester of P.E. It means students might be persuaded to play a sport, like golf for instance.
Lady Blackhawk golfers are rabid beginners.
On the practice tee, said Day, "they always want to bust out their driver."
Shoring up their short games, however, is what's needed most.
"Use your fairway woods (off the practice tee)," she might tell them, "and practice from 40 yards in … use your pitching wedge."
It's classic in golf.
Pure evidence: On a par 3 at Shandin Hills, Day described one player that reached the green with her tee shot, then 5-putted.
"I'm holding my breath," she said, "while I'm watching that. All I could say was 'take your time.' "
Arrowhead Golf Club in San Bernardino — just off the Waterman Ave. turnoff along the 210 — serves as Citrus Valley's home course.
"I tried to get into Redlands Country Club," said Day, "but they're already full. Their membership doesn't need another team over there."
REDLANDS
Mackensey Farmer, also on her second season coaching girls' golf, might've seemed a little miffed that her Lady Terriers' squad came up short against perennial CBL champion Redlands East Valley.
On Oct. 3, playing without their normal No. 1 player, senior Ansley Gray, Lady Terrier golfers like Emmy Dixon shot 49, with Amira Marshall carding a 52, Christina Brock at 53, with Calli Dixon's 57 and Holly Heringer's 61 rounding out the total in a 24-shot loss to REV at Oak Valley Golf Club in Beaumont.
"Oak Valley's a tough course," said Farmer, "but I think our girls can play better. They could've beaten REV that day. I think REV got into their heads a little."
For the record, Farmer noted that her top handful of players went over to Oak Valley to play on the previous weekend as preparation.
Gray is a former softball player "who picked up golf over the past two years quit softball," said Farmer.
Farmer made note of the fact that Gray was mostly learning the game in 2018. "This year, she's picking up more on strategy."
Jen Clausen, the school's onetime athletic director, is co-coaching the Lady Terriers, who had wins over Riverside schools Ramona and North, plus CBL wins over Cajon and Citrus Valley.
"We split it half and half," said Farmer.
WOMEN'S COLLEGE GOLF
Four matches into a now-completed fall schedule, nationally ranked No. 8 University of Redlands has won twice, taking second on two other occasions, perhaps in search of duplicating last spring's top 10 finish at nationals — or bettering it.
Mackenzie Kelly won with a round of 71, Hannah Jugar third place 74 while Annie Hay and Makayla Sugidono tied for fifth with rounds of 79. The real season begins on Feb. 3.