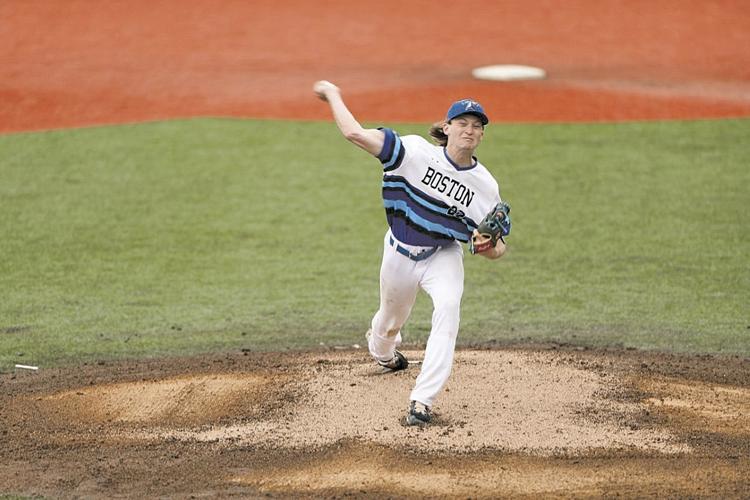 BOSTON — One way or another, Dylan Fashempour was going to find a college outside of California. To study. Play baseball. Maybe even work his way into a possible spot in the NCAA Division III College World Series.
"It's sunny and hot here," he said on May 23, one day before his University of Massachusetts-Boston team was set to host the Super Regionals — the winner heading to Cedar Rapids, Iowa, for the College World Series.
That sunny and hot weather was in direct contrast to 45-degree, rainy weather on his onetime high school campus, Redlands East Valley, on that very same May 23 date.
"I've never experienced a real winter before," he said, noting the true statistics of that region is winter temperatures ranging between 10 and 20 degrees.
By May, he was completing his frosh season as a collegiate pitcher (8-2 record, 2.78 ERA), finding himself in a solid mix of a strong Beacons' pitching staff.
"My biggest fear coming here was probably the weather," said Fashempour, a 6-foot, 4-inch, 210-pounder who formed a solid 1-2 pitching punch at REV in 2018 with Cameron Kundig, who recently completed his college frosh season at the University of Redlands.
"Pitching in the cold was like swimming. You jump in at the deep end and just go for it."
At REV the previous spring, Fashempour was 9-2 in 13 games with a 1.81 earned run average. Those numbers, REV's reputation, plus throwing in the mid-80 mph range might've opened up a lot of college opportunities.
Here were his finalists: Lesley College, which is near Harvard, Stevens Institute of Hoboken, N.J., across the Hudson River from New York City, plus Washington & Jefferson (Pa.).
Lesley finished 12-25.
Stevens went 18-21.
Wash & Jeff (35-11) also reached the Super Regionals. (Note: UMass beat this team, 10-1, in a Florida pre-season tournament.)
Then there was UMass-Boston, a campus that seemed to fit his threshold. Onetime REV coach James Cordes, who coached at UMass, had a hand in that fit.
"I wanted to see what it would be like to live in Boston," Fashempour said. "They were in the top 10 (ranked teams) in the country."
When he took the mound in a Fall ball game last October, he used, maybe, a dozen pitches to strike out the side against Babson College, a team that also made it to the May 24-25 Super Regionals. That might have gotten him on the Beacons' radar.
It was the same fall in which the Boston Red Sox — his favorite team since age 7 — turned the table on the Los Angeles Dodgers, nabbing their third World Series title since 2004.
"I wasn't expecting to play at all this season," said Fashempour. "At the most, I thought I'd be a reliever."
That inning against Babson, though, might've been the start. Eventually, Beacons' head coach Brendan Eygabroat huddled up with him after fall ball, telling him he'd have a role.
Throw this in: Pitching coach Dan Gambril taught him to throw a slider, which has since become Fashempour's No. 1 pitch.
Mixed in with his 88-mph fastball, plus a change-up, Fashempour had shelved his curveball for the time being, replacing it with that slider.
Pitching carried the Beacons. Senior Fernando Burgos (8-0, 3.04), sophomore Tylor Arruda (7-2, 2.86), plus Fashempour topped a cast of hurlers that put UMass-Boston in position to surge into the College World Series.
"The talk around here is," said Fashempour, "is that the Beacons don't really get rolling until late April. I've heard stories about a 19-game winning streak. Another time: 18-1. We just finally settled in."
That cold weather started heating up. After an 8-day trip to Florida in March, UMass-Boston also started heating up.
UMass-Boston played to an 11-9 start, then won 22 out of 24.
His first win came against Roger Williams University — seven innings, two hits, 10 strikeouts.
Fashempour really contributed when he beat Southern Maine, ranked No. 3 nationally in his 3-0, three-hit performance (6 innings) on April 9. A month later, on May 11, he threw 6 ⅔ innings in a 2-0 win when SMU was ranked No. 2.
The Super Regionals, though, were super exciting. Against New England College, Fashempour delivered five strong innings in a decisive game three victory that propelled the Beacons into the College World Series in Iowa.
Next start was a game against Chapman University of Orange County, coached by onetime University of Redlands' Scott Laverty — a 10-6 UMass win, courtesy of Fashempour in a 5-inning stint. Chapman went on to beat UMass in the semifinals en route to the Panthers' second national title.
For Fashempour, it might have been a nice way to settle onto a team so far away from home.
"I'm able to get home," he said, "about as often from (UMass) as I would from any other school I'd have gone to."