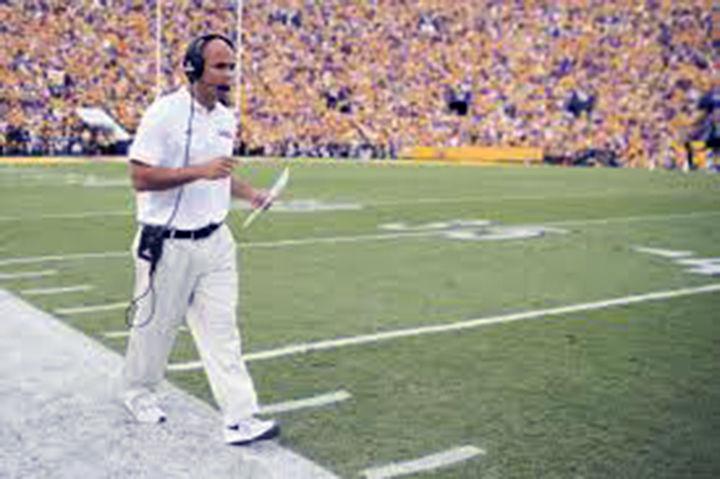 There are several voices at various times going into the headset of LSU defensive coordinator Dave Aranda, the onetime Redlands High football player whose coaching career started over two decades ago on the Terriers' freshmen team.
In the Tigers' 63-28 Peach Bowl win over Oklahoma last weekend, those voices were squarely fixed on Sooners' QB Jalen Hurts.
"Oklahoma," said Aranda, two days after the game, "is a big counter running team. They've re-introduced counter football to the game. The numbers are advantageous to them.
"That's what all the talk was for the entire game — stopping their counter."
Strong pressure on Hurts, plus blanket coverage in the secondary … that's where all the voices were focused.
"It's the entire defensive staff," said Aranda, noting the headset chat.
LSU came out quickly, rushing Hurts and forcing a quick punt that put the No.1-ranked Tigers in position to take a quick 7-0 lead.
Aranda and his defensive staff had to game plan for a game that included Heisman Trophy runner-up, Hurts who, if not for LSU's Joe Burrow, would have won the coveted award.
"Hurts is a great player," said Aranda, who had to scheme against him during his Alabama days.
Aranda has helped game-plan the Tigers into the Jan. 13 national championship game against defending champion Clemson, led by another sharp-shooting QB, Trevor Lawrence.
Scheming against great players is old hat to Aranda.
Throughout the season, Aranda's defensive schemes have had to account for the likes of Alabama's Tua Tagovailoa or Georgia's Jake Fromm, or past Heisman winners like Derrick Henry and Lamar Jackson, plus receivers like Odell Beckham and Amari Cooper, not to mention likely NFL Hall of Famer Adrian Peterson.
"All those guys you talk about," said Aranda, "take the game up a notch. Sometimes you have to throw out the X's and O's focus more on the mentality of a game."
The veteran coach, whose Redlands playing days included injury-plagued seasons in a Terrier uniform, has turned a career of moving from one collegiate team to another — Utah State, Houston, Hawaii, Southern Utah, Wisconsin, not to mention Cal Lutheran.
He's found a home in Baton Rouge.
It looks as if the Jan. 13 game might be a highlight in Aranda's career. He shrugs off those "bright lights."
"It doesn't matter if you're at Cal Lutheran playing against the University of Redlands," said Aranda, "or if we're coaching at Hawaii and we're playing Fresno State.
"You don't see the big lights. It doesn't really hit you."
It's during hotel stays that could bog it all down.
Said Aranda: "Before the (Peach Bowl game against Oklahoma), we're at this huge Marriott Hotel, beautiful place. (Because of the game), it's packed with people. The elevators are a problem. It takes 10 minutes to go down two floors."
Aranda was, in fact, trying to get to a staff meeting. Somehow it all worked out.
Overwhelmed by a brilliant performance by the sensational Burrow, LSU's defense made it an even more secure victory.
Led by Jim Thorpe Award winner, safety Grant Delpit, Aranda's defensive game plan might have turned the win into a season-best effort.
"That's hard to say."
LSU standout cornerbacks Derek Stingley Jr. and Kristian Fulton, along with Delpit, covered the back end.
Gary Vincent's fourth interception, LSU already leading by three TDs, of Hurts early in the second quarter put the Tigers in position to take early control.
Limiting Oklahoma to 322 yards in the semifinal — a team averaging 567 yards — Aranda's defensive game plan was executed brilliantly in shutting down one of the nation's top offensive teams.
"Now," he said, "it's on to the next guy." That "guy" is Lawrence, Clemson's All-American quarterback.