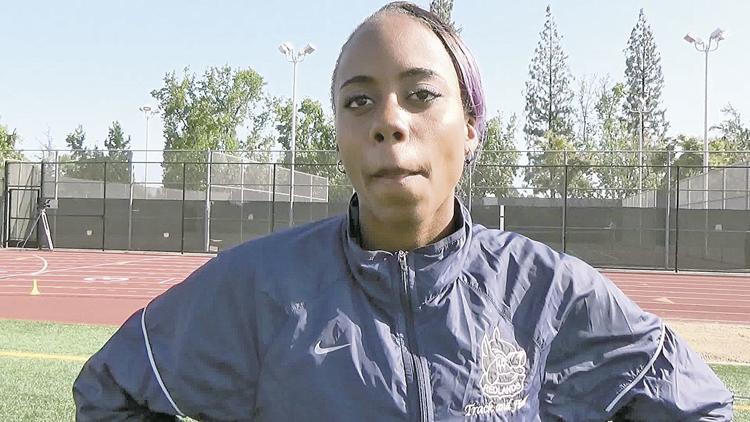 DES MOINES, Iowa — Juanita Webster of Redlands, now known as Juanita Webster-Freeman, was unable to keep pace with phenomenal high jumping whiz Vashti Cunningham at last weekend's U.S. Track & Field championships.
Cunningham, who is the daughter of retired NFL All-Pro quarterback Randall Cunningham, won her third straight national championship after clearing 1.96 meters — 6-foot, 5-inches.
Webster-Freeman, who was an integral part of back-to-back CIF Division 2 girls track championships at Redlands High in 2014 and 2015, cleared 5-10 (1.78 meters), tied for 11th place.
She made three attempts at six feet after clearing 5-10 on her second attempt.
Cunningham is ranked third-best high jumper in the world this year.
Webster-Freeman, who turned professional last year, is a two-time state heptathlon champion at Cerritos College (2016, 2017).
She was hoping to qualify for the heptathlon at this year's national finals, but just missed being in the top 16.
At Drake Stadium, site of this year's USATF championships, Cunningham was locked in a duel with Inika McPherson.
The two jumpers kept matching each other's height until McPherson missed on all three attempts at 6-5.
Cunningham, who has been a national phenomenon since her high school days in Las Vegas, cleared on all her first attempts at 6-feet, 6-1¼, 6-2¼, 6-3½ and 6-4¼ before hitting on her winning jump at 6-5.
She took one failed attempt at 6-7, but her victory was already sealed.
As for the heptathlon, winner Kendall Williams of Nike won the seven-event competition with a 5,799-point total ahead of Nike teammate Erika Bougard's 5,733 points.
Webster-Freeman, whose Santa Barbara Track Club teammate Hope Bender qualified for nationals (12th place, 4,924 points), has a lifetime best heptathlon score of 5,786 points, which took place at this year's Brian Clay Multi-duals at Azusa-Pacific University in April.