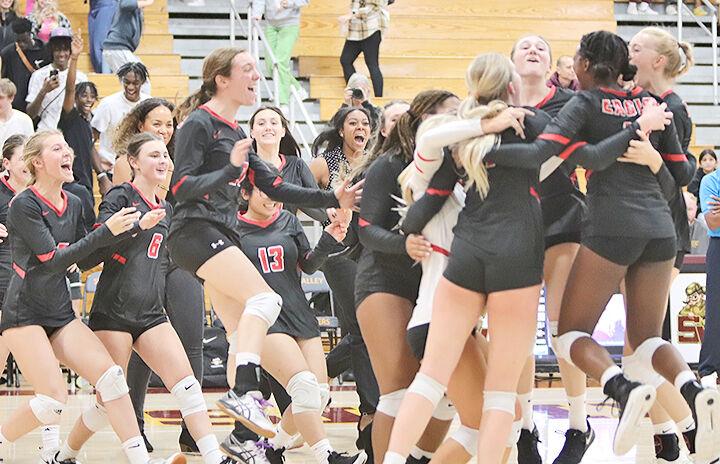 SIMI VALLEY — The celebration was on for the Arrowhead Christian Academy girls' volleyball team when Simi Valley's last serve landed beyond the end line.
The Eagles danced to midcourt. They hugged and yelled. Later they admired their first-place plaque, accepted their championship T-shirts and patches, and smiled for team photos.
It was a glorious time for the Eagles whose 28-26, 26-24, 25-16 victory against Simi Valley secured the first girls' volleyball title in school history. The section title was also only the second in history for any ACA girls' team.
"It feels amazing," ACA senior Kayla Goodwin said. "We're the first team from our school to win. It's a really surreal moment. It's really cool that I get to be part of the team that won."
Said senior Makenzie Gray, "It feels really good. It's the first time I've done this with ACA. We're all so close. These girls are like my sisters and I think that's what helps us. We do a bunch of team bonding all the time and we hang out at school. We're very close-knit."
ACA, as recently as 2018, went 0-14 in league and 0-21 overall. But coach Brittney Amey, a former St. Mary's of Albany and University of California, Riverside player who was in her third year as coach, brought a change.
"It feels amazing – absolutely amazing," Amey said. "These girls worked their (rears) off all season. There's been so much growth. We're excited."
No. 1-seeded Simi Valley (18-8) was just the latest dragon ACA slayed. To get to the finals, the Eagles also upset No. 3 seed Riverside Poly and No. 2 Rancho Christian.
"It feels so good," said ACA junior Sydnee Mouw, who was a tower of strength in the middle. "I spent so much time with this team throughout the season. We've all gotten very close and gotten to know how we play together."
Simi Valley led the first set 20-16 but ACA climbed into a 20-20 tie on a kill by junior outside hitter Tyler Wilson.
The Eagles finally closed out the victory with kills by Mouw and Wilson.
The Eagles were tied with the Pioneers 24-24 in the second set until a bad serve by Simi Valley gave ACA the lead. The Eagles then closed it out with a Goodwin kill and a stuff block by Bethany Wilkes.
By this point in the match all of the fans had arrived and the bleachers on both sides of the gymnasium were pulled out.
"I think after the first set we all kind of calmed down and realized that if we kept pushing we could do it," Goodwin said. "There were a lot of people here and there were cheerleaders and it was really loud. Then our fans showed up kind of late and it was kind of crazy."
The Eagles hit their stride in the third set, seizing a 22-15 lead.
"A-C-A, A-C-A," Arrowhead Christian students chanted.
A Mouw kill put the Eagles two points from victory. Then a Goodwin ace and a bad serve by Simi Valley ended it.
Arrowhead Christian (22-6) had made history.
Taylor Wilson led ACA with 13 kills to go along with four aces. Mouw recorded eight kills.
"We communicated really well," Mouw said. "I think that was as well as we can play. Our last set was really the best. We really pulled through."
The Eagles' season is not finished. They are in the CIF-State Division 3 playoffs. ACA was scheduled to play its first game on Tuesday, Nov. 8 at Venice.