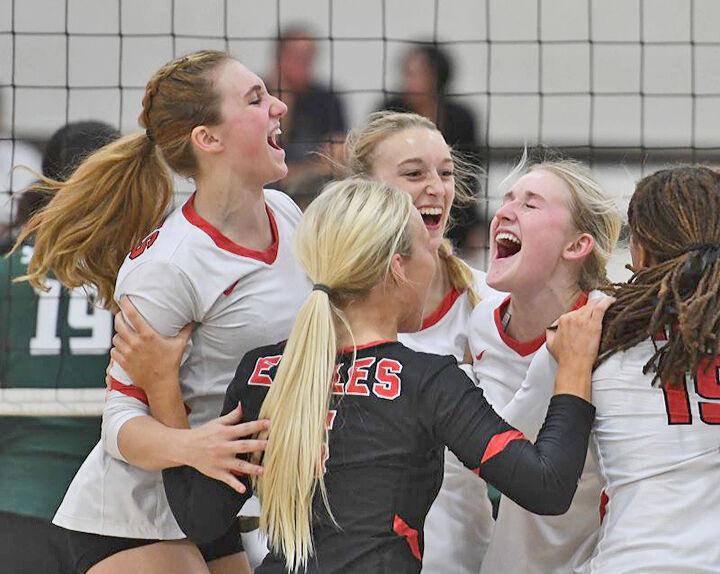 The Arrowhead Christian Academy girls' volleyball team is on the cusp of making history.
The Eagles last week defeated two teams seeded above them in the CIF-Southern Section Division 6 tournament. On Saturday, Nov. 6, at a yet-to-be announced time and site, they will play top-seeded Simi Valley for the section title.
It is the first time ACA has reached a section final since 2006 when David Han was the coach.
The Eagles went 0-18 as recently as 2018.
The Eagles upset No. 2 seed Rancho Christian 3-0 on Saturday, Oct. 29, in the semifinals. The scores were 25-23, 25-22, 25-23.
Setter Morgan Wilson, Taylor Wilson (older sister of Morgan), Sydnee Mouw, Sophie Allison, Kayla Goodwin, and Bethany Wilkes led the way.
Against No. 2-seeded Riverside Poly in a 3-1 victory on Wednesday, Oct. 26, ACA lost the first set by seven points but turned things around in the second set.
The scores were 18-25, 25-21, 25-18, 25-23.
"Keeping our energy up and being confident was important for us," Goodwin said. "We've had some problems where we've been up and down, so keeping our energy up was important."
Said coach Brittney Amey, a former UC Riverside player, "We did a lot of work in practice. We worked on location with our attacking and serving and passing. We also worked on our communication, and that paid off."
Following an error-filled opening set, the Eagles settled in. The second set was tied 21-21 before ACA scored the final four points to even the match 1-1.
Taylor Wilson (19 kills overall) dominated in the third set, pounding six kills to stake the Eagles to a 24-18 lead. ACA won it and went up 2-1 on a Riverside Poly error.
ACA led early in the fourth set, but Riverside Poly scrambled to tie at 22-22. From there a Makenzie Gray ace, a block by Mouw and Goodwin and a Goodwin kill closed it out.
The Eagles celebrated at midcourt as the fans descended upon them.
Amey thinks the large crowd hindered the Eagles at first until they got used to it.
"I think in the first set that we had a lot of jitters," Amey said. "It was a big game and a big crowd. I think the girls were a little freaked out. But we settled into the game in the second set."
Besides Taylor Wilson, Mouw and Goodwin had eight kills each to help pace the Eagles.