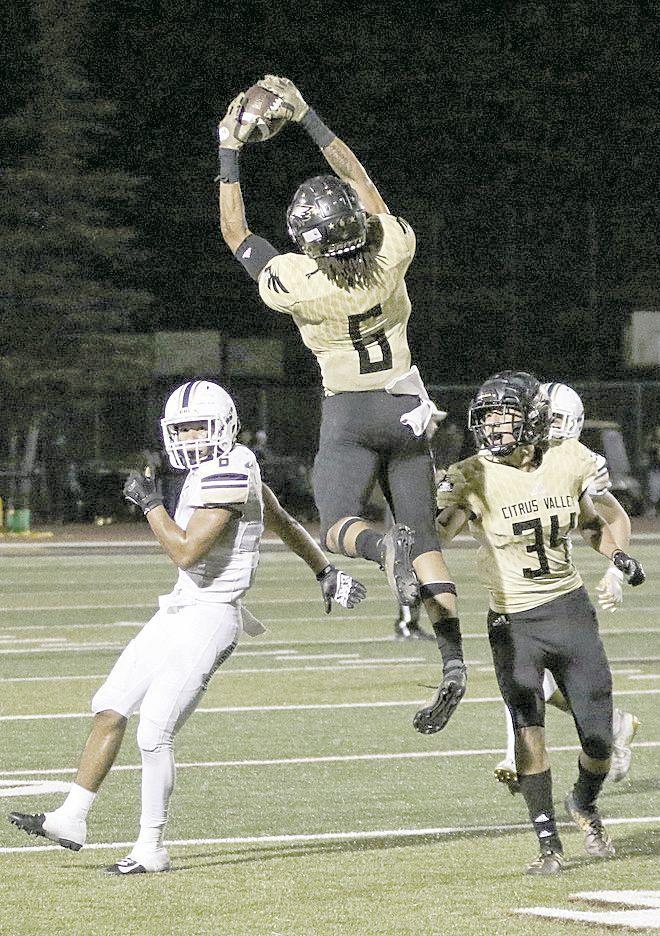 END ZONE NOTES: Citrus Valley might have the jump on Redlands, REV … Unbeaten Bulldogs up against Chapman … Aranda-Anderson connection in LSU-Utah State showdown … Maynard has a 200-win equal at Redlands.
Feeling Blue.
Seeing Red.
Citrus Valley High School's sea of gold and black should rule this year's citywide football showdowns, no doubt.
Redlands High's offensive line was exposed to Redlands East Valley's pass rush, leaving Terrier QB Trent Young scrambling, but he still managed to scorch a youthful Wildcats' secondary.
At times, REV QB Jeramiah Donahue had plenty of time to throw against the Terriers' pass rush. Wildcats' receivers couldn't pull in the ball.
Prediction: Citrus Valley should roll over REV Red and Terrier Blue.
Citrus Valley, an easy winner over Yucaipa last week, might only have a tough test against perennial Citrus Belt League champion Cajon on Oct. 25 in San Bernardino.
Blackhawk junior QB Dylan Wheatley's season TD pass count is growing.
• A 58-yarder to Ty'jhon Belton.
• Sergio Cervantes caught a 35-yarder and, later, a 60-yarder.
• A 6-yarder to Jordan Scott, followed by a 35-yard TD strike.
• Jordan Burnett made made it 55-0 off a 6-yard hit from Wheatley, totalling six total TD, bringing his six-game season total to a staggering 30.
Final score: Citrus Valley 56, Yucaipa 7.
Citrus Valley plays Redlands on Friday.
The Blackhawks take on REV Nov. 1.
* * *
On the surface of last week's Utah State at LSU game, it seems like just another beat down for the 4th-ranked Tigers. Little was made of the coaching matchup taking place in Baton Rouge.
LSU defensive coordinator Dave Aranda, a Redlands High product, is a former assistant at Utah State. He coached there with none other than Gary Andersen. The two then departed for the Univ. Wisconsin. Eventually, Andersen left for Oregon State while Aranda dropped down to LSU.
Andersen returned to Logan, Utah, prior to this season, so it was the former head coach going up against his former defensive coordinator. Aranda's Tigers held the Aggies to just six points in a 42-6 victory.
* * *
Turns out the same time frame as longtime Bulldog coach Mike Maynard (32nd season) notched his 200th career win along Redlands' sideline, the school's 14-year soccer coach Ralph Perez also notched No. 200 for the men's side.
LAST WEEK
Prep results
Citrus Valley 56, Yucaipa 7 — Lost, perhaps, in the Blackhawks' appearance in Yucaipa was an interception by Jordan Scott, another by Adonis Melton, placekicker Colby Grames' 8-for-8 on PATs, plus a QB sack and a recovered fumble.
Temecula Linfield Christian 75, Arrowhead Christian 0 — No one should be surprised that a powerhouse Ambassador League team like the Lions, currently ranked No. 1 in CIF Division 6, would dominate the Eagles.
Redlands 20, Redlands East Valley 17, OT — Throw out the sea of flags, or the handful of big plays called back by penalty. This was a showdown game with all the basics — blocking, tackling, pass rushing, receiving and running all on display. RB Daylan Acevedo's 76 yards was tops for REV, but some serious mistakes took place in trying to keep the smudge pot trophy in the Wildcats' collection.
College games
Univ. Redlands 38, Pomona Pitzer 17— The Sagehens were pesky, creative and upset-minded against the 18th-ranked Bulldogs, but couldn't hang against a larger roster that stuck to a ball-control attack. Interceptions from Vincent Vanhorn and Chad Virgil led to a pair of Bulldog TDs, having picked off Sagehen QB Karter Oderman three times in his 25-of-48, 256-yard effort. Redlands QB Nathan Martinez's 320 yards included four TD passes, two going to Blake Roy. Mason Carvelho and Kai Thompson combined for 163 yards rushing.