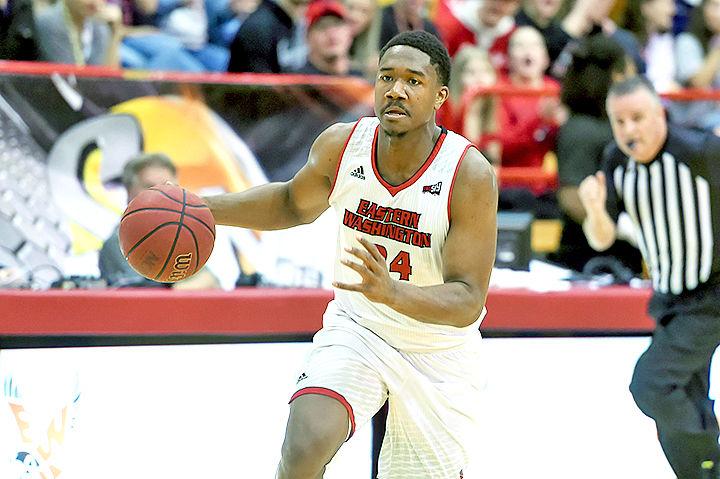 COLLEGE BASKETBALL: Former REV star took issue with post-season honors … Numbers favored the ex-Wildcat in battle with NorCol guard … No chance to prove himself after shutdown.
Kim Aiken Jr., who just completed his redshirt sophomore season at Eastern Washington University, might have pulled off his team's Best Defender award honors amid a season halted unexpectedly by a worldwide pandemic.
A lot was lost in the interruption, killing off Aiken's — and his EWU team's — dreams of playing in this year's NCAA Men's Basketball Tournament.
Mason Peatling was the team MVP. He, Aiken and Jacob Davison won co-captain's honors off a 23-8 season that included a 16-4 finish in the Big Sky Conference, where Peatling was also MVP.
Lurking beneath those All-Big Sky Conference honors was a little disenchantment with the selections.
Aiken, who takes complete pride in his defense, felt there was a mistake in the outcome.
When the conference's Big Sky Conference post-season honors were dispersed, Aiken was a third-team pick out of an 11-team conference brimming with talent.
He was gunning for the Big Sky Conference Defensive Player of the Year award.
"They gave it to a guy from Northern Colorado," said Aiken.
It was Jonah Radebaugh, a first-team all-conference pick who also won the Best Defensive honors the previous two seasons.
You could both hear, and feel, the edge in Aiken's voice. He disagreed with the selection.
"If he had to guard me," said Aiken, a multiple All-CIF pick at Redlands East Valley High School during his prep career, "it would've been too hard.
"If I'd have guarded him, I don't think he would've had a good game."
Aiken is a 6-foot-7 forward with a defensive mentality alongside his 15.8 scoring and 9.8 rebounding skills.
There were a couple of head-to-head matchups.
• At Cheney, Washington in EWU's 89-83 overtime win over the Bears back on Jan. 27, Aiken had a hand in limiting Radebaugh's 7-of-20 shooting effort (17 points, 11 rebounds, 9 assists, 2 turnovers). By contrast, Aiken had 23 points, eight rebounds and three blocks, no turnovers.
• There was a rematch in Greeley, Colorado. Aiken's defensive hand was part of Radebaugh's 8-of-24 shooting (four turnovers) while he turned in 12 rebounds, seven points and a steal), helping hands in a 68-64 win over second place NCU.
If that's not enough evidence in the Big Sky's Best Defensive players honors, nothing will change the outcome.
"I couldn't wait to show the coaches at the Big Sky Conference tournament that they made a mistake," said Aiken.
The ultimately canceled Big Sky Conference Tournament was a chance for Aiken to prove himself.
"I wanted to prove they picked the wrong guy," said Aiken.
It's a sore spot, no question. Radebaugh, for openers, might have claimed that honor by way of two previous selections. It almost seemed like Big Sky selectors were trying to showcase Radebaugh rather than properly rate other possible candidates, such as Aiken.
It may well prove out that Aiken has a jump start on next season's Big Sky Conference top defender award — if there's a season.