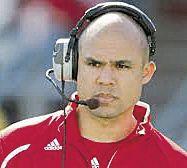 NCAA FOOTBALL CHAMPIONSHIP: Ex-Terrier recalled his early coaching roots … Heisman winner Joe Burrow was a catalyst in prepping for the likes of Tagovailoa, Fromm, Hurts & Lawrence … Early article on Burrow had Aranda raving about Tigers' QB.
There are playbooks and notes spread out all around the Baton Rouge office of LSU assistant head coach Dave Aranda.
He seemed to be inferring the place was a mess.
"I wonder what the point of all this might be," said the Redlands High product from the mid-1990s, capping his fourth season as the Tigers' defensive coordinator.
"All these notes, these playbooks … what does it all mean?"
Somehow, he seemed to be saying, "There's an answer to the game plan in all this."
Aranda will lead LSU's ever-improving defense into Monday night's NCAA Division I football championship against defending champion Clemson University. Both sides are undefeated.
In a pre-season newspaper article in August, Aranda was quoted extensively on Tigers' QB Joe Burrow. It was published by the New Orleans Times-Picayune.
It was curious that the Picayune would seek out the team's top defensive coach for comments on the team's best offensive player.
"I don't have any memory of that conversation … or story," he said, before launching into an all-out tribute on a player that would eventually be named 2019 Heisman Trophy winner.
What followed was typical coach-speak about a favorite player.
"His dad is a coach … I've known him for a long time … Joe's attributes are that he works so hard … how it came together this season … he's an intellectual … great anticipation … he hates losing."
Most coaches, whether they've got John Elway or Earl Campbell or Deion Sanders on their rosters, dole out similar praise. It's classic football talking-up of a great player.
Except, here's the rub: At practice, Burrow's All-American, Heisman Trophy-playing skill played favorably into Aranda's game-planning.
Was it helpful to have Burrow going up against Aranda's high-flying defense during LSU practices?
"Oh yeah," said Aranda.
He described the team's first scrimmage last summer as pretty standard.
By the second scrimmage, Burrow's hot-shot passing and running had Aranda's defense scrambling. "We've capitalized on Joe's skills, everything he's done. All that work paid off for us."
If that wasn't harrowing enough plotting out a game plan against the likes of Alabama's Tua Tagovailoa or Georgia's Jake Fromm or slowing down Auburn's Bo Nix or Florida's Kyle Trask -- all top-flight QBs from highly-ranked teams.
By the time LSU took the field against them, Burrow's practice skills pushed Aranda's defenses into a higher level of play.
"Joe can pass the ball better than anyone in the country," said Aranda, "and he can run as well as any (quarterback)."
Aranda recalls his early coaching start, then with Redlands High's frosh team under head coach Jim Walker and defensive coordinator Miguel Olmedo.
"I wasn't in the scheming part of the team," said Aranda, who was a teenage coaching assistant, "but a lot of what I picked up there was how to work.
"I knew how hard Coach Olmedo worked.
"I knew how hard Coach Walker worked.
"As a young coach, when you see the other side of it as a coach instead of as a player, you stay connected."
From Redlands, it was on to Cal Lutheran-Thousands Oaks, Texas Tech and a coaching odyssey that left him in Baton Rouge.
That pre-season Picayune article on Burrow, via Aranda, was about how hard work had paid off.
Shades of that Picayune article, perhaps. Old playbooks and past notes on practices and games are nothing when stacked up in getting ready for a big game … by a big-game quarterback.
"That's where you get the positive use of a player."