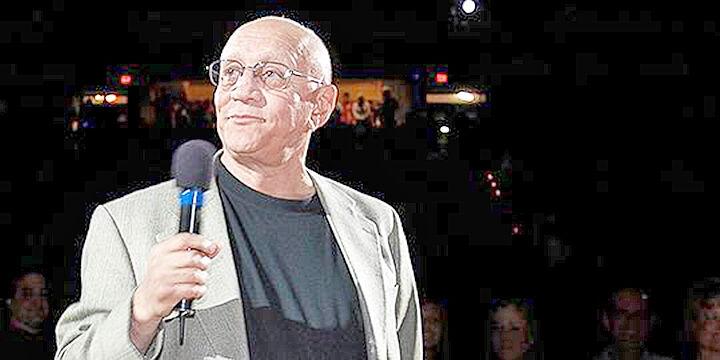 John Wooden and Pete Newell, two legendary college basketball coaches, were right in the middle of Redlands High's Danny Wolthers college career.
Recruiting him. Stanford's Howie Dalmar was also intrigued with the Terriers' shooting star.
It's a curious question six decades later.
Isn't it also curious that Jerry Tarkanian, another coaching great, was sort of an intermediary?
Wolthers, who at age 78, still has vivid memories of his Redlands days. There might have been some hopes of a pro basketball career.
Basketball. There was a choice Wolthers had to make: Wooden's UCLA or Newell's Cal-Berkeley. Drafted by the San Francisco Warriors. A medical sales career. Marriage. Two kids, both daughters. Divorce. A couple of step-daughters.
"Probably most folks don't know Jerry taught a math class at Redlands," said Wolthers. "Tried to bring a wet towel into the classroom. Did not work out. Tark and I were real close. He shared loudly one time how he named his son after me."
As for the wet towel, consider that any lasting image of Tarkanian — particularly during his Nevada-Las Vegas coaching days — usually included the man chewing on a wet towel during games. That habit started when he coached at Redlands.
WOLTHERS FIRST TO LOCAL HALL
Wolthers, a 6-foot-4-inch shooter, was the first-ever basketball player inducted into the Terrier Hall of Fame — Class of 2003. At last count, there are 17
Terrier basketballers in the Hall, none of them Jon Hansen or Marcus Rogers or Willie Wilson or Tristan Kirk — guys that led Redlands to playoff prominence.
Wolthers' first glimpse of his future high school coach, Tarkanian, was at the 1958 San Bernardino Kiwanis Tournament. Redlands, then coached by Ted Ducey, was playing Antelope Valley.
"Those high desert kids," said Wolthers, "were playing like they (were) on fire. Then we quickly noticed the coach."
A young whipper-snapper, said Wolthers. Looking grumpy. Pacing.
"I remember thinking that he looks like a boxer — a welterweight, even though I still have no clue what a welterweight is."
It was none other than Tarkanian, who would move on to coach at Redlands the following season. Ducey left to pursue a coaching career at Claremont College.
Over the next two seasons — Wolthers' junior and senior years — an eventual Naismith Hall of Fame coach would set up a Terrier for a possible basketball future.
September 1959, first day of school. Last period. PE. "I met Jerry.
"Now I was familiar with his unique looks, some of his mannerisms. But now I am acquainted with his personality. And then the voice. Jerry was cool."
Said Wolthers: "I contend that Jerry's best two years of coaching was his two years at Redlands."
What's that? Five state JUCO championships at Riverside and Pasadena city colleges. A 122-20 record over five brilliant seasons at Long Beach State? Over 18 years at Nevada-Las Vegas — 509 wins, four trips to the Final Four and a 1991 NCAA title?
And his best coaching came at Redlands?
Six decades after back-to-back Redlands seasons that netted a mediocre 32 wins (and just one playoff triumph), Wolthers could shed plenty of ammunition on his statement. Like this one:
"A number of our players were tennis players, golfers or baseball guys. Jim Weatherwax was a football guy who played for the Green Bay Packers."
Training athletes from other sports to be basketball players was a real challenge.
Wolthers was himself a fully dedicated hoopster.
Wolthers recalled Wooden's visit to Redlands to snag him for UCLA.
"I remember him sitting up on top of a desk in the crowded PE office, his back against the glass, holding court with Tark and other PE coaches."
PICKING CAL OVER UCLA
Instead of UCLA and Wooden, Wolthers took that era's more glamorous offer — UC Berkeley Golden Bears and their coach, Newell.  
Cal was NCAA champion in 1959, beating Jerry West-led West Virginia. A year later, an Ohio State team with Jerry Lucas, John Havlicek and Bobby Knight beat Cal in the finals.
Wolthers seemed to be heading straight for the collegiate spotlight. Tarkanian, he said, did not influence his choice. Counting all three men, that's 1,710 college coaching triumphs and dozens of Final Four appearances.
"I met with Wooden three times," said Wolthers, "none from Sam Gilbert."
By 1963, UCLA, under Wooden and underwritten by the now-accepted support (illegal by all NCAA rules) of Gilbert who "took care" of Bruin players, Wolthers might've been an integral part of the Bruins' initial success.
Instead, Newell retired from coaching. "I guess he saw the cupboard was bare," said Wolthers.
Wooden's program, meanwhile, took off — 10 NCAA titles over a dozen years — and Wolthers was stuck on a lackluster Bears' team over his three-year Cal career.
Cal sank to 32-39 under Newell's successor, Rene Herrerias, between 1962-65, Wolthers' three varsity seasons.
"Arizona and Arizona State were the only schools that offered me money," said Wolthers, who initially accepted Stanford's Dalmar's invitation to play for the Indians (later changed to the Cardinals).
Once Wolthers visited Berkeley — "Telegraph Avenue and all" — he was inspired to play for the Golden Bears.
Roger Chaney, one of those 17 Terrier basketball Hall of Famers, "talked about how if I went to Cal, I would be a small fish in a large pond," said Chaney.