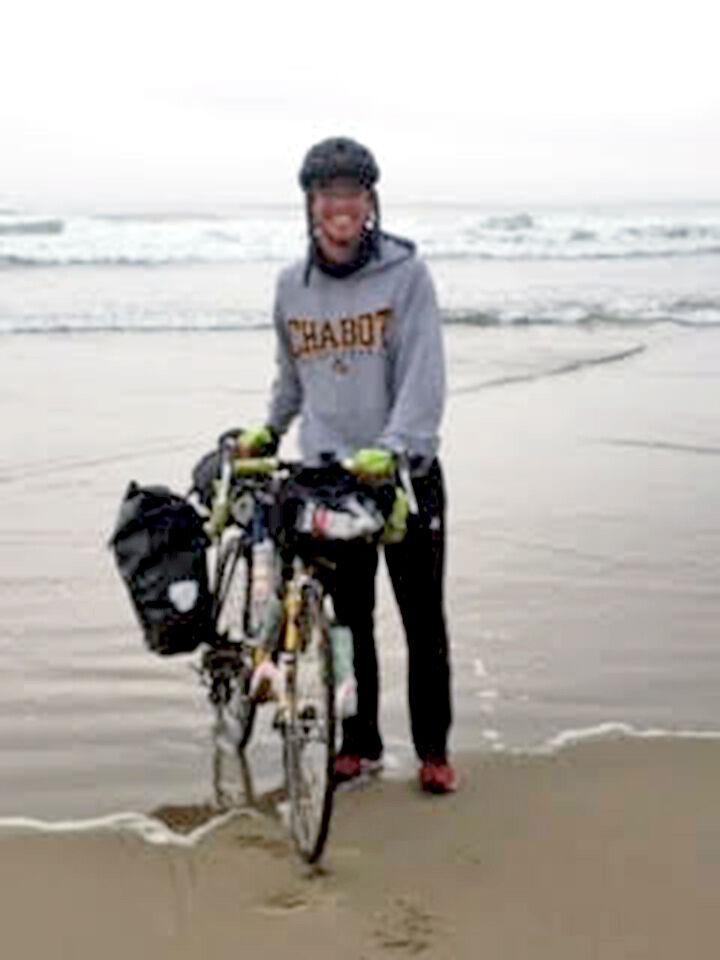 Sam Smith couldn't stand ideas of virtual college classes, so he made an alternate plan.
Military?
Vacation?
Relaxing at home?
No. No. And no.
Redlands East Valley High's one time Associated Student Body Treasurer decided to take the long road. Literally.
Straddling the saddle of his purple and yellow steel Lemond road bicycle, Smith took off on a 4,113 — mile trip. Yeah, on two wheels. Sixty-eight days. Starting Aug. 1. Starting at Yorktown, Virginia. Ending up at Jetty Beach in Florence, Oregon.
How's that as a replacement for attending college?
Adding to the craze: "I've never really been a cyclist," Smith said.
Dangerous? No. "Tough days. Not as many easy days.
"The only real danger was being on a busy road. (Drivers) are very generous. They'd drive their wheels on the other side of the double yellow." There must have been times when he must've dreamed about being in class — even virtually — during those lengthy days on two wheels.
"Not really."
Maybe Smith was thinking about being shot down by Air Force Academy — disqualified, the official term — for being color blind. cross country bicycle trip could make up for all that. Right?
There were some skeptics, he said.
One thought was on his mind.
"The idea of failing," he said, "definitely motivated me."
Views from a Colorado mountaintop certainly helped.
"It was a lot more beautiful once I got to Colorado," he said.
"It's something I'll never forget," said Smith.
His fingerprints, meanwhile, are all over REV.
For openers, he graduated 13th in his class.
Next up: Smith served as treasurer.
Throw this in: He was on the roster of REV's 2019 CIF Division 2 soccer champions. "I didn't play much."
As a prelude to that athletic achievement, he played No. 2 singles on REV's tennis squad, one that came up just short, 10-8, of winning the 2017 CIF Division 4 championship.
Tyler Davis, who played No. 1 singles, in fact, was among Smith's possible choices as a cycling partner.
"Tyler (now at Point Loma Nazarene University) can't go two days without playing tennis," said Smith. "He'd have gone nuts. He's married to tennis. I knew better not to ask.
"I knew no one would want to go with me," he said.
By Smith's Aug. 1 start date, college was just around the corner for anyone within earshot of his nationwide trek.
"I wasn't scared," he said. "I couldn't see how I'd be able to make it across the country."
Smith had followed his older brother, Wiley, to Union City, California, in the San Francisco Bay Area. He wound up attending college in nearby Hayward at Chabot Community College.
Ticketed for Cal Poly Pomona's Aerospace Engineering program, Smith couldn't stand thoughts of learning online. He passed.
"I can't learn that way," he said. "I'll cheat if I do that."
Riding cross county on a bicycle was on his bucket list. He flew to Washington, D.C., where his older sister, Madison, lives. She drove him the three to four hours to Yorktown.
Smith followed the TransAmerica Bike Trail map he'd purchased.
"Without it," he said, "this trip would've been impossible."
The first couple days were difficult, he had to admit.
"Lonely," he said. "Once I got past that, I was all right."
One day blended into another — mostly.
Pedaling through nine states with 40 pounds of gear on board, he'd stay in hotels, churches, volunteer fire departments, behind grocery stores — all points noted on his map.
Imagine all this gear on a bicycle:
• Four water bottles.
• Tent, sleeping bag.
• Toiletries.
• Food.
• Cook setup.
• Camera.
• Extra tube with tools.
• Pump.
• Bear spray (for the Grand Tetons, Yellowstone Park).
• Phone chargers.
That last one was for his mother, Alise Smith & family, who needed to know her son's whereabouts throughout that grueling trek.
And it was grueling. A shot up an 11,539-foot climb to Hoosier Pass in Colorado.
"It seemed like I had a 3,000-foot climb every day," said Davis, "except for Kansas."
That state was flat, against the wind and "miserable." There were three flat tires, all in Oregon. "I think my spokes started poking through my tires," he said.
At Breckenridge, Colorado, he bought new handlebar grips and tires for his bald ones and got a tune-up. Smith's brakes were sharpened for those mountainous downhills.
It would be oatmeal and honey for breakfast, maybe a little Ramen and chicken for lunch or dinner. When he felt "lazy," he'd hit fast food joints.
He'll head back to Chabot, where he'll play on the Gladiators' tennis squad. "They don't have men's tennis at Cal Poly," he said. "Just a women's team."
Upon his arrival at Jetty Beach on Oct. 8, Smith said, "I just put my feet in the sand, watching the waves ... and took a nap."
Original plans were to arrive on Oct. 12. He was four days early.
"My mom's on the way to pick me up."
A pause. A deep breath. Reflections on those two months. Some extra thought. Here's one:
"I'll never do this again."