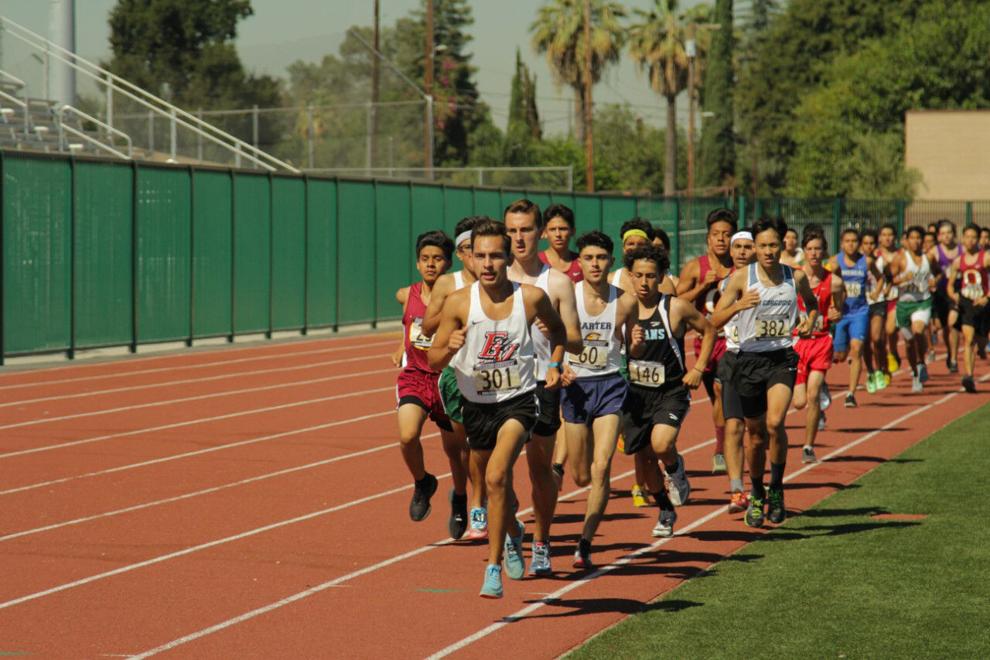 Citrus Valley High School's Cross-country coach Grace Padilla Leong's car accident in mid-January was only a small part of the carnage.
Cross-country was cleared to run on Saturday, Feb. 13, at Redlands East Valley High School, a time trial will kick off a four-meet schedule now that stay-at-home orders were recently lifted.
Good news, right? Not so fast.
"We've lost a few kids," said Leong, wife of Southern California Roadrunners coach, Dr. Michael Leong. "One of our runners lost a father. He fought for over a month. There are a couple of runners who lost people.
"It's devastating. In that family, there are five kids, ages 9, 12, 14, 15 and 17. Everything was taken away from them.
"It's not about cross-country," said Leong.
Runners, she said, "live their lives to run. But when everything is taken away from them like that, that puts it all in perspective."
Principals, meanwhile, gathered to organize the fate of cross-country, which was the only sport cleared to operate.
Said Leong: "We might be the only sport to have a season — maybe track."
At REV, six teams are scheduled to run a time trial that will help seed dual meets scheduled for Feb. 27 (at Citrus Valley) and March 13 (at Beaumont), setting up a March 27 league finals at Yucaipa's Bryant Park.
As of Monday, school officials in San Bernardino and Beaumont were awaiting clearance for Cajon and Beaumont high schools to join Yucaipa, plus a trio of public Redlands high schools, Citrus Valley, Redlands East Valley and Redlands — four of the CBL schools — for the Feb. 13 event.
Special care has been set to schedule bus arrivals, team warm-ups and race times so not to congregate with other teams. Ensuing duals will be just two-team races designed to limit exposure.
One team will race at a time. Clockings will be gathered to seed teams for the next round. There will be no all-team cluster meets due to social gathering restrictions.
San Bernardino County COVID-19 numbers per 100,000 stretched to 102 by Jan. 12, dropping to 76 by Jan. 19. It hit a low of 49, before it went back into the 50s.
Leong says her squad is at 22 runners, boys and girls combined.
It's a young girls' squad topped by senior Bridget McNamara, plus sophomores Brooklyn Timm and Iztel Del Rio with freshmen Gabby Romero and HaileyLomeli set to join the Lady Blackhawks' lineup.
Ethan Romero and Juan Montes, freshmen at the 2019 CBL finals, ran ninth and 13 against a heavy-hitting REV lineup that should return Simon Opsahl, Matt Hornung and Liam Mapes from a state finals squad at the November 2019 championships — fifth place in Division 2.
Yucaipa, she said, will counter "with 80 runners."
Leong adds Aidan Sturtivant, Arian Mayorga and brothers Jake and Nate Caliva to her boys' squad.
"Some of our kids lost interest," she said. "Other kids got jobs. One of our kids works for his dad. It's really hard to say anything bad about that. That's what we want, right? To work for your dad."
As for Leong, she was rear-ended on the freeway when a 98-year-old man driving a truck, pulling a trailer, slammed into her car no less than three times.
"He was a veteran of World War II," she said. "I can't be mad at him. Maybe it's good he hit us. Someone else would've gotten mad."
Leong, whose Toyota Camry was totaled, still suffers from plenty of pain.
"I can't stop thinking about him. He lost his wife three years ago."