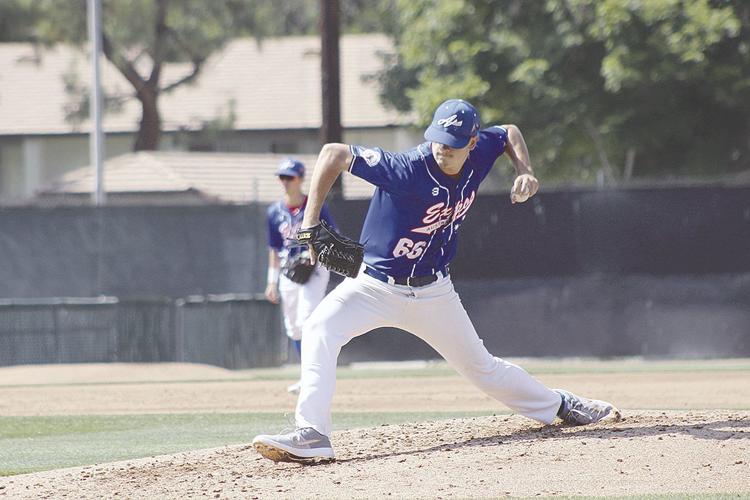 REDLANDS — Michael Crossland, considered a motivational speaker who beat cancer as a child, is a world traveler, businessman, author, spending nearly a quarter of his life in hospitals, making TV appearances with endless other activities.
So what was he doing coaching a traveling group of Australian teens playing baseball against an assembled group of local players recently?
"It's my 17th year coming here," said the Aussie native, age 35, a key part of a contingent that shows up every summer for the Australian Tour of Redlands.
As a motivational speaker, there are 170 flights covering 22 countries in which Crossland hopes to turn heads and change minds to approach more positive outlooks in battling life.
These trips to Redlands are just part of the story.
The Aussie Expos defeated the Redlands 909ers 3-1 in Game 5 and take 30th annual Australian Baseball Tour of Redlands Series, 3-2. Expos southpaw, Luke Brown, tossed 6+ innings in one of the best pitching performances over the past several tours.
That's just a small slice of a 30-year history.
Its longevity is focused around a bunch of high-achieving, community-minded adults. These days, they pick a group of local "all-stars" from local high schools to take on the Aussie "Expos."
The early beginnings of this three decade series was a virtual accident, according to Aussie Ball Lore. Original Aussie manager John Murray — whose team, incidentally, is from Redlands Squire of Queensland — saw Redlands, Calif. on the map and contacted Redlands city officials.
Steve Chapman, president of the local youth baseball organization, took it from there. These are sportsmen's games, "friendlies" that serve no other purpose than a Australian Expos vs. Redlands 909ers exhibition.
Australian kids get to play ball in America, where the sport was invented.
A decade ago, though, the Aussie-to-Redlands trip was all but dead. "The tour was meant to shut down," said Crossland, an Expo player from age 14 to 19.
Why it didn't? A cancer patient, dying, was promised a trip to America "if he got his white cells up."
That kept the tour, not to mention the kid, alive.
There's a book out: "Kids Don't Get Cancer." Crossland, diagnosed with cancer before age 1, published it in 2016.
It's safe to say that baseball played a part in his recovery.
Part of the 2006 Australian World Baseball Classic as a coach, Crossland let it out: "I wanted to play baseball in America as a kid."
That six-year stint did it.
A Redlands 909er return trip — which they've done twice — requires a winter time journey. That's Aussie summertime, baseball season. You know, Down Under.
Little chance that Redlands, even with its financial advantages of endless fundraising options and middle-income earners, could make that trek.
Cash and Christmas AND a trip to Australia?
By contrast, these Aussies show up every summer — their winter — which gives Redlands a reason to organize. There's Disneyland, pizza, In-N-Out Burgers, coach gatherings that includes adult beverages, plus baseball.
It's non-competitive competition.
Said Crossland after a 10-5 Aussie win over Redlands on July 3, giving his squad a 2-1 advantage in a best-of-five series:
"My goal every tour is to make sure game five means something. We're not throwing the game, but we'll stick some of our younger players in the lineup. I'm betting Redlands will pull through."
Call it being a sportsman. Redlands prevailed, 10-5.
Truthfully, if Redlands pulled together a genuine all-star team, things could get rough for the Queensland visitors.
None of those games will make the front pages of any newspaper, or the highlights on MLB TV, anyway.
Crossland, meanwhile, makes up for it as a dynamic speaker.
Said Craig Kundig, whose bicycle racing organizational skills has connected to another long-running local event, the Redlands Bicycle Classic: "If I had to turn my kids over to anyone, it would be to Michael."
Kundig's two sons played in this ongoing Aussie series, Tristan and Cameron, the latter a 909ers' coach this year.
There's a bunch of kids with those kinds of ties.
Arnold Regalado IV, for instance, has a dad who played against Aussies a bunch of years ago.
We could go down a lengthy past players list that numbers in the hundreds.
"There's a mom (of a 2019 Expo) dying of breast cancer," said Crossland, "who's watching on Game Changer."
Crossland, meanwhile, has a website that tells his story. No sense recounting it all here. There's lots to tell. That website just surpassed 43 million views, he said.
Crossland, incidentally, is probably no baseball match for Redlands manager Chad Zerbe, a former major league pitcher who has won an actual World Series game (with San Francisco against the Angels, 2002).
More on Zerbe, presumably, someday.
Said Crossland: "There's a lot of back story on any of us. Everyone has a story."