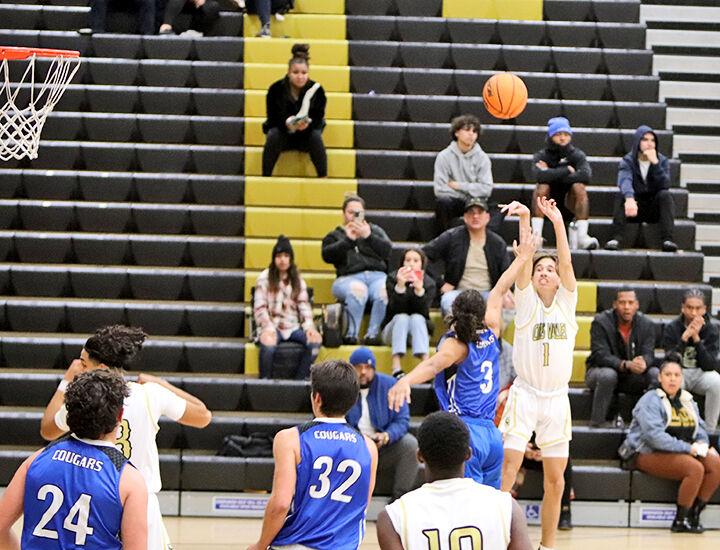 The Citrus Valley High boys' basketball team stunned Beaumont 72-48 last week, thanks to a tennis coach from a rival school and a Blackhawk player nicknamed, "Bones."
Beaumont (16-8 overall, 5-1 Citrus Belt League) cruised into the game unbeaten in league but boarded its bus for the ride home with its first CBL loss.
"We got ready for the game – our coach practiced us hard all week," said Citrus Valley forward Eric Allen. "We were ready for them."
Beaumont led 23-18 after the first quarter but fell behind 36-28 by halftime. Jayden "Bones" Call made four consecutive 3-pointers in the third quarter to increase Citrus Valley's lead to 56-37.
As Call gained more confidence and the shots kept dropping, he held his swan's-neck follow-through for a second or two after each swish for dramatic effect.
"Bones came through," Allen said. "We call him that because he's skinny. It got us excited. We wanted to keep him going."
Said Call, "We needed this win. We just moved the ball and played great basketball. Not selfish. Just great team basketball."
Allen was a part of the effort, scoring 10 points and adding physicality to the Citrus Valley effort.
"I just try to be aggressive," he said. "Make the right play. It felt great. They beat us at their house, and we had to get them back."
Citrus Valley (13-8, 3-3 entering this week) fell to Beaumont 47-40 in the CBL opener on Jan. 3, the first of three close losses for the Blackhawks. The team was upright. Stressed out. Then Blackhawk coach Yon Okorodudu got some advice from his wife (Jana Bailey), who is the boys' tennis coach at RHS.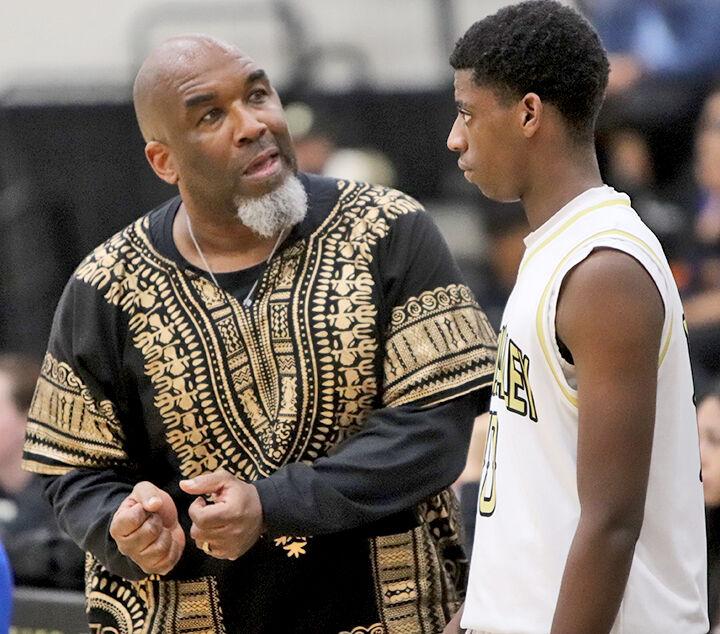 "My other coach in the house (Bailey) was telling me how it's important that I keep guys calm and relaxed," Okorodudu said. "She knows me better than anybody. She said you're doing a great job – you just need to bring it down a notch. So I've calmed down the last three games and we've played a better brand of basketball."
The loss dropped Beaumont — as of last weekend — into a first-place tie with Redlands East Valley (14-9, 5-1). The Cougars were scheduled to meet REV on Tuesday, Jan. 24 (too late for publication).
"It was a good reminder that you have to be ready to play every game," Beaumont coach Jon Florence said. "We caught them off-guard the first game (of the CBL season). But they were prepared for this game, and we didn't perform very well."
Said Beaumont guard Christopher Cooper, "They caught us at the right time. It was bad for us and good for them. We started out the game all right. We had the lead. But (Citrus Valley) battled the whole game. Usually we're a second-half team but not tonight."
Lorenzo Competente led Citrus Valley with 19 points, Call contributed 18 points, Titus Richarson had 16 and Allen chipped in with his 10.
Damon Potter paced Beaumont with 10 points, Vince Capuras contributed nine points and Cooper had seven.