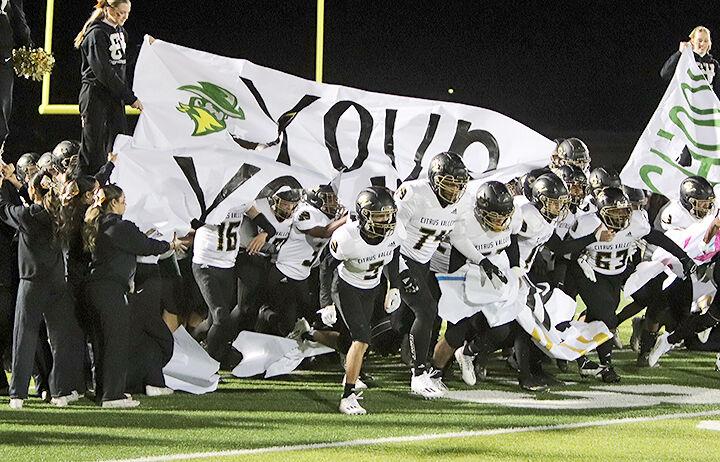 SAN BERNARDINO — Citrus Valley High defensive back Jelani McLaughlin intercepted a pass, skidded along the cold turf and then popped right up. McLaughlin raised his arms in triumph— a victory that was just nine minutes away.
The Blackhawks secured that win, 34-16 against its chief nemesis, Cajon of San Bernardino. The victory sends Citrus Valley to the second round of the CIF-Southern Section Division 2 playoffs. The Blackhawks host Chaminade of West Hills at 7 p.m. Friday, Nov. 11. The defeat ended the season for Cajon, champions of the Citrus Belt League who beat Citrus Valley 28-7 during the regular season.
The Blackhawks whooped and hollered after the game. On the opposite side of the field, Cajon defensive back Ahamad Chapman stared forlornly at the rapidly emptying bleachers.
"It feels great," Blackhawk cornerback Michael Counce said. "We lost to these guys in CBL, and it feels awesome to beat them on their home field in the playoffs."
Citrus Valley quarterback Hunter Herrera, who threw for 180 yards and three touchdowns and ran for 72 yards, said, "We got a bunch of kids who love to play football and we're all family. We're not the biggest team, but we're going to work the hardest."
Counce made the play that tipped the momentum in the Blackhawks' favor.
His scoop and score of a fumble by Cajon's JeyQuan Smith increased Citrus Valley's lead from 10 points to 17-0 with 4:32 left in the first half.
"He's a fumble magnet," Citrus Valley coach Kurt Bruich said. "It's good to have him. He does a lot of things for us. He's a special player."
Following several quick changes of possession, Citrus Valley widened its lead. Herrera spotted Dominic Douglas open along the right side and hit him with a 43-yard touchdown pass with 22.8 seconds left. Citrus Valley led 24-0 at the half.
This was a stunning development considering Cajon had not lost to a Citrus Belt League opponent in seven years.
However, Cajon climbed back into the game at 24-8 on its first possession of the second half. The Cowboys drove 80 yards on 13 plays (all runs) to score on Philander Lee's 7-yard run.
It was now a two-score game, but Cajon's drive also ate up more than half of the third quarter. Then Citrus Valley tallied on a 20-yard TD pass from Herrera to Jordyn Harris with 3:25 left in the third quarter. The Blackhawks (9-2) were winging to their stunning upset.
The Blackhawks, after gaining just 60 yards in their previous loss to Cajon, rolled up 260 yards this time, led by the fiery Herrera.
"We worked hard every day at practice, and we made sure we were going to win," Herrera said. "I made sure of that. I told all my guys, 'We're going to win the game.'"
Special teams were a factor. Kristian Johnson made two field goals for Citrus Valley and boomed his punts. The Blackhawks also recovered two Cajon onside kicks.
Defensively, Citrus Valley collected four turnovers to only one for Cajon (9-2).
Cajon coach Nick Rogers was classy in defeat.
"We just didn't execute like we needed to beat a good team," Rogers said. "Hats off to Citrus Valley. They played a great game. (Herrera) was a man for them. It was a tough loss for our program, but we wish CV the best next round and we will support them in the playoffs."