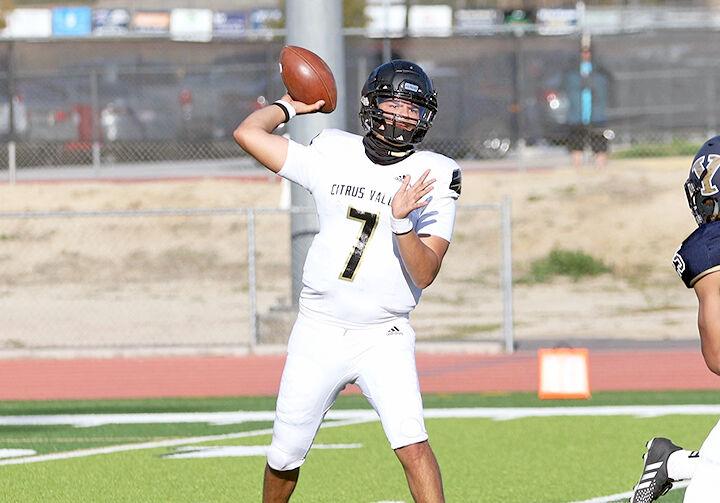 YUCAIPA — The Citrus Valley High football team was defeated by host Yucaipa 38-21 on Saturday, March 27, in a Citrus Belt League game. But the news wasn't all bad for the Blackhawks.
Citrus Valley quarterback Dylan Wheatley will not suffer any serious effects from a clean hit he took from two Yucaipa defenders early in the fourth quarter.
Wheatley was trying to corral a loose football when the Thunderbirds sacked him. His helmet flew off as he went down, and Wheatley lay on the turf for about 20 minutes before being taken off the field on a stretcher. He was then whisked away by ambulance.
Citrus Valley athletic director Boyd Lium confirmed that Wheatley suffered a whiplash, but nothing worse.
"Any time you have something involving the neck and back, you err on the side of caution," Lium said. "It (the injury) isn't anything too serious. But I saw a picture of him (afterward) and he looks like he's been in a brawl — which is kind of what a football game is, and Yucaipa won it, which is a credit to them."
Wheatley's playing status heading into the Saturday, April 3, game against visiting Redlands is uncertain.
The Citrus Valley defeat was a surprise after Yucaipa (1-1) fell to defending CBL champion Cajon on Saturday, March 19, by the deceptively close score of 30-18 while Citrus Valley walloped Redlands East Valley 53-7. Citrus Valley had also clobbered Yucaipa 56-7 in the previous meeting between the schools in 2019.
"After last week we learned that we can play with anybody physically because Cajon is very physical," Yucaipa coach Justin Price said.
"We've stuck together through this whole quarantine. The kids never gave up hope."
Yucaipa rushed for 275 yards, led by JoJo Herrera who carried 17 times for 112 yards and two touchdowns and Louie Sandoval III who racked up 120 yards and two TDs on four carries.
Citrus Valley led 14-10 midway through the second quarter following a 7-yard touchdown run by Jeremiah Claiborne.
The Blackhawks got the ball back late in the first half, but a 32-yard interception return for a touchdown by Cole Cheesner put Yucaipa ahead 17-14 at the half.
The Thunderbirds really seized control starting the second half, driving 54 yards to score on a 21-yard run by Sandoval to increase their lead to 24-14.
Citrus Valley marched to the Yucaipa 8 on its next drive, but a Wheatley fourth-down pass was broken up by Devrajsinh Zala who also had two interceptions. The Thunderbirds began to pull away when Sandoval sprinted 92 yards around the right side for a TD that made it 31-14 midway through the third quarter.
Citrus Valley lost Wheatley on its first possession of the fourth quarter and then Yucaipa erased all doubt with a 10-yard TD run by Barajas.
Yucaipa senior quarterback Elijah James, who transferred from Citrus Valley to Yucaipa before this season, ran for 48 yards and passed for 82.
Citrus Valley did have one last hurrah, as backup QB Hunter Herrera hit Sergio Cervantes over the middle for a 50-yard TD.
Wheatley threw for 165 yards before departing. Claiborne rushed for 116 yards on 16 carries.