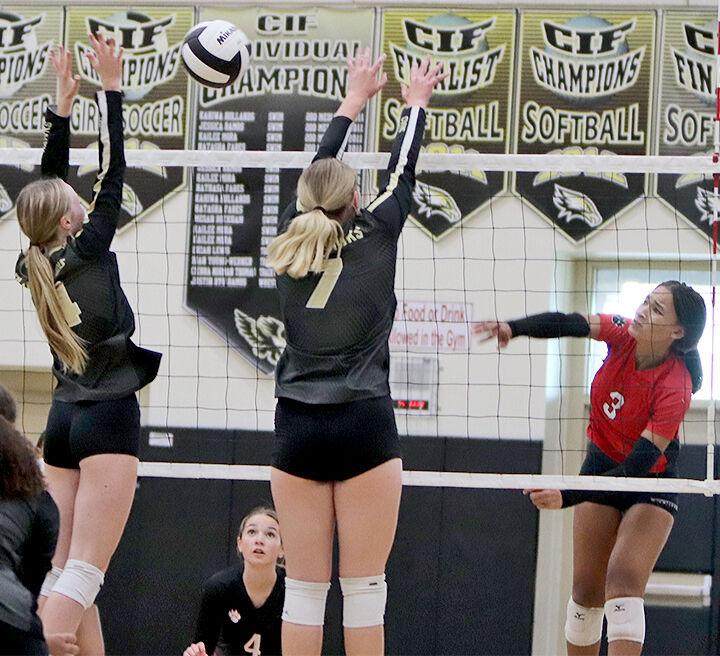 Volleyball teams with first-year coaches met last week and host Citrus Valley High prevailed.  
The Blackhawks defeated Redlands East Valley 3-0 on Tuesday, September 20. The scores were 25-15, 25-18, 25-14.  
Both sides are filled with underclassmen.
Of those, Citrus Valley sophomore outside hitter Makenna Tillman shone the brightest. She pounded 19 kills, had three aces, and 20 digs.  
But it was on a dump shot by Giselle Coley that won the first set for Citrus Valley (7-9 overall, 2-1 Citrus Belt League).  
REV trailed 19-18 in the second set when things went awry. The Blackhawks won the final six points, five of them with Rylee Thornton serving.
Thornton had two aces during that blitz and REV made three unforced errors.  
A Molly Sullivan kill shot in the third set brought REV (6-10-2) to within 16-11. But then Citrus Valley took over, winning the next five points to make it 21-11. REV never recovered.  
Backing Tillman's big effort were Jessica Doty, Cherina Robinson, and Thornton all with three kills. Coley had two kills.  
Also for the Blackhawks, Lindsey Cupersmith and Thornton had two aces each, Thornton and Robinson had two blocks,  Cupersmith contributed 15 digs, and Coley 27 assists.  
"I think overall we did good," Robinson said. "We just need to work on something like communicating more and being aggressive on our swings and serves."  
Said Thornton, "I feel like we played really tough and aggressive. We had better communication, and we ran more plays. I think that we can make it to CIF."  
New Blackhawk coach Amber Tygart replaced interim coach April Finazzo. Finazzo is the school's softball coach.  
"When we played against Cajon (a 3-0 loss) we struggled to talk," Tygart said. "There were a lot of dropped balls. But today they communicated well."  
Tygart was pleased with Coley's setting, the hitting of Bond and serving of Thornton.  
Zaryah Bernard led REV with five kills and Sullivan and Devi'arre Lucas had four kills each.  
Also for the Wildcats, Bernard had two aces, Sullivan three blocks, Lucas and Christina Muller had 11 digs apiece, and Mariana Galvan and Muller combined for 17 assists.   
"It's frustrating, but CV came out and worked hard and got the win," REV coach Sabrina Watkins said.