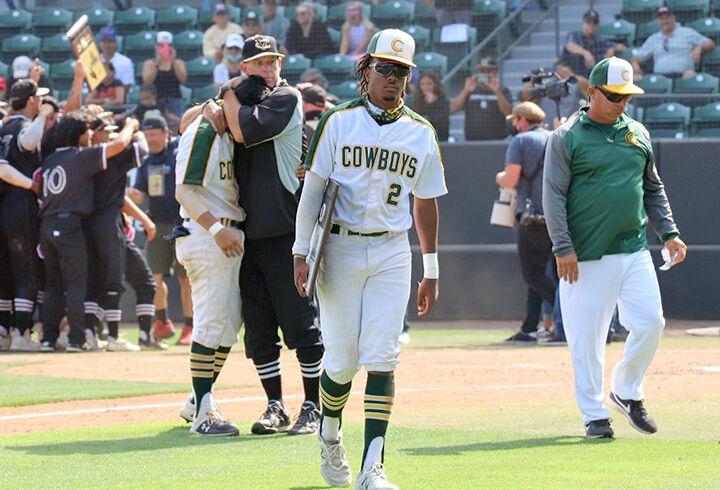 LONG BEACH — The celebratory dogpile over and the championship patches already raised in unison, Citrus Valley High baseball coach Jon Austin turned sentimental.
Following his team's 6-2 victory on Friday, June 17, against Cajon for the CIF-Southern Section Division 5 title, Austin saw the tears in the eyes of Cajon star Sebastian Flores and hugged him.
Then Austin gathered the opposing Cowboys in their dugout and consoled them.
It was a nice touch for a guy who taught at Cajon for 28 years and was the coach for 22.
"I told them that I spent 22 seasons being a Cajon Cowboy and that I couldn't be more proud of them," Austin said. "And I told them that the challenge will be to always make it a Citrus Valley vs. Cajon final."
Both teams advanced to the CIF-State Southern California Regional Division 4 tournament on Tuesday, June 22 (too late for publication).
Citrus Valley hosted Spring Valley Steele Canyon and Cajon traveled to Rancho Cucamonga.
Senior right-hander Blake Griffin was masterful against Cajon, yielding no hits through four innings and just five overall in going the distance for the victory. He struck out four and walked one, shaking off the effects of a tender arm that plagued him since the series against Yucaipa last month.
"He put everything on his shoulders today," Austin said. "He got a couple of hits to help himself out and he just pitched lights out."
Griffin said the "adrenaline" of pitching in the title game offset his cranky arm. He also said how much the victory meant to him.
"I cried after the last out," he said. "I'm a senior and that's my last high school game. It feels good to be champions. I'm sad and happy all at the same time."
It was Citrus Valley's second trip to the title game — it lost a heartbreaker in 2013 — and Cajon's first appearance. Cowboys coach Robert Grande was disappointed but also happy for Austin, with whom he formerly coached.
"I love Jon," Grande said. "We go back a long way. I coached under him when I went over to Cajon and took over for him when he left."
Citrus Valley took an early 2-0 lead against Cajon starter Garrett Bougie.
The Blackhawks tallied one in the second on an error and another in the third on Jacob Horner's single.
The Blackhawks added three runs in the fifth with Griffin contributing a key RBI single.
Two more runs scored on a throwing error.
Cajon (15-6) put its first two hitters on base in the fifth and scored a run on a Griffin throwing error. But Griffin fielded a comebacker and threw out a runner at the plate on his next chance.
Then Cajon ran itself into a double play to end the inning, with runners tossed out at home and at third base.
"I made a bad throw because I think my nerves got the best of me," Griffin said. "But on the next one I did what I was supposed to do, and we got the out."
Citrus Valley (22-7) collected 12 hits, including two apiece by Horner, Griffin and Devin Martinez. Riley Hunsaker, Luis Garcia,  Snyder, David Perez, Lucas White and Ivan Rodriguez all had one hit each.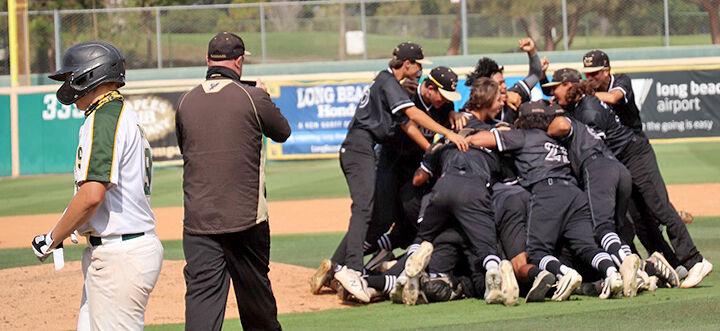 In the end it was Citrus Valley hoisting the championship plaque for the first time in school history, and Austin nabbing his first section title as a coach.
The day was one to remember for Austin.
"You spend 28 years doing this and you finally get the opportunity," Austin said. "You just have to realize how hard it is to get here. It's an amazing feeling."
Semifinals
Citrus Valley's David Perez doubled his pleasure in a 14-13 victory against visiting Laguna Hills.
The victory came Tuesday, June 15, in the section semifinals. It was 106 degrees for the opening pitch.
Perez led off a seven-run fourth inning with a double and hit a two-run double later in the inning to pace the Blackhawks.
Laguna Hills scored seven in the top of the inning to seize a 7-3 lead before the Blackhawks came roaring back.
"I know as a leadoff hitter the job is to find a gap and try to get something going," Perez said.
"That's what I did. I produced and it piggy backs onto the next hitter and next hitter."
Snyder had a run-scoring double in the inning, Horner and Griffin added RBI singles and Matt Mecate contributed a two-run single.
Citrus Valley led 14-10 entering the seventh inning and gave up three runs but relief pitcher Jacob Jacome had just enough left to record the save.
Hunsaker and Griffin had three hits each for the Blackhawks and Mecate, Perez, and Devin Martinez had two hits each.