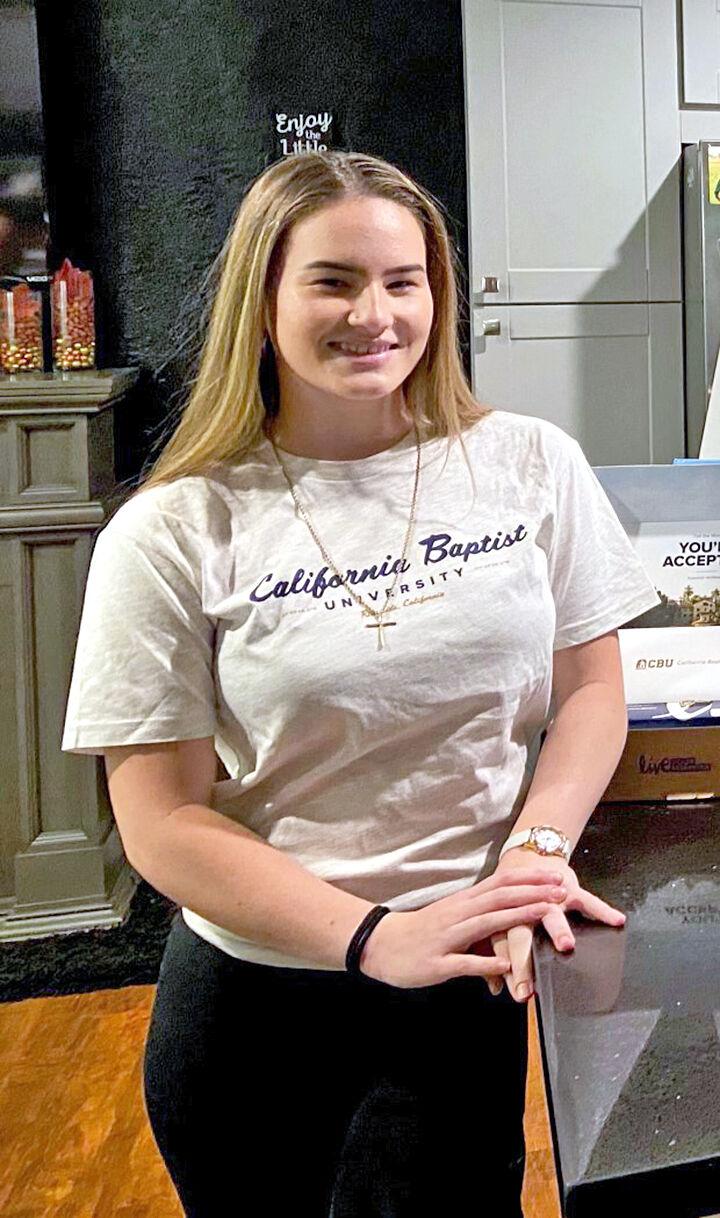 That Christian tag had long been connected with softball whiz Kenzie San Pedro.
Bible study is important to her. So is church.
"I've always been a Christian," she said.
However anyone wants to connect that to softball recruiting might be hitting the mark in a huge way.
Especially when San Pedro connected on a pair of home runs during a travel ball game in late 2019. Good fortune was awaiting the little girl of James San Pedro and Samantha Gutierrez of Yucaipa.
California Baptist University assistant coach Brittney Gossett saw those blasts.
"Be ready," San Pedro was told when NCAA offers were set for the 2021 high school class. San Pedro is a Redlands East Valley High senior.
"They called me that day."
On Nov. 11, when National Letters of Intent were set for early signings, it didn't take San Pedro long to sign her name. Likely, the signature read,
"MacKenzie San Pedro."
She broke into the high school ranks in Debbie Garcia's final season as REV coach — 24-8, a trip to the CIF championship game, flanked by such All-CIF players as Maddy Ferrao, Shelby Arbeiter, Autumn Bennett and Amaya White.
San Pedro hit .350 that season, belting four HRs and knocking in 29 runs as a freshman.
In Sandy Crumrine's first season as REV coach in 2019, San Pedro hit .351 with five HRs on a 13-win, 14-loss squad. She didn't play her final four games that 2018 season.
If 2021 were set to take place, ex-Redlands High coach Brandon Ford would've been San Pedro's third prep coach over a four-season stretch.
"When we played against (REV)," Ford said, noting her 4-for-14 in five games against the Lady Terriers, "we did everything we could to stop her. We definitely had a pitching plan."
Prep softball, though, might not matter when it comes to college recruiting.
Recruiting might've been a little different when her older sister, Lani (aka Abby), suited up in Lady Wildcats' colors. Off to Iowa Lakes Community College for two seasons, she landed at Arizona Christian.  
Because of COVID-19, said Kenzie, "she'll have a fifth year."
Biggest difference between the sisters' prep careers? Social media has crept into the recruiting process.
"By luck, you might have college coaches watch your games when Abby was playing. Now, I could message coaches when my games are."
Coaches, by contrast, couldn't message back, by NCAA rule.
San Pedro packs a little wallop. She's small, but deadly.
Lost between playing for the Dirt Dogs or Explosion, which became the Firecrackers, San Pedro shows up for hitting lessons in Colton. Jimmy Flores, she said, "is trying to build up his following."
San Pedro was told that her smallish size — around 5-5, maybe 5-6 — "that I couldn't be a power hitter. Jimmy changed all that. I'm hitting farther than some of the big girls."
It probably didn't help at some of her travel ball tournaments when coaches from Oklahoma, Tennessee and Auburn were sitting behind home plate.
"Patty Gasso," said San Pedro, referring to Oklahoma's high-profile coach. "Oh my gosh."
Who knows if OU's 26-year head coach even checked her profile?
Bad grades in high school?
Said San Pedro: "A college coach won't even look at your profile."
CBU coach Bill Baber did. San Pedro rattled off the names of Baber's staff — "Shaunice (Harris), Amy (Ramirez), Brittney … they all keep in touch. They are so nice."
As for CBU, consider that the Lady Lancers are a provisional NCAA Division I program until 2022. The school has launched its athletic program from NAIA to NCAA Division II, undergoing a sizable shift into the top tier of collegiate softball.
At CBU, which will be constructing a softball stadium to meet NCAA Division 1 standards, San Pedro will be shacked up in dormitories behind the right field fence.
There's nutrition data, agility training, weightlifting — all to bring her onto a college field fully trained to bat, run and field.
"There are coaches for all of that to help you get faster and stronger," she said.
CBU was, perhaps, an answer to any prayers San Pedro might've been offering up.
It fit her Christian values. It was close to home. The campus offers her major.
"I had no plan B," she said, "which is bad."