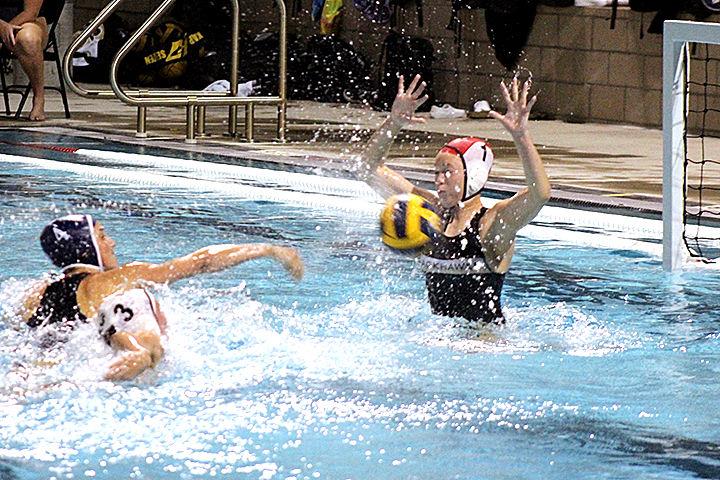 SPORT NOTES: REV, Citrus Valley crown CBL boys wrestling champs … Lady Blackhawks in triple tie for CBL soccer title … REV boys one game behind Cajon in CBL hoops race … Wildcats No. 3 seed in Div. 3 boys soccer playoffs.
Redlands East Valley, a perennial soccer powerhouse around the Citrus Belt League's boys circuit, reclaimed its title despite a severe fight from second place Rialto Carter.
REV (17-3-2, 7-1-2) narrowly prevailed over Rialto Carter (7-2-1), winning the title by a single point. On the Wildcats' Senior Night, visiting Carter handed REV its only CBL loss in a 2-1 result.
The Wildcats, coached by Mario Urbano, entered the playoffs as Division 3 No. 3 seed, scheduled to play Colton in Wednesday's opening round.
• Citrus Valley (7-9-3, 2-6-2), coached by Lee Hartley, was battling for a CIF playoff berth for awhile, but the Blackhawks were unable to claim a victory in their final eight matches, which included three draws and a narrow 2-1 loss to CIF-ranked Redlands East Valley.
• Two-time defending CBL champion Redlands (5-13-4, 1-6-3) was missing some firepower off its scoring line from a 16-4-5, 7-0-3 squad one year earlier. Omar Yehya, Dylan Memory, Jose Solis and Turner Humphrey disappeared via graduation, taking away 54 goals from coach Eric Memory's squad.
* * *
Ambassador League champion: Ontario Christian (14-1-3, 10-1-3). Arrowhead Christian Academy (4-8-4, 3-6-4) could offer a couple of interesting results from a fifth place finish in league play. A 1-1 draw with second place Aquinas, plus a narrow 1-0 loss to that same Eagles' side, plus a 1-1 draw against third place Temecula Linfield Christian.
Another goal, or two, and the Eagles could be talking playoffs.
BOYS PREP WRESTLING
Redlands East Valley heavyweight Sebastian Gutierrez, and its 182-pounder Jace Gurrola, plus Citrus Valley's Audo Moreno at 152 pounds claimed Citrus Belt League championships at last week's finals at Rialto Carter.
At stake were berths in this weekend's CIF-Southern Section division championships, a steppingstone to CIF-Masters and, eventually, the State finals.
REV is sending 170-pounder runner-up Ernesto Carmona, along with Noah Sorenson, second in the 220-pound ranks. Third place finishers Jordan Lopez (106) and Matt Carlson (195) also qualified for CIF.
Blackhawk wrestlers behind Moreno's CBL title included runners-up Chris Jimenez (106) and Ryu Ramos (120) with Isaiah Aponte (126) a third place finisher.
The top three wrestlers were automatic CIF qualifiers.
There was no information from Redlands High School available.
GIRLS PREP SOCCER
Citrus Belt League: It wasn't a glitch or a computer error once the regular season in this year's Citrus Belt League girls' soccer standings were tabulated.
There they were, each at seven wins, two losses and a draw — Citrus Valley, Yucaipa and Redlands East Valley — deadlocked for a tri-championship. The final day included wins from both REV (8-1 over Rialto Carter) and Yucaipa (3-1 over Redlands).
Citrus Valley, coached by Norma Mendez, could have claimed an outright title, but Cajon pulled off a 2-1 win over the Lady Blackhawks to settle for the triple dead heat.
CIF Division 2 REV (10-8-5) and Division 3 Citrus Valley (9-9-3) were both headed to this week's playoffs.
* * *
Ambassador League: Ontario Christian claimed this year's title easily.
Arrowhead Christian Academy (5-10-2, 4-8-2), which lost a huge chunk of its roster, including three All-CIF players, off a Southern Section championship finals team last season, slumped to a lower finish in a highly-talented league.
One note: It's known there were more than a handful of freshmen and sophomores on this year's Lady Eagles' roster — big hopes for 2020-2021, perhaps?
BOYS PREP BASKETBALL
Arrowhead Christian Academy (12-12, 8-6) — Topped by first place Aquinas (22-5, 12-2), the fifth place Eagles took fifth in an Ambassador League trek that included five of its eight teams playing over .500 ball.
First-year coach Lance Evboumwan awaited Sunday's CIF Division 5A playoff call.
Citrus Valley (12-15, 5-5) — A 25-point loss to Redlands East Valley killed a possible third place finish for the Blackhawks, coached by Yon Okorodudu. It was a vast difference from that 78-74 loss to REV a month ago.
Redlands (7-20, 1-9) — What's true out of Terrier Gym is that coaches Ted Berry and Coy Glass get the maximum out of their team.
Truth is that 17 different players, topped by Sam Proctor and Nico Salvador (who combined for 22 points a game) scored in their play-everybody philosophy.
Interesting stat: Seven of Redlands' 20 losses came by less than 10 points.
Redlands East Valley (18-9, 8-2) — Perennial champion Wildcats' coach Bill Berich didn't drill up another CBL championship, but until Cajon's 72-56 win over Yucaipa — while REV was beating Citrus Valley, 72-47 — last Friday night, REV was in contention until the final shot.
GIRLS PREP BASKETBALL
Arrowhead Christian Academy (5-17, 0-14) — It might not seem fair that the Lady Eagles must contend with some of the elite teams in all of CIF-Southern Section, including four ranked teams, topped by powerhouse Ontario Christian (25-2, 14-0).
Citrus Valley (14-9, 6-4) — In a Citrus Belt League dominated by the 1-2 punch of Yucaipa and Cajon, finishing third place is a strong result for the Lady Blackhawks. Figure this: If not for the Lady Blackhawks' third place finish, all three Redlands schools in CBL play would've been shut out from the playoffs.
Redlands (4-18, 0-10) — There's very little upside to the Lady Terriers' outcome this past season, which concluded with a 60-9 loss to Yucaipa last week.
Redlands East Valley (13-15, 3-7) — If you're a Lady Wildcat supporter, think about this: A four-point loss to fifth place Rialto Carter, which turned into a 27-point win in the rematch, plus last Friday's six-point loss to Citrus Valley, might have been a pathway to third place.
Yucaipa girls are the water polo champs
Yucaipa High School left no doubt which Citrus Belt League squad would wear the championship crown for 2019-2020.
The Lady Thunderbirds, ranked No. 1 in CIF, Division 4 polls, easily held off Citrus Valley, 14-1, in a league tournament finale at Indian Springs High School last Thursday.
Isabella Landeros scored the Lady Blackhawks' only goal.
No other CBL team crept into the top 10 in any CIF poll this season, leaving Yucaipa with an easy chase to the title.