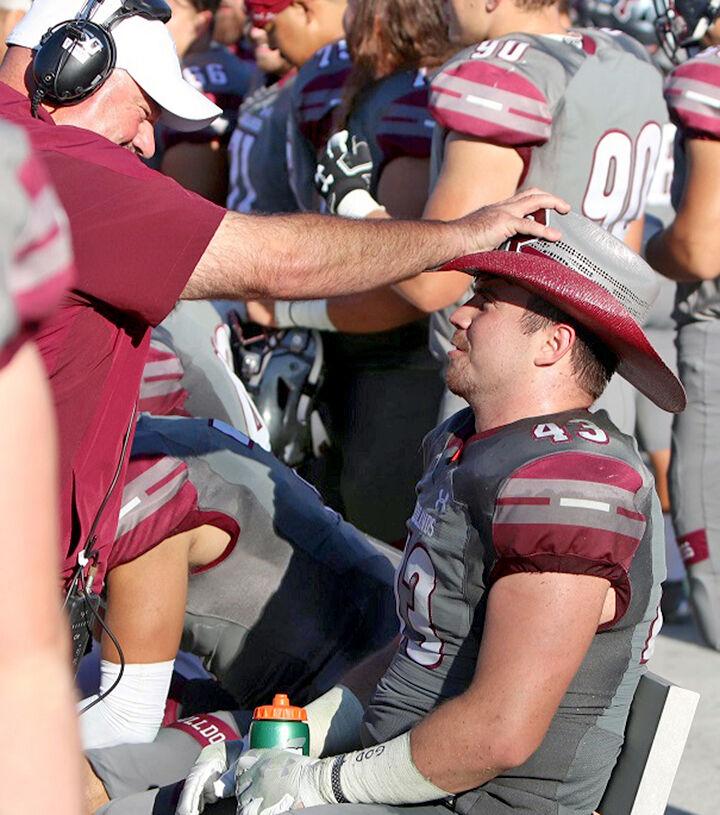 The smudge pot, also known as an orchard heater, was once used in these parts to warm orchards and keep frost off citrus trees.
So it's ironic that the Smudge Pot football game between California Lutheran and the University of Redlands on Saturday, Nov. 13, was played in near-90-degree weather. No matter. Redlands put the freeze on Cal Lu, 56-28.
The victory clinched for Redlands an outright Southern California Intercollegiate Athletic Conference title. The Bulldogs (8-1 overall, 6-0 SCIAC) now advance to the NCAA Division III tournament where they will meet host Linfield University of McMinnville, Oregon at noon on Saturday, Nov. 20.
Linfield is the last team to defeat Redlands, 51-10 in a non-conference game in Redlands on Sept. 18.
Following the blowout victory against Cal Lu in which Redlands trailed early, 14-0, the Bulldogs hoisted the maroon-and-gray-painted smudge pot in front of a sizable mid-day crowd and then had fun as various position groups posed for photos with it.
"There was never a doubt," Redlands interim coach Jim Good said of the
comeback. "And I don't think there was ever a doubt with our players. They just believed that great things are going to happen and we're going to make them happen."
Regarding winning the title outright, Good said, "It's awesome. I'm really happy for our staff and the players and parents and anybody and everybody that has a small finger on Bulldog football."
Scott Tinsley, the junior strong safety from Santa Cruz County, had his hands all over the football with two interceptions, one of which was returned for a first-half touchdown to help turn the game around.
Tinsley now has six interceptions this season and a pair of two-pick games.
"Scott Tinsley gets the pick-six and then he comes back the next drive and gets another pick," Good said. "That was the turning point."
Eli Taylor from Castle Rock, Colorado, and Jacob Harrold from Lake Havasu City, Arizona, also had interceptions for the Bulldogs who recovered a fumble as well. Tinsley and Harrold led Redlands with eight tackles apiece.
The heroes were many. Offensive linemen such as Dominic Perez, Cody Paul, Anthony Vargas, Cameron Helmberger, Kaleb Gibson and Brady Roy Welch carved holes in the Cal Lu defense.
"It comes from our seniors," said Gibson, a sophomore from Diamond Ranch High in Pomona. "The seniors are the ones that instilled in us that we can dominate on the field."
Led by that O-line, Redlands gained 485 yards and made 20 first downs.
Quarterback Nathan Martinez from Yucaipa High passed for 178 yards and a touchdown and ran seven times for 53 yards and another score.
Andrew Kellstrom from Aquinas High rushed for 80 yards on four carries and scored a touchdown. Also for Redlands, Kai Thompson churned for 50 yards and a score, Troy "TC" Williams ran for 54 yards, and Tony Williams Jr. carried four times for 39 yards and two touchdowns.
Williams Jr. also had a 79-yard TD catch from Martinez, Khory Day had two receptions for 40 yards and Giovanni Isles caught one pass for 30 yards.
"We knew that our biggest challenge coming back was going to be facing teams like Chapman and Claremont and Cal Lu," said O-lineman Paul out of Valencia High. "We didn't take anyone for granted, not even Whittier, and that's why we put up some big numbers. And now we're looking forward to the playoffs and making some history."