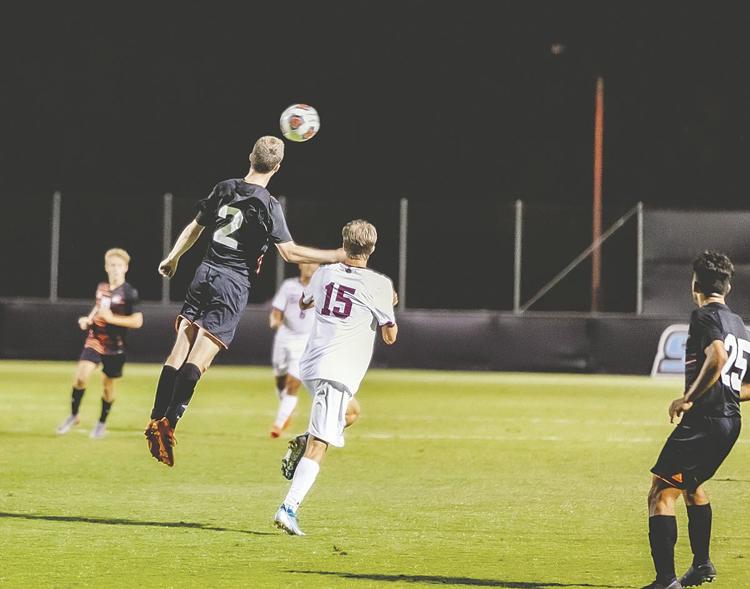 SOCCER NOTES: Lady Bulldogs pull off upset … REV product Bowman-Sorassio in BYU's defense … Karley Weeks shows up at California Baptist … Ex-Blackhawk played part in win over Univ. Redlands.
Regular SCIAC men's soccer heavyweight University of Redlands forces combined to send off a dozen shots against visiting Occidental College last Wednesday night at Farquhar Field.
The well-lit pitch, located over the Bulldogs' right field fence, seemed alive with tension, excitement and high hopes in a conference-opening triumph.
Collin ChubbFertal and Ethan Kovac each ripped off three shots against Tigers' goalkeepers Will Baltrus and Scott Kazan, but the pair came up with six saves against Redlands' attack.
Oxy (4-1-2) repeated its 1-0 triumph over the hard-fighting Bulldogs, the same score, site and outcome as last November's SCIAC tournament semifinals between the same two sides.
In the Sept. 18 match, Oxy's Adrian Paredes scored the only goal in the first half. Redlands outshot Oxy, 12-7, but Paredes' ability to slide his shot past Bulldog keeper Noah Natividad was the only point on the scoreboard.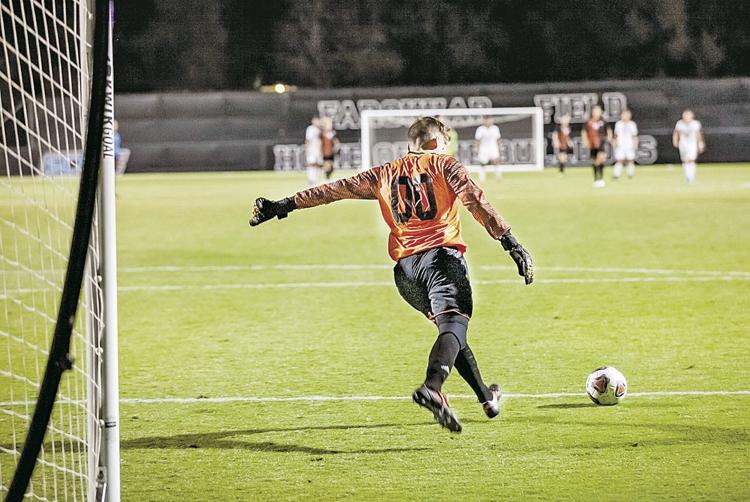 Also holding an advantage in corner kicks, 7-2, the Bulldogs couldn't penetrate Oxy's defense.
What's worse is that it was the SCIAC opening match, which gave Redlands a chance to equal its record three days later, which it did not. Failing to score again, it was Whittier winning, 1-0.
The stage is set for a rough and tumble run through a highly competitive conference schedule.
No SCIAC team was ranked in the nation's Top 25 poll, but Claremont-Mudd, Redlands (0-4-1) and Oxy were listed in the NCAA Division III West Region poll topped by Southwestern (Texas) and Trinity (Texas).
* * *
Off to a 2-0-1 start, consider that Cal State San Bernardino's two opening wins came by way of Pedro Arellano goals in a pair of 1-0 triumphs backed by Jacob Huber's play in goal. The matches came against Montana State-Billings and Simon Fraser (B.C.).
Next up was a 2-2 draw at Dominican College in the San Francisco Bay Area. Former Redlands East Valley striker Jacob Garcia, an All-CIF player off the Wildcats' 2015 CIF championship team, scored alongside Tony di Donato.
Huber saved three shots.
* * *
Hoping to influence the scoring load at Cal State San Bernardino, Jesus Ortega is part of the forward line from San Gorgonio. He scored four times, assisting twice, in the Coyotes' attack last season.
The Coyotes opened California Collegiate Athletic Association play on Thursday against Cal Poly Pomona.
WOMEN'S COLLEGE SOCCER
Part of the University of Redlands' 3-2-2 overall record includes a pair of draws to start its SCIAC schedule — 1-1 against Occidental and 0-0 against Whittier.
Redlands shooters, not to mention its defenders, took aim on a nationally ranked team back on Aug. 30. Illinois-Wesleyan, 18th-ranked among NCAA Division III teams, surrendered goals to Gabby Hart and Tristen Shirley in a 2-1 Lady Bulldogs' triumph.
Fending off an onslaught of 14 shots on goal, Redlands turned its season-opening match into a winning one.
Two days later, Redlands beat Denver-based Johnson & Wales College, 4-1, behind goals from Taylor Pisan, Peyton Fendrich with Eva Vlassapoulos putting the finishing touches on the win with a pair of goals.
The Lady Bulldogs are coming off a season where they finished 9-7-2, reaching the SCIAC Tournament off their 8-4-2 conference record.
Suzette Soboti, who has notched five SCIAC championships and 164 coaching triumphs since 1998, brought a 222-141-30 overall record into play this season.
In the draw against Oxy, Bria Bowton set up Emily Falla's 18th minute goal.
* * *
Redlands High product Karen Jacobs, a transfer from San Bernardino Valley College, got a shot off against NAIA defending champion William Carey (Miss.) College in a 4-0 loss last month.
It was the next match, however, which drew rave notice.
Jacobs scored and assisted on three other goals in a 12-1 rout of Central Baptist (Ark.) last Saturday. She scored once in a 2-1 win over Texas Wesleyan on Sept. 7.
Jacobs, one of four SBVC products including Citrus Valley High's Jordan DeJongh, is now playing at Louisiana State University-Alexandria.
Jacobs was a four-time all-Citrus Belt League soccer pick for the Lady Terriers, running on two CIF team track & field championships.
* * *
Danika Bowman-Sorassio, a senior defender at Brigham Young University, is back to play a key role in the Lady Cougars' red-hot start in 2019. Wins over Colorado College, Alabama, Mississippi State and Southern Utah led BYU into its next match against rival Utah last weekend.
Known around these parts as Danika Bowman before she got married, the onetime Redlands East Valley defender has racked up well over 5,000 minutes well into her senior season in Provo.
During Sorassio's time in BYU's defensive backfield, the Lady Cougars have gone 18-3-1, 7-8-4 and last year's 13-5-1 record during her first three seasons.