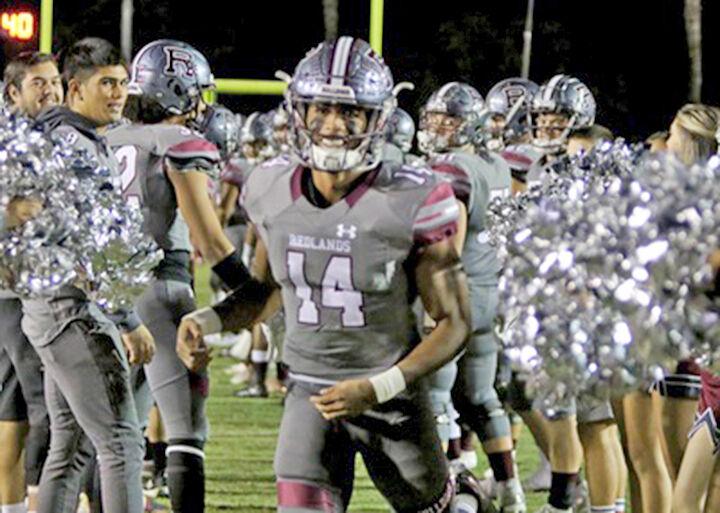 How in the world an NFL team ever connected with a hot-shot University of Redlands cornerback prospect was still up in the air.
That prospect — 6-foot-2, 180-pound Jeff Hector, 24 — figured it was his inspired play on last year's Bulldog NCAA Division III playoff team. Somehow, the Baltimore Ravens noticed.
"They saw my stats, saw my highlights," said Hector. "I was surprised when the Ravens first contacted me."
It's not normal for Redlands to get attention shined on any of its players. If it was, then WR Brian DeRoo's 1978 fifth-round selection by the New York Giants wouldn't be the only Bulldog to ever reach the pros during the draft era.
The undrafted Hector had a smashing season, leading NCAA Division III with eight interceptions, 178 return yards that mostly came on three pickoffs for TDs. Throw in 19 passes defended, plus 35 tackles, 27 solo hits and two more stops for lost yardage.
In Redlands' scheme, figure this in: Hector was a virtual part-time player, a fashionable Bulldog coaching technique that keeps their players fresh throughout 60 minutes on game day.
Imagine Hector's numbers for full-time play!
Signed as an UFA was a nice outcome to a collegiate career. Skip to the final outcome with Baltimore, though: Hector got cut.
"I needed more time to prove myself," he said, noting that springtime mini-camps were cut completely due to COVID-19 precautions. "I never got a chance to put the pads on. My on-one-skills were a strength, but I didn't get a chance to show that."
He was at camp for about two weeks. "I might've been the 81st or 82nd guy," he said back on Aug. 21, "out of the 80 they kept."
Cut, but not forgotten.
Good news: On Aug. 23, Hector was set to fly out of Los Angeles for New York. "The Giants asked me to try out," he said.
Results, not so good. He didn't make the cut with a team in serious need of help off a 4-12 season, a Giants' team that surrendered 451 points. This week was crucial, especially since all 32 teams made their final cuts to 53 players.
"I learned a lot (at Baltimore)," said Hector. "How serious everyone took it. It's constantly learning the playbook. Constantly taking notes. Every day. Studying. Just learning to be professional."
It was great news for Bulldog coaches who, admittedly, didn't have a clue as to Hector's outcome in Baltimore or that he'd connected with the Giants. He'd been cut, but no one knew.
"He's a real shy kid," said Bulldog head coach Mike Maynard. "We must've left nine or 10 messages for him … that he didn't answer."
Hector said, "Right after I got cut, I didn't want to talk to anybody. I was feeling a little down."
Winding up at Redlands was another story.
For openers, Hector played at a fairly insignificant high school program at Palos Verdes. That was followed by two winless seasons at Los Angeles Southwest College in 2016 and 2017. He spent a little time at Mount Ida College, near Boston, before joining the Cougars' roster for back-to-back 0-10 seasons.
Yes, there was some interest from NCAA Division I Cincinnati and Portland State.
It was Redlands' special teams coach David Lord who discovered Hector. "We got him here (on a recruiting trip)," said Bulldog defensive coordinator Joey Mariani.
"They (L.A. Southwest) had him playing linebacker," said Mariani. "He was the fastest linebacker we ever saw."
As a sophomore at L.A. Southwest College, Hector got second-team all-Metro Conference honors — hardly a high note to an NFL team, or even a major college team.
There was some interest from NCAA Division I Cincinnati and Portland State.
"They (L.A. Southwest) had him playing linebacker," said Mariani. "He was the fastest linebacker we ever saw."
Special teams coach David Lord found him. "We got him here (on a recruiting trip)," said Mariani.
"There were no big schools looking at me," said Hector, who earned All-Bay League honors as a Palos Verdes safety his senior year. "Since I was coming from a small school, and no one really gets recruited there, it's a given that I would go to another small school." By the time he got to Redlands, Hector played special teams in 2018.
Mariani raved at Hector's activity.
"He did sprints … he did one-on-ones … he returned 15 kicks in a row at practice … he never slowed down … went out of his way to help other players … he never doubted our coaching for a minute."
A flash of brilliance as a junior — a 96-yard kickoff return in a 35-17 win at La Verne might've topped his 2018 highlight. He couldn't seem to crack Redlands' multiple-player secondary.
Those long returns, all those interceptions and TDs.
It's not just numbers, though. If it were, then a few handfuls of Redlands players from Maynard's 32-year tenure would've worn NFL jerseys.
Hector kept making plays.
"After the season (at Redlands), I got a few calls," Hector said. "My defensive backs coach (Aaron De La Rosa) said a few teams were asking for film, and the Ravens were persistent throughout the whole draft."
NFL rookie camp began Friday, May 8, and Hector engaged in Zoom meetings with defensive coaches while going over the Ravens' scheme.
"The only communication I had with the Ravens," said Mariani, "was what was his T-shirt size? What was his shorts size?" "I don't know enough about the pro game," Mariani admitted, "to really comment on how Jeff would fit in with the Ravens."
Or with the Giants. Said Mariani: "Even if Jeff makes the (Ravens' 10-player) practice squad, that would be an amazing achievement." He'd be a multi-use player — either CB because of his quickness, or safety because of his physical ability.
Said Hector: "If I don't make it in the NFL, there's the (Canadian Football League). I just want to play."