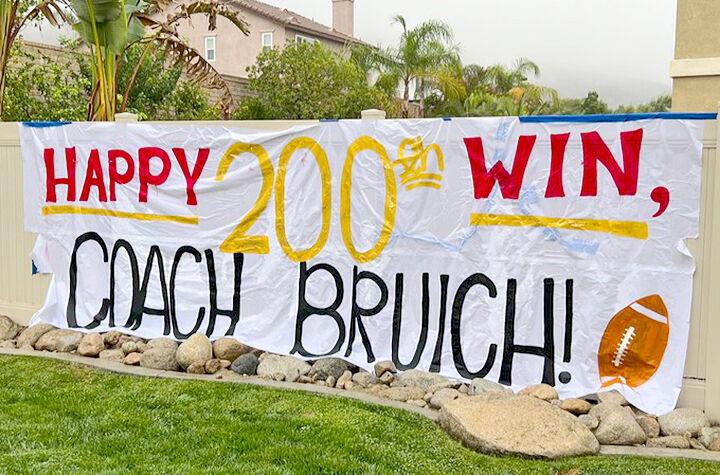 Citrus Valley High football coach Kurt Bruich won his 200th game as the Blackhawks defeated Redlands East Valley 55-6 last week.  
In doing so, Bruich and his father Dick become the first father-son duo in state history to both reach the 200-victory plateau. Dick Bruich retired in 2008 after winning a combined 292 games at Fontana and Kaiser of Fontana high schools.  
Quipped Kurt Bruich on Twitter, "I guess I've found my new goal — 293 (wins)."  
In a more serious vein, Kurt also tweeted, "Just wanted to thank every player and coach who has (ridden) with me along this journey. You are ALL a part of this milestone!"  
In other games, Redlands fell to Beaumont 56-14 and Arrowhead Christian Academy defeated Western Christian of Upland 16-0.  
Quarterback Hunter Herrera completed 10 of 12 passes for 190 yards and six touchdowns for Citrus Valley. Kade Finazzo also had a TD toss.  
Michael Counce and Gene Gallegos both caught two TD passes and Jayden Bowens, Jordyn Harris, and Brock Lium had one TD catch each.   
Quintin Lucas led the Blackhawk ground game with five carries for 72 yards. Dominic Douglas added three carries for 42 yards and one TD.  
Beaumont quarterback Christopher Cooper completed 15 of 22 passes for 192 yards for Beaumont (6-1 overall, 2-1 Citrus Belt League).  
Myion Walker rushed five times for 115 yards for the Cougars. Armando Cuellar chipped in with 12 carries for 64 yards, and T James-Reek carried six times for 41 yards.  
Walker had TD runs of 37 and 46 yards for Beaumont.  
Beaumont rushed for 281 yards, averaging 9.1 yards per carry.  
DJ Littles caught five passes for 60 yards to lead Cougar receivers.  
Arrowhead Christian Academy got three field goals from senior kicker Jonah Sechrist en route to its win against Western Christian.  
Sechrist had field goals of 35 and 25 yards in the first quarter and a 32-yarder with 4-plus minutes left in the game. He has made six fields this season.  
Tyler Flethez also had a short scoring run for the Eagles (5-3 overall, 2-1 the Mesquite League). Western Christian fell to 4-4, 1-2.