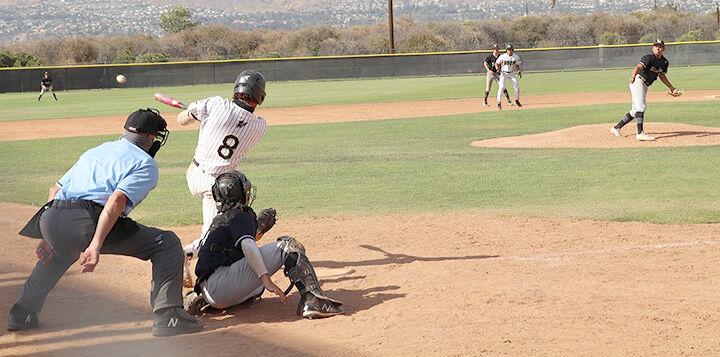 CIF-SS Division 5 honors Blackhawks
Citrus Valley High junior slugger Jared Snyder was named Player of the Year and Blackhawk coach Jon Austin Coach of the Year on the CIF-SS Division 5 baseball team.
Snyder hit .473 with two home runs and 33 RBI in helping Citrus Valley
to its first section title.
Also making the All-CIF-SS D5 team from Citrus Valley were Blake
Griffin and Riley Hunsaker.
Griffin hit .319 with one home run and 23 RBI. On the mound he went
6-0 with a 1.95 earned run average.
Taylor makes team
Citrus Valley High's Jacob Taylor made the All-CIF-SS Division 3A basketball team.
Taylor led the Blackhawks to the section semifinals, averaging 17.4 points per game.
REV'S White and
Melgoza honored
Redlands East Valley's Lauryn White and Sofia Melgoza made the All-CIF-Southern Section Division 3 girls' soccer team. Both are seniors.
Three Eagles feted
Arrowhead Christian's Laney Herrero, Madeline Hood and Carli Calzaretto made the All-CIF-SS Division 7 girls' soccer team. Herrero and Hood are freshmen and Calzaretto is a senior goalkeeper.
Blackhawks honored
Citrus Valley's Ella Nadeau and Mika Lee made the All-CIF-SS Division 4 softball team.
The Stanford-bound Nadeau hit .582 with three home runs and 26 runs batted in.
She was named Most Valuable Player of the Citrus Belt League.
Lee hit .438 with one home run and 18 RBI.