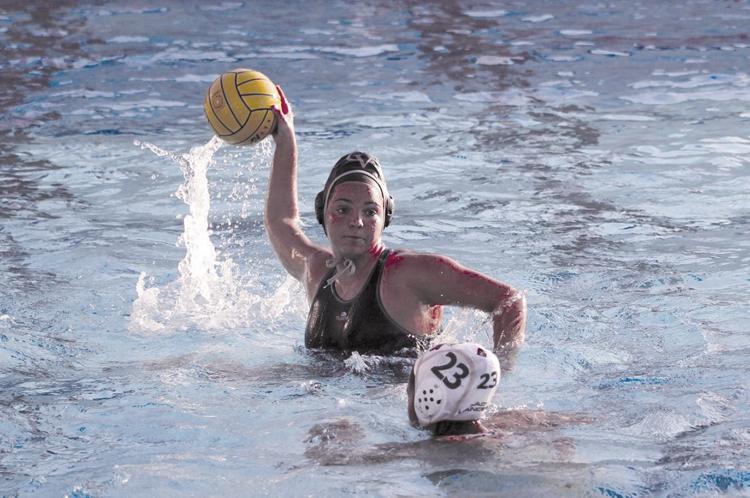 SPORT NOTES: BYU on a mission to notch soccer title … REV boys run third, qualify for State with plenty of highlights … Cargile All-American distance runner … Umpires meet for 2020 season … Ex-Terriers Libao, Comadena notch NCAA rankings.
Danika Serassio took a couple shots, including a shot on goal that missed, in Brigham Young University's 3-0 win over North Carolina State in last weekend's NCAA Division I tournament in Provo.
The win left BYU in the quarterfinals for the third time in school history.
Serassio, whose maiden name was Bowman, played at Redlands East Valley High School during some impressive Lady Wildcats' seasons.
At BYU, she's a senior defender who has helped turn back some of the NCAA's top teams — shutouts over No. 12 Texas A&M, No. 14 Kansas, plus major schools like Alabama and Utah.
Its only blemish was a 2-2 draw against perennial power Santa Clara (Calif.).
Defense is one thing, where Bowman-Serassio plays a stopper position. An attacking offense is another. BYU had plenty of scoring in store for N.C. State on Saturday night, Nov. 23.
It was, in fact, Cameron Tucker striking twice for goals and defender Josie Guinn also scoring in the unbeaten Lady Cougars' 20th win this season.
BYU will lineup in this weekend's quarterfinals match against Stanford in San Jose on Saturday. The winner will play the UCLA-Florida State winner for a shot at the national championship.
* * *
Reyna VanDamme assisted on one goal in San Bernardino Valley College's playoff win over Fullerton College last Saturday, the opening round of the CCCAA women's playoffs.
SBVC (14-3-3), who trailed 2-0 at one point, won in a shootout to advance against Mt. San Antonio College this past Tuesday. It was a 3-1 advantage on penalty kicks, goalie Kerstin Lecon holding up in the full 120 minutes, plus PK play.
Caitlyn Sauceda scored twice with Marcelo Gallo and Eliana Martinez adding goals to propel the Lady Wolverines into second round play this week.
VanDamme, a sophomore defender who is off Redlands High's roster, played the full 120 minutes in a match that finished 4-4 after overtime. VanDamme set up Gallo's goal in overtime.
Redlands High product Aayliah Rubio, a striker, picked up 33 minutes off the bench. She nailed the match-winning penalty kick after Sauceda and Nayeli Sandoval had scored.
PREP CROSS COUNTRY
Finishing third at last week's CIF Southern Section Division 2 boys' championships, Redlands East Valley might tweak its lineup for this week's state finals in Clovis.
Alex Miller, suffering from a leg injury that forced him out of last Saturday's championship race at the Riverside Course, might join the lineup, said coach Matthew Sartori.
"He'll give us a little depth," said Sartori, "so (REV's lineup) might change a little bit."
Newbury Park scored a convincing victory to win the Div. 2 title while Dana Hills edged REV by two points in the Division 2 finals.
Matthew Casillas, Cole Cooper, Simon Opsahl, Matthew Hornung and Liam Mapes accounted for the Wildcats' 134-point performance.
"Newbury Park," said Sartori, "is ranked No. 2 in the nation."
REV finished ahead of Claremont High School, who was ranked 18th nationally earlier this season. Some extra highlights:
• REV, which became the first boys' team from Redlands to qualify for the State championships.
• Casillas, who medaled in his individual finish, cracked Darius Riley's 2017 course record for San Bernardino County runners by one second at 14:46.
• REV's 75:55 team clocking also set a county record, breaking Rancho Cucamonga's 76:56 from 2015.
COLLEGE CROSS COUNTRY
University of Redlands junior Tucker Cargile became the first-ever NCAA All-American after taking 24th at last weekend's NCAA Division III championships in Louisville, Ky.
Running a 24-51.1 over 8 kilometers, Cargile — a national placer in last spring's 800-meter — took 24th in a field of 280 runners.
It was Cargile's second trip to nationals.
Lady Bulldog senior Maria Ramirez, who qualified for nationals for her third time, ran 85th — 85th at last weekend's NCAA Division III championships — completed her third national appearance over 6-kilometers. She 22:45.
PREP BASEBALL
If you're thinking about umpiring high school baseball in 2020, consider attending the opening meeting for the Inland Empire Baseball Association on Dec. 3.
Reminder: There's a shortage of the "blue" boys, which has forced school administrators to schedule lots of area leagues on various days.
The Citrus Belt League schedule will be played, say, on a Tuesday-Thursday rotation while the San Andreas League slate would go to a Wednesday-Friday configuration.
The idea, of course, is to maximize the number of available umpires for the demands of prep play.
Remember, there's freshman and JV ball to go along with Varsity games.
Some numbers: They're saying they'd like at least another 20 to 25 umpires for the season. IEBA President Mike Spaise has said they'd probably like more than that. Guys drop out for whatever reason. Pay is around $80 a game.
Training is available.
Such training could open up some opportunities for travel ball games in the off-season, like summer, fall and winter ball.
Hit up the website: www.inlandumpires.com.
PREP FOOTBALL
San Bernardino Aquinas High School, whose coach Jordan Brusig is a Redlands resident, lifted itself into this week's CIF Division 5 championship off a 24-21 win over Glendora at Citrus College-Glendora last week.
The Falcons (11-2) will play at Santa Fe Springs St. Paul (12-1) on Friday night.
Brusig, the Falcons' coach since 2015, has compiled a 54-15 overall record since taking over for Chris Ybarra. Aquinas, which won the CIF Division 9 championship in 2017, has reached the semifinals in four seasons under Brusig.
MEN'S COLLEGE TENNIS
A pair of former Redlands High School players — teammates from the Terriers CIF boys' championship teams between 2015 and 2017 — are ranked nationally in NCAA Division III.
University of Redlands duo Brysl Libao, one of those former Terriers, and Brad Cummins, based off their Fall season play, are ranked second in the nation in doubles.
Jansen Comadena, who plays at Pomona-Pitzer, showed up at No. 22 in doubles with his Sagehen partner, Mukund Madabhushi.
Comadena and Libao played on Redlands teams that beat Laguna Beach in back-to-back years, 2015 and 2016, before knocking off Yorba Linda in 2017.