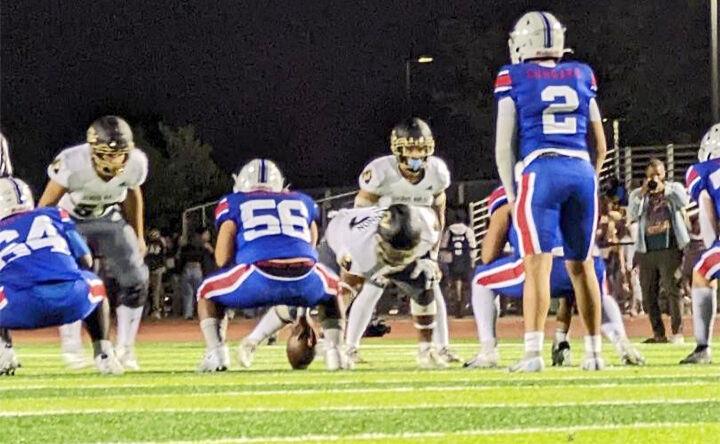 BEAUMONT — The Citrus Valley High football team turned in its third sterling effort in a row, defeating host Beaumont 28-0 last week.  
The Blackhawks got two interceptions from San Diego State commit Jelani McLaughlin and an interception return for a touchdown from Ricardo Barrios to silence the Cougars (5-1 overall, 0-1 in Citrus Belt League). The Blackhawks (5-1, 1-0) also held Beaumont to 26 yards on the ground.  
Cody Ramirez and Brock Lium also had interceptions for Citrus Valley to help put a damper on Beaumont's homecoming game.    
Citrus Valley, following a disheartening loss to Oak Hills of Hesperia during non-league, has followed with impressive victories against Norco, Ayala of Chino Hills, and now Beaumont.  
The showdown pitted two of the better teams in the league.  
"I'm definitely not surprised with the score differential," McLaughlin said. "We knew what we could do. They thought they'd come out here and beat us."  
Lium, who made an interception and caught six passes for 94 yards and a touchdown, said, "This whole week we kind of put in a new defense for them. We played a lot of man the whole game and a little bit of zone."  
Citrus Valley coach Kurt Bruich insisted it was not a new defense.  
"They throw the ball a lot so the first thing is, can we stop the run with five (men)?" Bruich said. "Chalen Tessitore, our defensive coordinator, is pretty good at manipulating things. So once we stopped the run with five, we were able to keep with them."  
Beaumont coach Jeff Steinberg was impressed.  
"I thought coach Bruich and coach Tessitore did some really dynamite things defensively. They utilized No. 1 (McLaughlin), 11 (Lium) and 10 (Ramirez) in their secondary in some really unique ways."  
McLaughlin's interception of Christopher Cooper on Beaumont's first possession set up the first Citrus Valley touchdown. That came on a 24-yard run by Lium with 10:01 left in the first quarter.  
Citrus Valley padded the lead to 14-0 with 8:34 left in the second quarter on Hunter Herrera's 6-yard touchdown pass to Jordyn Harris. The big play on the drive was a 40-yard pass from Herrera to Lium.  
The Blackhawks began to put the game away midway through the third quarter. Barrios intercepted a pass on the Beaumont 20-yard-line and returned it for the score for 21-0.  
Citrus Valley also added a 10-yard TD run by Herrera with 7:02 left in the game.  
When asked, Bruich praised McLaughlin.
"When we turn him loose and let him run free, that's when he's at his best — reading quarterbacks and making plays," Bruich said. "He brings intensity and athleticism, and he's a leader on the field. He plays so hard."  
Herrera completed 15 of 22 passes for 178 yards and two touchdowns for Citrus Valley. Besides Lium's pass-catching, Harris latched onto five passes for 31 yards and a score.  
Nathan Granillo and Andrew Arriola had seven tackles each for Citrus Valley, Barrios five and Joseph Zelaya four.  
Cooper completed 12 of 26 passes for 111 yards for Beaumont. Cleve Johnson caught five passes for 43 yards.  
Arta Williams II led the Beaumont defense with eight tackles. Jade Slack had seven tackles, Xavier Johnson, Angel Lopez, Jonus Rutherford and Emmanuel Martinez had five tackles apiece. All of Martinez's tackles were for losses.  
Steinberg knows the defeat is not a death knell.  
"You're not defining your season on one game during the regular season," he said. "The goal is to find out how far you can get. Just like Citrus Valley learned a couple of weeks ago (after losing to Oak Hills), I really think our guys will bounce back."