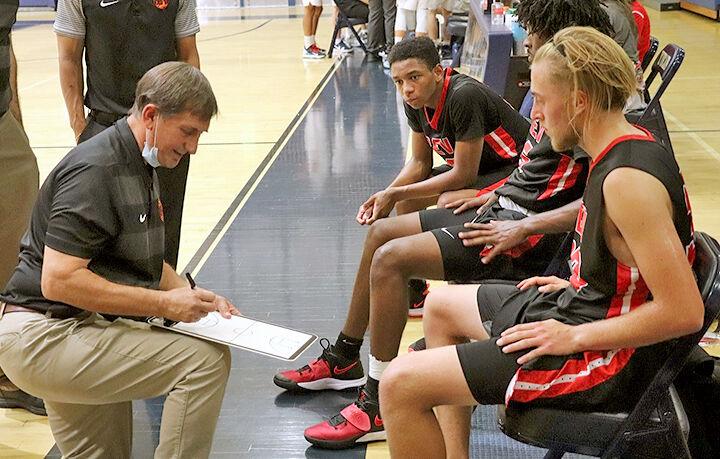 Bill Berich, while returning a routine basketball questionnaire on the coming season, dropped a bombshell.
Berich will retire at the end of the school year. The only basketball coach Redlands East Valley High has known is calling it quits.
That's 40 years of education in the rear-view mirror, and 42 years of coaching. That includes a few years as a middle-school coach during college, seven years as the coach at Yucaipa High, four years as an assistant to Gary West at the University of Redlands, and a quarter-century at REV.
"I'm going to miss the interaction with the kids and the officials and the coaches," said Berich, 62. "That's the kind of stuff I enjoy. Coaching is a tight fraternity and I enjoy my coaching friends and even the refs, except for about three of them. They've always done a good job."
As for Berich's effort, exemplary is the word that comes to mind. Even at Yucaipa where football and baseball rule, Berich made the playoffs three times. But at REV he really made his name, winning four league titles against top competition, making the section semifinals twice, and ascending to one section title game. The Wildcats dropped that one in 2015 to Compton by 15 points.
Social media lit up after the news broke that Berich is stepping down.
"Great coach, better man" was a common theme. "One of the good ones" said Berich's coaching pals John Romagnoli of Summit High of Fontana and Jerry DeFabiis of Colony of Ontario.
"He's an excellent coach," Romagnoli said. "Even after we'd play each other we'd often debrief and he'd say, 'What did you see that you could attack us with' and vice versa. He's a guy I trust a lot."
Berich, typically self-effacing, shrugs off the praise.
"A lot of coaches called me or texted me and all of it was positive," he said. "I think they just like me because they've beaten the bleep out of me over the years."
But 468 coaching victories and only 300-and-change losses say otherwise.
Bill up close
It was early January 2019, and I was sitting at the scorer's table at REV next to then-REV athletic director Rhonda Fouch. It was Fouch back in 1997 when REV opened, who had the good sense to hire Berich.
Restless, I picked up a thick Wildcat game program and one nugget leapt at me: "Coach B resides in Redlands with his wife Kate and has four children — Carly, Billy who is severely autistic and lives with his mom and dad, Blake and Adam."
That's a story. So, a week later I pulled up in front of the Beriches' sprawling ranch home in Redlands Estates. There I met Terry Pierson, the much-decorated photographer of the Riverside Press-Enterprise.
Berich welcomed us. And we got to know the REV coach, his wife and oldest son Billy in a way most people do not.
Autism, according to mayoclinic.org, is a condition related to brain development that impacts how a person perceives and socializes with others, causing problems in social interaction and communication.
Berich gave us the tour. There were the usual trophies and coaching mementos scattered about. Pierson snapped photos. Most of them were of Berich interacting with Billy, then 28, who does not speak.
Billy watched a movie. He jumped on a trampoline. He ate a peanut butter and jelly sandwich neatly cut into fourths. And he often emitted startling cries and shrieks.
Berich hugged him at one point and gently patted his back, saying, "C'mon Billy, no more, no more, no more."
Fish story
The Berich children are now grown. But there was a time when all four were at home and life was frantic. Kate has expressed gratitude to her husband for the occasional breaks she's been allowed, and she has returned the favor.
One of Berich's favorite pastimes is to board his 30-foot boat down in Dana Point Harbor with coaching pals like DeFabiis, Romagnoli and Great Oak of Temecula's Mike Young.
Not everything always goes as planned. One day when the weather was rough, the anchor chain got wrapped around the propellor. The boat drifted out to sea and Romagnoli said, "I thought it might end badly."
Said DeFabiis, "The anchor sank and went down about 15 feet, but remember this is Bill, and it's a fish story. So now it's 100 feet and he dives under the boat and unties the anchor, and we survive.
"Now when he texts me he'll say, 'How's the team, Gilligan?' And I'll say, 'It's looking pretty good, Skipper.'"
Come next year at this time, Berich will get that familiar coaching itch. It's in his blood. Only this time, he'll ignore it.
Billy struggles and Berich is needed at home more than ever. Plus, 42 years is a long time to do anything.
Typical of his nature, the REV coach keeps it light.
"Some coaches after stepping down will take a lower-level team or assist, but I don't think that's going to be me," he said. "I think I'll just go to my friends' games and heckle them."
John Murphy may be reached at jmurphy@redlandscommunitynews.com.