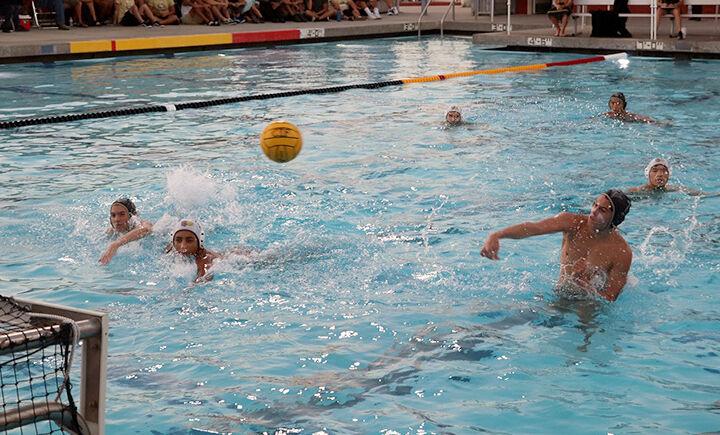 The three comprehensive public high schools of Redlands Unified began section water polo play on Thursday, Nov. 4. Two of them survived.
Out in Mentone, Redlands East Valley defeated Corona Santiago 13-3. And in a doubleheader at Citrus Valley High, Redlands High School fell to Portola 8-7 and Citrus Valley walloped West Torrance 23-14.
Blackhawks dominate
Citrus Valley coach Mike Esquer speaks slowly when making a point.
"Turn. Then. Shoot," he says. Or, "Run. Your. Offense."
The deliberate approach worked last week as the Blackhawks pounded West Torrance.
Citrus Valley's 7-1 third-quarter blitz turned an 11-7 game into a rout.
Dayton Weck led the Wildcats with seven goals, Colby Martin chipped in with six, and Brayden Taulli added four. Also for Citrus Valley, Omar Hilwani and Tristan Barlow contributed a pair of goals each, and Niko Lucore and Noah White both had one goal.
"We beat this team by 10 goals about a month ago, so I expected the same kind of outcome," Martin said.
While seniors Weck, Taulli, Lucore, and Barlow paced Citrus Valley in the pool, members of the Citrus Valley football team and other Blackhawk teams and groups whooped it up in the bleachers.
"That was awesome," Martin said. "I wish we had that every game."
Weck also enjoyed the postseason experience.
"CIF is the (best)," he said. "It was a great experience. We made it when I was a sophomore but we got first-rounded (eliminated)."
For Taulli, returning to the pool was paramount. He injured his shoulder snowboarding and missed much of the Blackhawks' season. But he returned late in the Citrus Belt League season and had scored 16 goals in five games through the end of the West Torrance game.
"My cousin (Riverside City College player) McKenzie Herndon dared me to play," Taulli said. "It's a unique sport where you're moving and treading water; it's almost like an art form."
Asked if those Citrus Valley football players cheering so fervently could survive in the water Taulli said, "No, but then I couldn't do what they do. I'd be getting pancaked all over the place."
Said Esquer, "Weck is our senior spark and we'll go as far as he takes us. "Colby (Martin) helps us at both ends, offensively and defensively."
Of Taulli he said, "He came back for the last two CBL games and he brings a different dynamic. He has a nose for the open water."
The Citrus Valley quest for postseason glory ended in the second round, though, as the Blackhawks fell to host Downey 6-5. The loss ended the season for the Blackhawks (18-8).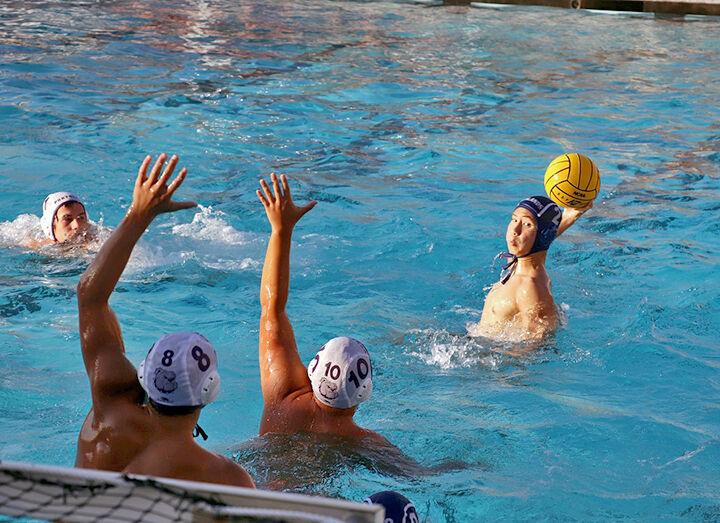 RHS season complete
There were hugs and some tears as Redlands High School's comeback against Portola fell just short.
Portola was ahead by two goals and had a penalty shot with 2:43 left that missed. Terrier fans cheered lustily.
Then Richie Abalos tucked a shot inside the left corner of the cage as Redlands pulled to within 8-7 with 2:16.2 left.
But a Terrier attempt with 1:18 left barely missed and Redlands never got the ball back as its season ended.
Rayne Valdivia and Rhyl Abalos (brother of Richie) led the Terriers with two goals each. Andrew Lambert, Roland Dockham, and Richie Abalos each had one goal.
"I'm a freshman, so I was nervous at first," Richie Abalos said. "But once I started playing, I felt more comfortable."
Valdivia, a senior, was asked how he felt about playing his last game as a Terrier.
"It makes me a little sad," he said. "I love these guys."
Dean Kent is officially listed as the Redlands coach but his son Austin Kent presided over the Portola game. Next season Austin goes off to play at Whittier College and Dean will coach the team.
"This was one of our best games of the year," Austin Kent said. "This was the first time in CIF for a lot of the players and they stepped up."
REV wins twice
Redlands East Valley (21-6) had little difficulty defeating Corona Santiago in a CIF-SS Division 2 opening-round game on Thursday, Nov. 4.
Gavin Oliver led the Wildcats with eight goals and Ruben Villanueva, Nico Perna, Lennon Franklin, Nick Sadowski, and Ethan Guereca all had one goal.
Attending the game, on his 81st birthday, was Dennis Williams, the father of REV coach Ryan Williams. Dennis was the longtime coach at both Pacific and San Bernardino high schools. He also assisted his son, at age 80, last season until finally stepping aside. He's using a cane now but attends games when he's able.
Aliso Niguel of Aliso Viejo on Saturday, Nov. 6, was a more difficult proposition for REV than Corona Santiago two days earlier. But the Wildcats still won, 7-6. The victory sent them to the section semifinals on Wednesday, Nov. 10 (too late for publication) against Servite of Anaheim. If REV got by Servite, it will play in the section championship game on Saturday, Nov. 13 at the William Woollett Jr. Aquatics Center in Irvine.
Franklin, Perna, and Oliver each had two goals against Aliso Niguel, and Nick Sadowski added one.
Said Ryan Williams of the Aliso Niguel game, "We played very well. We took an early 6-2 lead and then we had some opportunities we didn't capitalize on and they scored a few and it got closer, but we were in control the whole game. Our goalkeeper, Luca Smith, was outstanding in both games and it shows by the (number) of goals our opponents scored."