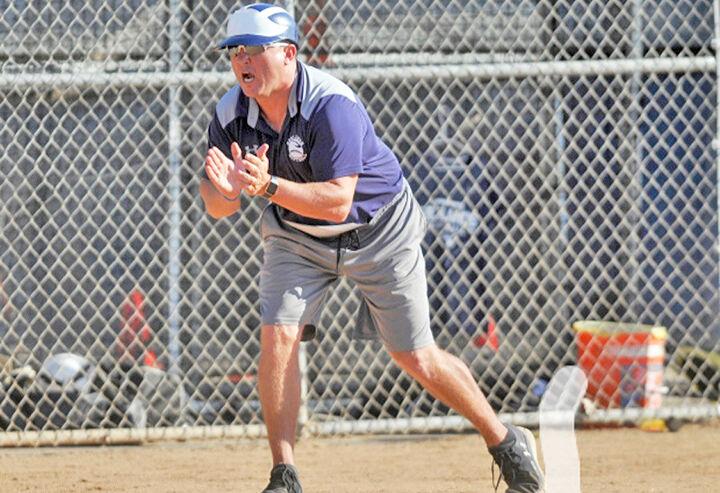 Statistics. Sports.
Ready for a column on softball that has nothing to do with softball?
Here's a softball statistic: Fifteen!
That's how many emails one area high school varsity coach recently sent out to a roster that measured just less than half that total.
Fifteen!
That's how many players were falling behind in school.
Brandon Ford, the former softball coach at Redlands, AKA the new softball coach at Redlands East Valley, has been through years of those grade battles.
Understand this, via Ford: "No one plays unless they have the grades ready to go."
It's not exactly what most folks envision when they think of coaching. It's more than rapping out ground balls during infield drills. Or watching them do warm up runs around the outfield.
But it's the life of a high school coach to keep track of their athletes' grades.
Travel ball or club coaches usually don't have these tasks.
The life of a softball player is a rousing one. Pencil your kid's name in here if they're a basketball player or if they play soccer, run track, wrestle or just any sport in general.
Weights are at 5 a.m.
Then there are classes.
After school, there's practice.
Study hall.
Then homework.
Skipping those last two is when problems start.
"What happens," said Ford, "is that a kid will get a D in a freshman class. They get better as a student, as an athlete. No college wants to accept them with a D on their grades."
Redlands, like most districts, offers a chance to make up for those occasional educational flare ups.
It's off to credit recovery class. Usually, it's right in the middle of practice.
Ford has to cut them some slack.
He recalls an ex-Lady Terrier who was on the threshold of a college opportunity. There were some educational issues, though. Bad grades.
"I told her, 'I put my name on the line for you.'" In other words, he promised a college coach that his Redlands High player would be academically ready to roll.
She interrupted softball practice to attend credit recovery, Ford said. Yes, he said, the kid succeeded.
There are plenty of success stories. None better than Citrus Valley High's two
Advanced Placement kids — Stanford's Ella Nadeau and UC Berkeley's Mika Lee.
Lady Blackhawks' coach April Finazzo cheerfully reported there were plenty of times when that duo would tutor other less academically successful students during study hall.
"Peer tutors," Finazzo called them.
"It unites a team," she said.
Kids like Kimberly Bruins, who is the only Redlands High softball player to ever receive a 100% athletic scholarship — which came from a legendary Texas program — are rare exceptions.
She was athletically gifted. Grades, at least for her, were just extra.
Texas is one of those prized softball programs that little girls only dream of someday playing with.
Ford, for his part, has watched close to 60 players move from Redlands on to
NCAA Division I programs on some sort of scholarship arrangement. That doesn't count, incidentally, the number of NAIA or Division II or III players who have gone out of Redlands.
Grade checks, a routine Ford will take from his Redlands roots over to REV, have long been a staple in his coaching retinue.
"Sure, I could check grades on Aeries," he said, noting the local district's grading program that allows teachers and coaches to check students' grades.
"I want their teachers to get to know them. They're building a relationship with that teacher, whether they know it or not."
It's grade checks every week. Teachers simply record that student's grade for the coach's viewing pleasure — or displeasure.
He recently wrote emails to his REV softball players "who are struggling."
"I had to write 15 emails," he said. "That's a lot."
Yeah, it's a fallout of distance learning, a fact that teachers and students alike are having difficulties with during a normal day of learning.
Ford won't hear it.
"I get it," he said. "It's hard."
It's up to those students not to be on their phone, or watching Netflix during distance learning class time. Some are. A lot are, in fact. Teachers are grumbling.
"I tell them, 'You've got to take ownership of your grades.'"
Notice we haven't talked about double plays, or triples into the gap, or domination from that southpaw in the circle. Not today.
High school coaches, who get a stipend anywhere between $2,500 and $4,000 each season, are doing a lot more work than anyone dares think.
Unless those kids' grades check out, they won't get a chance.
Got a sports tip? Want to chat sports? Contact me at obrown@redlandscommunitynews.com.