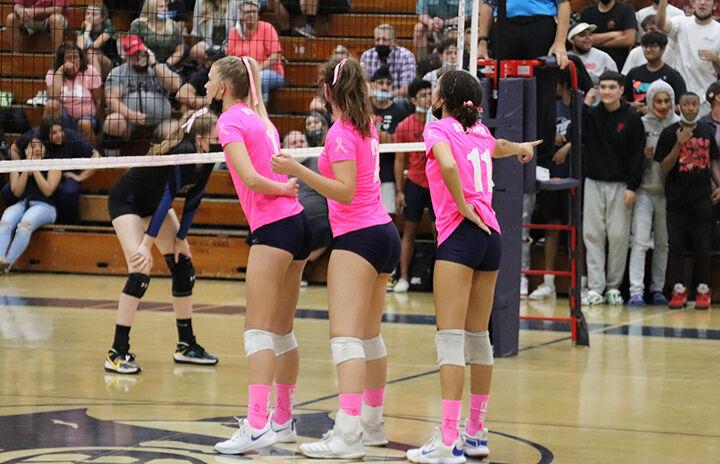 Fifteen days. That's the time it took the Beaumont High girls' volleyball team to play and win five matches, four of the victories coming in five sets.
"I'm just glad I'm done having babies because it wouldn't be normal being born into this," Beaumont coach Jessica Granados quipped following her team's tense 3-2 victory against host Redlands on Monday, Oct. 4.
The triumph put Beaumont on the cusp of a Citrus Belt League title, though its five-set loss to Cajon on Wednesday, Oct. 6 made things more interesting. As of last weekend, Beaumont needed to defeat host Yucaipa on Monday, Oct. 11, or visiting Citrus Valley on Wednesday, Oct. 13 to earn at least a share of the title. Victories in both matches (which occurred too late for publication) would secure an outright title.
Vivian Lisboa's kill against Redlands finally ended the riveting 25-22, 20-25, 15-25, 25-17, 16-14 match, igniting a wild celebration. Cougar substitutes and some fans poured out of the bleachers at Redlands High and moshed in the middle of the hardwood.
Redlands could have tied Beaumont in the Citrus Belt League standings with a victory.
"It feels really good," Beaumont senior 6-foot-1 middle hitter Avery McIntyre said. "It's a really big accomplishment."
"It feels amazing," Beaumont's­­ Libero Destiny Affor said. "It was a tough fight and I'm glad we hung in there until the end."
Things haven't gone swimmingly for Beaumont following the victory against Redlands. The Cougars lost a five-set match to Cajon on Wednesday, Oct. 6, and got swept 3-0 by host Yucaipa on Monday, Oct. 11. The Cougars needed a victory in their league finale on Wednesday, Oct. 13 (too late for publication) against visiting Citrus Valley to earn a piece of the CBL title.
Meantime, a Redlands victory against visiting Cajon in the league finale would have given the Terriers at least a co-title. And Yucaipa still had a chance for a three-way championship if Redlands and Beaumont both stumbled on the final day and the Thunderbirds were able to defeat Redlands East Valley. Whew.
Despite the disappointment, Redlands coach Corinne Flowers was not crestfallen.
"I'm proud of my girls," she said. "They battled. When a game comes down to 16-14, it's anybody's game and it's just a flip of a coin who's going to win that game and Beaumont just executed two points better than we did."
Asked how she felt when her team trailed in the match 2-1, former Beaumont three-sport star Granados said, "Uncomfortable. I was ready for their No. 2 (sophomore 5-11 outside hitter Julia Tolstova) to unleash on us. She's a problem."
Tolstova finished with 27 kills, but McIntyre and Lisboa and their teammates were able to contain her just enough to eke out the victory. "I was not really concerned because we've been down before and this is what we do every time," McIntyre said."
Tolstova's laser kill put Redlands ahead 8-4 in the final set. But Beaumont surged to tie 10-10 on a stuff block by Lisboa and kills by Kiya Waters and McIntyre.
McIntyre's kill was not a classic one, prompting an on-court smile from the standout.
"Avery is something special," Granados said. "How hard she works — the balls she's able to put away on (imperfect) passes, how she positions herself and her line of attack and how she can score on an out-of-system ball is a credit to her."
Beaumont seized a 13-10 lead on Isabella Florence's kill, but Redlands scrambled to tie it at 14 on a Tolstova kill.
The end came quickly as Beaumont won the final two points, including the clincher on Lisboa's match-ending kill to touch off the celebration.
McIntyre led Beaumont with 20 kills and Lisboa added 10.
Besides Tolstova's excellence, Libero Bella Farrockhi contributed 21 digs, four assists, and four aces for the Terriers; setter Audrey Elias chipped in with 37 assists and 13 digs; middle hitter Kailie Flores pounded eight kills; Maddie Kettle and Olivia Burgess had 11 kills between them;and Lauren Reiter chipped in with two aces.
But it was not enough for Redlands.
Asked to explain her team's dominance in close matches, Beaumont's McIntyre said, "I think that we're such a family and so connected that even people on the bench help pick us back up. We have that constant energy."
Teammate Affor agreed.
"We're all really close to each other and we're friends outside of volleyball," she said. "We just had a team-bonding movie night and it was really fun and really brought us together."
Redlands coach Flowers was complimentary.
"We know their middles are good and we know when we give them an easy ball they're going to go through the middle, but we just couldn't stop them," she said.
"Their setter (Madeline Brown) runs a very good court, and their defense is amazing and frustrating."