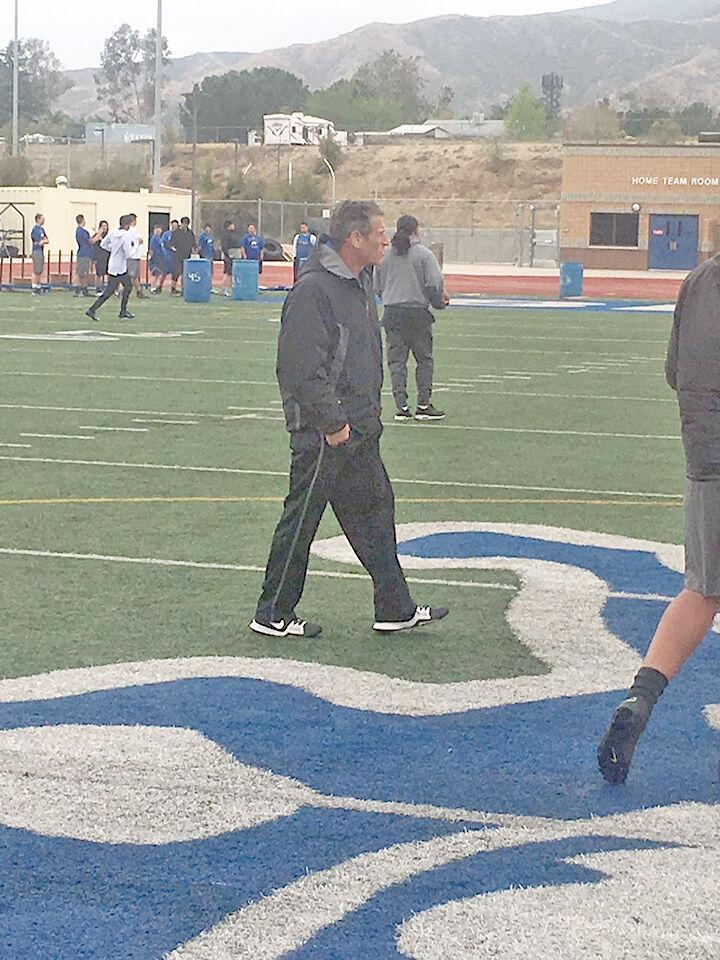 NEW-LOOK CBL: Carter's out, Beaumont's in … Redlands has settled into a 3-school district … Beaumont, Yucaipa mount CBL attack as 1-school communities … Cajon remains San Bernardino's bulldog program.
It almost seemed too good to be true for Beaumont High School.
Beaumont High School, a semifinalist in the 2018 CIF Division 11 football championships going up against Anaheim Western High School for a long-awaited shot at a second Southern Section championship.
But a last-minute safety killed those dreams.
One season later, the Cougars lined up as the No. 1 seed in the Division 10 field — only to be upset by a quick-striking Temecula Linfield Christian team in the opening round.
Football's king in Beaumont.
Absent a pandemic, the Cougars entered the 2020-21 Citrus Belt League assortment of schools, perhaps, their football program as the best feature of a fully loaded athletic program that was legislated out of their longtime Mountain Pass League post.
Beaumont school officials have projected some 5,000 students will walk the hallways at Beaumont High, since they've also committed that no second high school campus is likely to be built any time soon.
Those numbers should be staggering, at least to a trio of Redlands-based campuses — Citrus Valley, Redlands and Redlands East Valley — not to mention San Bernardino Cajon, which shares a district with four other campuses.
Yucaipa and Beaumont, in reality, should project to be CBL dominant as one-high school communities.
In another generation, it would have been crazy to suggest that Beaumont, or even Yucaipa, could lock horns with any team in the CBL.
As Beaumont enters the CBL fray, here's a look at its most recent school-year's athletic performance:
FALL SPORTS
Football — Curious note: Third-year defensive coordinator Derrick Dial, who led Redlands High to a 4-6 record as interim Terriers' head coach in 2017, was turned away in applying for both Redlands and Redlands East Valley jobs.
Once he connected with Beaumont head coach Jeff Steinberg, who traveled to Redlands and interviewed Dial at a downtown Starbucks before hiring him, Dial has had a home ever since.
As for Steinberg, consider he's the same guy who struck down CBL teams way back in the early part of this century when he coached Fontana A.B. Miller to league titles.
Boys water polo — Speaking of first round upsets, like football, the Cougars' water-splashing compatriots would have taken on CBL entry Yucaipa in the second round of 2019 CIF Division IV playoffs, except for this:
Top-seeded Beaumont was knocked off by JSerra Catholic, 12-3, thus ending a hopeful playoff run.
The Cougars were 2011 CIF Division 6 champions under coach Chris Carlson, who had once coached Redlands High. Since that high-water mark, Beaumont has been consistently in the playoffs each season.
Girls golf — It's hard to recall if the Lady Cougars have ever reached the CIF team championships. Such an achievement not only takes talent, but depth. Despite the presence of 54 holes of golf in its own vicinity (Oak Valley and Tukwet Canyon), golf is not a high-achieving sport at Beaumont High.
Girls tennis — In 2019, Coachella Valley knocked off the Lady Cougars (8-12) in the opening round of CIF Division 4 play, 10-8. It was the same Division 4 in which Yucaipa's girls advanced to the fall 2019 semifinals.
There are some hard-working coaches in the CBL ranks, namely Sean Comadena at Redlands, Ed Stark at REV, plus neighboring Yucaipa coach Scott Salinas, who has his team's hand in taking first place over the years.
Cross country — Unusually prominent in winning Mountain Pass League championships, both the boys and girls programs are distance-running successes off great feeder programs from its middle schools — Mountain View, San Gorgonio and Highland Academy.
Want to have some fun? Compare some of Beaumont's late-season times with that of Redlands, REV and Citrus Valley.
Yucaipa is the heavyweight squad.
Girls volleyball — Ever since Jessica Granados and Sarah Rice, onetime anchors at Cal State San Bernardino where Granados was an NCAA Division II All-American, has shown up at Beaumont, the Lady Cougars have been league championship contenders.
Unable to completely overtake perennial powerhouse Hemet, it didn't mean that Beaumont couldn't pull off co-championships. Over the past three seasons, it was the Lady Cougars and Lady Bulldogs sharing the title.
There'll be a little reprieve for Beaumont. Redlands, REV and Citrus Valley aren't anywhere close to its past highlights.
WINTER SPORTS
Boys wrestling — Watch out for the Cougars. This quiet, growing community produced a fifth-ranked (CIF Division 3) squad last winter. Second to powerful Vista Murrieta at its own tournament, ninth at the Downey Tournament, unafraid to take on the big teams at the Raul Huerta (Canyon Springs)
Tournament, losing to the killer programs in its former Mountain Pass League, Perris Citrus Hill, Hemet and San Jacinto.
Girls wrestling — Hang onto your hats on this one: Michelle Espinosa, who was a soccer stud at Redlands High a few decades ago, turned out a daughter, Amanda Hendey, who came inches from winning a spot on the past two U.S. Olympic teams.
The Lady Cougars, who hosted last winter's CIF-Southern Section state qualifying tournament, have crowned multiple CIF champions in recent years.
Girls water polo — For the past several years, Beaumont has played in a four-team Mountain Pass League which resulted in a triple deadlock, at 4-2, with Hemet and San Jacinto.
Curiously, the Lady Cougars lost a CIF playoff first-rounder, 12-6, to Cajon in a duel between a pair of teams that will be sharing the CBL.
Boys basketball — The Cougars have been fashionably competitive, not only in Mountain Pass League play, but longtime coach Jon Florence's squads have notched tournament victories in notorious spots like the San Bernardino Kiwanis, knocking off such CBL teams as Yucaipa, Redlands, Citrus Valley and Redlands East Valley in the process.
Girls soccer — The Lady Cougars will enter CBL play with a vengeance. They reached last year's CIF Division 5 championship game after a playoff run that took them to wins over South El Monte, Fontana A.B. Miller, San Dimas and Rowland, winding up in the finals against Charter Oak — winning, 1-0.
Girls basketball — Beaumont, playing under longtime coach Peter Carr, surged to a 2019-2020 co-Mountain Pass League championship with Hemet, both 9-1, beaten by 24 points in a Division 3A opening round playoff. Carr's a high-energy coach with a full roster of players that run end to end; lots of subs and high pressure — and defense.
SPRINGS SPORTS
Baseball — Onetime coach Jason Whittle, who led the Cougars to three playoff berths before stepping aside in 2015, returned after four rebuilding seasons by Robert Sheehan. Whittle spent a couple seasons as a Yucaipa High varsity assistant before getting re-hired as Cougars' coach on the diamond.
Learning from Ralph Grejada, who replaced longtime Yucaipa coach Jeff Stout in 2017, Whittle has apparently developed an eighth-grade feeder program in Beaumont.
Boys golf — It's been years since the Cougars have qualified for a division team tournament. Usually, that's reserved for a squad of players that shoot in the 70s.
The good news for Cougar sticksters is that most of the CBL — except Redlands High — is in the same boat.
Softball — Frank Fuimaono, who played football at Fontana back in the 1980s, has been the Lady Cougars' regular head coach for a while.  
He's strong enough to handle that couple handfuls of Beaumont players that tap in from travel ball squads. Typically, it's a problem in that move from travel ball to high school. Fuimaono's got it handled.
Swimming — If the name Chuck Riggs rings a bell to Redlanders, well, it should. It's because Riggs, who is now in swimming's Florida-based Hall of Fame for coaches, once rode herd over a prominent Redlands Swim Club. Plenty of CIF-qualified and eventual collegiate swimmers, not to mention Olympians have logged his workouts.
Well, he's now coaching at Beaumont — both club and high school.
Boys tennis — It's been more than a handful of seasons since the Cougars notched a CIF Division 5 championship. Everyone's long gone from that, including their coach, Torrey Tripp.
Track & field — If Beaumont has been known for any particular event over the past handful of years, it's been the pole vault. Brady Ho captured the 2018 title at Division 1, which will be the same level of competition as Yucaipa High — based on school population.
That particular event is a no-go in the CBL, so Beaumont vaulters must compete in various invitationals if those poles are to be used.