New Redlands East Valley High baseball coach Daren Espinoza grew up in the tough Del Rosa neighborhood of San Bernardino where nobody ran baseball clinics for children with lunch served afterward.
But that's exactly what Espinoza did on Tuesday, Jan. 4 when Espinoza hosted the free Wildcat Baseball Camp for about 50 kindergarten through eighth-grade students. Johnny's Tacos provided the post-camp repast.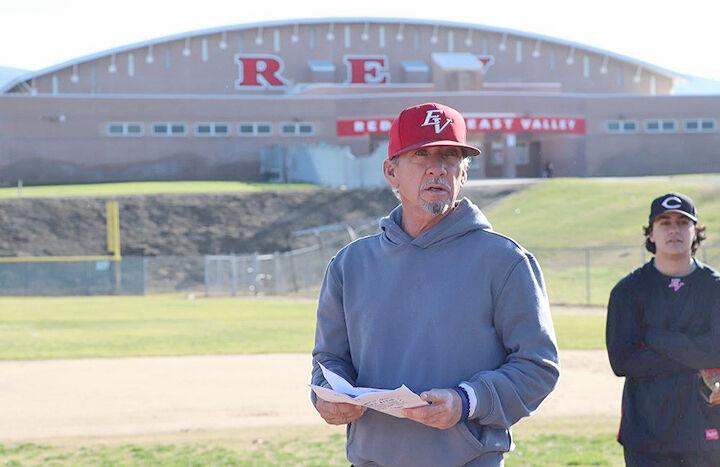 "I used to be that kid and there wasn't much of that kind of stuff," Espinoza said. "It was just me and my friends."
That Espinoza, 55, graces area baseball fields at all is a bonus for young players. Less than three years ago he had 18 inches of colon removed and then had his colon reattached. He was diagnosed with stage 3B colon cancer.
"There was a lot of anger in me," Espinoza recalled. "I thought, 'How could this happen?' I was in tip-top shape."
Espinoza resigned as the Citrus Valley High baseball coach and took a job as the English language coordinator at REV. He also started chemotherapy but never backed off his fitness regimen of running 4 to 6 miles and lifting weights every day.
"I don't do chill," Espinoza said to a doctor who advised him to slow down.
Doin' work
Espinoza and his red-capped REV players met last week with the campers near the REV pitching mound on a clear, crisp morning.
"For me it's just reaching out," Espinoza said. "It's Christmas break, get the kids out of the house and let them play and get a free lunch. They like that."
Zion Martinez, 13, of San Bernardino didn't complain. His father heard about the camp from a friend.
"We get some practice in and see how the high school guys do it, and get some reps," Martinez said. "It's fun."
Role model
Espinoza was not the baseball coach when he started teaching at REV in 2018. He was the guy traversing campus with a purse-like bag holding a square object with a tube attached. The tube delivered a chemo drip that helped save his life.
"I just said, 'It's 3-2 and the bottom of the ninth and I just need to fight through it," Espinoza told me for a 2020 San Bernardino Sun story.
Fight he did — and he now feels fine, though he'll need another colonoscopy (his seventh) in October before he's declared cancer-free.
I asked REV player Emmanuel Palos if Espinoza had shared his cancer story.
"He did," Palos said. "And it shows how tough he is that he can come back and coach and give back."
Coaching 'em up
The morning chill burned off and beads of sweat appeared on older players' faces. They took their hacks in the batting cage, with Espinoza presiding.
When a big junior high kid couldn't time his pitches, Espinoza intervened.
"A lot of you move too much," he said. "When your body moves, your head moves. And when your head moves, your eyes move. You want to stay still."
Lessen learned, the big kid barreled one up and sent a line drive into the netting.
Hold the Cheetos
Everything Espinoza does is quick. His camp is all 10-minute bursts.
"Super-fast and up-tempo," Espinoza told me. "We don't sit around and wait for a three-run home run. Create action. Hit-and-run, drag bunt, steal."
Last week was just a holiday baseball clinic but Espinoza's fingerprints were all over it. He hit pause when he saw players strolling to the end of the line after drills.
"When you're done with the drill, you run back to the end of the line," Espinoza said. "Why do you run? To get in shape. If you're in shape, you'll be a better player. And you can't get in shape eating Cheetos and playing Fortnight."
John Murphy may be reached at jmurphy@redlandscommunitynews.com.
Follow him on Twitter @Prepdawg2.