Ten area teams qualified for the CIF-Southern Section cross-country finals.
The finals are Saturday, Nov. 19, at Mt. San Antonio College in Walnut. The preliminaries were held last week at the same spot.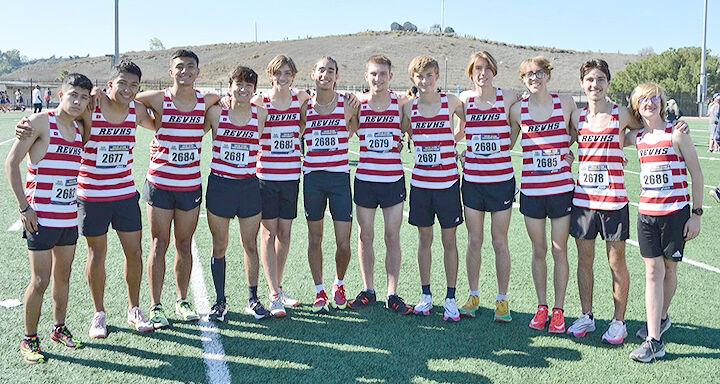 Redlands East Valley in Boys' Division 3, Heat 3, scored 88 points to finish fourth. Emmanuel Wallace was the heat winner in 15:17.4. Frank Rodriguez finished ninth in 16:19.1. Juan Montes was 22nd in 17:41.5. Jonah Sorio was 26th in 17:27.5 and Jacob Ladd took 30th in 17:34.7.
Wrote REV standout Wallace on social media, "So proud of my team for qualifying for CIF finals. We have battled injuries, the loss of some runners and still are here. So proud of the boys for coming through. Let's go at @runmtsac next Saturday and give it our best!"
Citrus Valley continued to shine on the girls' side. The Blackhawks put five runners in the Top 25 in the Division 2, Heat 2. Hailie Lomeli finished fifth in 18:37.8 and Gabriella Romero was 10th in 19:21.9, followed by Itzel Del Rio (17th, 19:46.8), Odyssea Barro (23rd, 20:16.9) and Isabella Bravo (25th, 20:20.6).
In Boys' Division 2, Heat 2, Citrus Valley took sixth with 139 points, well behind section winner Newbury Park with 24 points. Ethan Romero led the Blackhawks with a ninth-place finish of 15:38.0. Mateo Saldana was 13th in 16:12.2 followed by Kalani Daniel in 27th (16:37.1). Chris Ontiveros finished 38th in 16:53.9. Diego Caldera was the fifth Citrus Valley runner across, in 17:35.8.
In Girls' Division 5, Heat 1, Loma Linda Academy qualified by finishing third with 64 points. Elizabeth Baldwin led her team by finishing second overall with a time of 20:06.7 for three miles. Annabelle McCully was fifth in 22:13.5. Nicole Scheult was ninth in 22:32.9. Mia Lopez was 23rd in 24:260 and Genesis Alfaro was 26th in 25:24.8.
Mesa Grande Academy qualified eighth in Boys' Division 5, Heat 4 with 242 points led by brothers Shiyloh Romo-Schmunk (32nd in 18:45.1) and Zion Romo-Schmunk (36th in 18:56.4). Loma Linda was ninth with 252 points. Samuel Oyoyo was 48th in 20:03.2 and Gabe Hamstra was 50th in 20:07.3.
In Girls' Division 1, Heat 1, Beaumont finished third overall with 110 points, led by Angie Valenzuela's third-place finish in 18:41.8. Hannah Butterfield was 14th in 19:39.5 followed by Kiana Stewart, 29th in 20:48.5. Haley Mayfield was the fourth Cougar to the finish in 20:49.6, good for 30th place. Kayla Carbajal was 34th in 20:59.6.
Yucaipa raced to a sixth-place finish with 152 points in Girls' Division 1, Heat 3. Senior Cali Good led the way with a sixth-place finish in 19:04.8. Elizabeth Palmer wound up 19 th in 20:14.8 with Natalie Zamora close behind in 23rd spot, timed in 20:22.7. Isabella Long wound up 51st in 21:53.2, just ahead of Kaylie Whitaker, timed in 21:55.0. Missing from the lineup was the team's top runner most of the season, Taylor Becker.
Saturday in Girls' Division 4, Heat 2, Banning High qualified 11th with 281 points led by Hailey Lynk who finished 16th in 20:12.5, and Evelyn Felix, 43rd in 21:59.9.
The Banning boys took ninth in the Boys' Division 4, Heat 3 with 223 points. Alan Canela was the first Bronco to the finish, taking 35th in 17:40.2. Alvaro Villalvazo was 41st in 17:56.4.
­