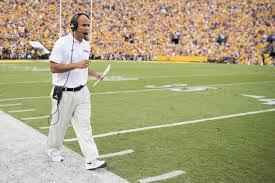 Dave Aranda, by my count, got more than a handful of mentions during last month's NFL draft. And why not?
Aranda, the Redlands High product who constructed LSU's defense in last season's NCAA championship.
The Tigers' ferocious defensive unit — which surrendered some points along the way — pulled it together once they were playing for a national championship.
LB Patrick Queen and DE K'Lavon Chaisson were first round selections, DBs Kristian Fulton and Grant Delpit were second-rounders, LB Jacob Phillips lasted until the third round, DT Rashard Lawrence was a fourth-rounder, making it six Tigers coached by the Redlands product taken in the draft.
Two more defenders slotted into the NFL, signed as undrafted free agents. Safe to say that Aranda, who is now head coach at Baylor, did his job at LSU — and then some.
* * *
Undrafted free agent signings are nothing new in pro football.
"I've had four guys get picked up as (undrafted free agents)," said Citrus Valley High coach Kurt Bruich, rattling off the names of Andrew Hudson (Buffalo), David Peterson and Gary Walker (both Baltimore) and Chris Polk (Philadelphia).
Polk, whose ball-carrying skills lifted Redlands East Valley High School into a prominent playoff spot in 2006-2008, made the Eagles' roster in 2012 after a brilliant collegiate career at Washington.
Polk, however, had a major disadvantage in the NFL draft. Since the first draft in 1936, the league has gone from nine rounds to 20, eventually to 30, winding down to the current number of seven.
Teams tap into a number of undrafted players, likely saving money in the process by picking up free agents.
All of which makes Fitts' selection, perhaps, even more impressive. The onetime University of Utah defensive end-outside linebacker was a pass rushing phenom that seemed to fit into the Bears' scheme.
* * *
There's another homegrown cyclist set to race on local roads. We'd written that Hunter Wilson, part of Team California's roster, was the first local product to race in the Redlands Bicycle Classic. That is, whenever the Redlands Classic resumes operations. We're hoping 2021 is back in business.
Kimberly Fuller wrote to editor James Folmer that her son, Thomas, is another one. This proud mom provided quite a résumé on her son, in his early 20s, who was set to ride with Subaru Santa Monica Racing at last month's cancelled Redlands Bicycle Classic.
Footnote from Folmer: In her letter, Kimberly wrote that he was born at Redlands Community Hospital. That he was part of the public races when he was 3 years old.
Said Folmer: "Hope they have a photo of Thomas on his trike at age 3."
My footnote: Hopefully, both Fuller and Wilson will both be in next year's Redlands Classic lineup. That'll produce quite a sidebar story.
* * *
Senior Redlands High baseballer Adam Valencia, a Varsity player on his dad Estevan's roster since his frosh season, is another 12th-grader suffering from a wacky pandemic that has claimed lives, jobs, careers, futures — you name it.
Valencia, though, is not only trying to claim a college roster spot at Brigham Young University, but also a spot in the mission field. A member of the Church of Jesus Christ of Latter-day Saints, he's now old enough to become a missionary.
Like dozens of area youth who are members of that church, he's ready to serve his mission. Like everything else, it's on hold.
Awaiting a baseball roster spot, a missionary assignment, no high school graduation (and its accompanying celebrations), missing out on a fully scheduled senior season schedule.
It's both annoying and heartbreaking, to say the least.
* * *
I guess the most moving nugget on reading about retiring Notre Dame women's basketball coach Muffet McGraw was that she was supposed to be on board United Flight 175 from Boston to LA.
On Sept. 11. In 2001.
An assistant coach convinced her to take another flight so they could compare notes on recruiting stops.
Wow!
McGraw's other big message is how strongly she feels that more women need to be in leadership roles — especially in sports. Wakeup call to all female athletes with dreams of being in sports for a career.
McGraw wants to see more women in coaching roles, as athletic directors and wherever men sit as sports leaders.
Let's see, Rhonda Fouch is closing off a career as an athletic director.
TWEETS OF THE WEEK
Part I
Keeping an eye on EdJoin: Redlands Grove School, a Montessori-type environment with limited enrollment, is seeking a part-time athletic director. Deadline is Friday, May 8.
Part II
Twitter has "blown up" in recent weeks over the naming of Doug Haugh as one of Valparaiso's football captains. Haugh is the former stud ball-carrying RB from Redlands High who emigrated back to Indiana to play at the NCAA Division I-AA campus.
Doug's a long-snapper and, if there's a season, might be involved in toting the rock on a few offensive plays.
If you have a sports tip, comment or want to talk sports, email obrown@redlandscommunitynews.com.