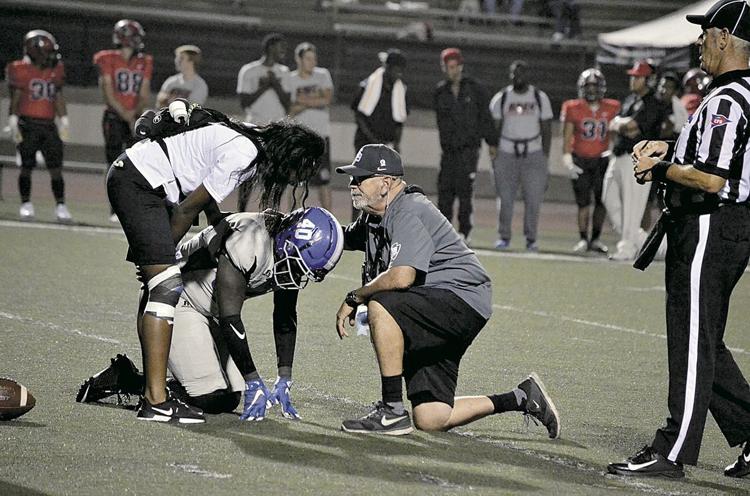 Thirty-seven years ago, Mike Sola showed up and started repairing athletes.
Treating. Ice. Rehab. Taping. All that pre-game wrapping.
San Bernardino Valley College's trainer called it a career once the spring semester ended. May 21 was that golden day. It was suggested he'd have a change of heart, perhaps?
"No way," said Sola, 65. "It's the beginning of the endless summer."
Spend any amount of time with Sola and you'll be treated to more than an endless summer. Endless memories. Endless stories. Endless spirit. He's from Highland, but has endless connections to every city up and down Interstate 10.
There are plenty of ups and downs — or maybe that's in reverse.
In a past football game against visiting Southwestern College, a backup Wolverine running back was hit hard enough to cause a cervical injury. Ambulance summoned. Staff, paramedics and Sola got the cervical collar around the player's neck for the ride to Arrowhead Medical Center.
"We iced him just right," said Sola, "but he didn't have feeling when he got to the hospital. By the time he walked out of there, he had regained the feeling — but he never played football again."
This player, however, "had a Plan B. He was studying to be a foreign car auto mechanic, working on Porsches, Peugeots, Alfas. He went into that business."
It's a nice ending to a sad story, which is what Sola tries to deliver — nice endings.
"I don't think there's an injury I haven't seen," he said. "I am thankful … there are trainers that have lost athletes."
He knows a trainer that lost a diver who suffered head trauma on a dive; plus a basketball player that dropped dead at practice.
It was 1982 when Sola started at SBVC. Think of it: Eight of the school's list of 22 all-time head football coaches, from Gene Mazzei to Daniel Algattas, alone have strolled the sidelines while Sola guarded against the injured.
One of those stories: "In spring football one year, when they were building the new stadium, we were over on the next field. The quarterback threw a real deep pass. The (defensive back) and the receiver kept running. They didn't see the shot put pole."
Bam! The receiver split his face open.
"It was like getting hit by 10 Ronnie Lotts," said Sola.
Athletes came from all over the county — and beyond — to try continuing an athletic after high school. Or maybe they'd been away from school for a while and returned at SBVC.
There were, of course, injuries.
"Especially the concussions," he said. "That's not a tough call to keep a kid out. If there's a coach in America in 2019 that doesn't take concussion protocol seriously, he shouldn't be coaching."
Such a statement isn't befitting a man who is, more or less, a totally free spirit. Just a careful one.
Bill Norris, the school's third-year sports information director who has a background in sports writing for area newspapers, announced "we are working on a full biography."
Good luck. Sola has spanned a length of time that's included thousands of student-athletes, dozens of student trainers and busloads of coaches. A single biography for Sola could take months.
"An institution," Norris called Sola, adding he "will be missed."
As for Sola, he thinks he's got enough stuff to write a New York Times best-seller.
Side note: Sola's autistic son, Emilio, threw out the first pitch for both the baseball team on April 2 and, one day later, the softball team at Chavez Park in Colton.
April belonged to that cause: World Autism Awareness Month. Truth is, Mike Sola is single. But there's family everywhere. "The athletes," he said. "We're all family."
On the other hand, Sola is your typical Cuba-to-U.S. refugee raised by an aunt in Illinois who wound up as a trainer at the 1984 Los Angeles Olympics, also at the 1994 U.S. hosted World Cup, not to mention assorted other international events — plus working as a trainer at youth soccer tournaments on weekends.
Sore arms. Torn ACLs. Broken bones. Concussion protocol. Plenty of athletes sent to medical specialists.
Olympians, like track sprinter Tyree Washington.
NFL players, like Green Bay cornerback Craig Newsome.
MLB players like catcher Corky Miller. Rubbing elbows with the likes of track & field's Carl Lewis, soccer's Cobi Jones, you name it.
Dozens, perhaps even hundreds, of NCAA Division 1 athletes, male and female.
Sola has seen it all. And, yes, there's a difference between being hurt and injured — occasional diatribe on athletes that might not be able to make it to the event.
"Injured means your joint or structure does not allow you the fundamentals to play the sport.
"Hurt is tendinitis, arthritis, bursitis … just dealing with all the aches and pains."
Saved a career, or two?
"Maybe. It all comes down to a player's attitude."
After all these years, he's got the speech down: "You're the one in college, dude. It's time to grow up. When you graduated from high school, congratulations: You just made it through the easiest part of your life. It's time to take the diapers off."
There was an offensive lineman awhile back that he kept out of the lineup. Acting disrespectfully toward Sola, it took a couple of teammates to hold him back.
"I didn't think the guy had the guts to lay a finger on me," said Sola. There was a happy ending, though.
A year, or so, later when Sola was undergoing heart issues, "that guy was the first athlete to come and visit me. They had to ask him to leave when they were closing (the hospital) that night. He wanted to make sure I was going to be all right."