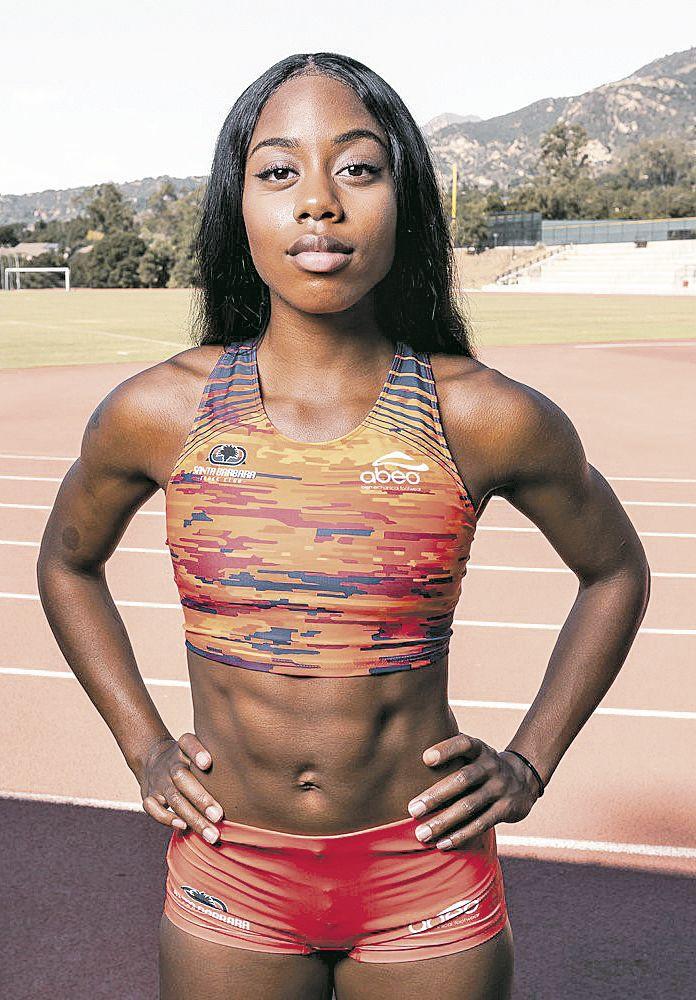 SANTA BARBARA — Juanita Webster-Freeman, a two-time junior college state heptathlon champion in search of a pathway to the Olympics, never took her time on anything.
Evidence is simple for the 2015 Redlands High School graduate:
• There's a 25-second lifetime best in the 200-meter.
• Webster-Freeman launched a 140-foot, 2-inch javelin.
•There was a 20-7 ½ long jump.
• She ran a 2:20.52 in the 800, but there's talk of a 2:16 at a practice heptathlon training session in recent weeks.
• Throw in a 42-2 ¼ effort in the shot put.
• Soared to near 6-foot high jump.
•Her specialty, perhaps, left her at 13.65 seconds in the 110-hurdles.
Each is a lifetime best. All added up, that's a personal record 5,788-point score in the heptathlon, a two-day, seven-event struggle in which women torture themselves to prove athletic superiority.
"I'm trying," she said, "to get a 24.8 in the (200). That'll really boost my (heptathlon) score." First up, however, was this year's USA National Track & Field championships in Des Moines, Iowa, back on July 25-28.
"I'm on pins and needles," said Webster-Freeman, who turned professional on May 17, 2018, accepting an offer from the SantaBarbara Track Club to train in pursuit of the 2020 and 2024 Olympic Games.
"I don't know if I qualified (for the track nationals)."
An Olympian effort was needed. The Redlands product qualified for the USATF in the open high jump, but injuries had curtailed her heptathlon efforts.
At that moment, July 8, she was 13th in the nation. Sixteen qualify for USATF nationals. If anything kept Webster-Freeman out, it was a leg injury suffered at a meet when an athlete cut in front of her at full stride.
She wound up 17th, one spot out of USATF qualifying.
Here's the real bad news: Jackie Joyner-Kersee's 1988 world record, 7,291, is still the gold standard. The top 25 is no less than 6,700 points. Just to reach Olympic qualifying status (6,420 points) is quite a climb from her 5,786.
"That," she said, "is why I'm training."
RHS prep career
The 2015 CIF-Division 2 300-meter hurdles champion, who contributed huge points in the Lady Terriers' back-to-back Southern Section team titles in 2014 and 2015, Webster-Freeman has kept her T&F dreams alive.
"My whole life," she said, "was to be in school to prove myself."
A refresher on Webster/Freeman's contributions to those two team titles:
In the 2014 CIF Division 2 final, she ran second in the 300-hurdles, took third in the triple jump and was fourth in the high jump — note: RHS teammates Alisha Miller and Savanna Miller finished 1-2 — and was on the seventh place 4 x 100 relay.
A year later, she won the 300-hurdles, took second in the 100-hurdles and was fourth in the triple jump.
That's five separate events in two championship meets.
It's possible that if high school had heptathlon events, Webster-Freeman might've been front and center, not only for a CIF-Southern Section division championship, but think about Masters and state as well.
During her prep days, she ran relays, hurdles, sprints, did all three jumps and, if necessary, could have thrown the shot put and discus. (Note, there's no javelin event in California competition).
She left Redlands High with five school records. 
Up next? College. There was no telling where this multi-event athlete wound wind up. Imagine showing up against RHS teammate Margaux Jones, the state's 200 champion who shared relays with Webster-Freeman. Jones landed at USC.
"So," she says, "you want to hear that story?"
It bugs her that she got worked out of a full-ride scholarship to Arizona State.
"I sat in the (Redlands High) principal's office," said Webster, "with my mom, coaches and counselors and signed a full-ride scholarship."
Imagine the pride of such an achievement.
Imagine the disappointment when it was whisked away.
A learning disability combined with Autism — high-functioning, to be exact, including Asberger's Syndrome — kept her from taking qualifying classes at Redlands that met NCAA academic standards.
So many fingers to be pointed, right?
Why didn't Redlands aim her in the right direction?
ASU officials had to know, didn't they?
"I got (good grades) in my special education classes," said Webster-Freeman.
Late in her junior year, the academic discrepancies were discovered.
"I busted myself to make it up. No one told us (the Special Ed curriculum) didn't qualify for college."
Cerritos vs. Mt. Sac
In reality, Webster-Freeman admits, "I taught myself to read in junior college."
Though recruited by state JUCO powerhouse Mt. San Antonio College-Walnut, Webster-Freeman turned up at another powerhouse, Cerritos College. During the 2017 and 2018 seasons — likely when she figured to be competing at nationally prominent ASU — the NCAA Division I-level athlete won back-to-back state JUCO heptathlon championships.
The academic shortcomings bothered her, big-time. "I knew I was different in second grade (at Cooley Ranch Elementary)," she said.
She was super-hyper, overly energetic, "in my own little world. My teachers were frustrated."
Think of it: As a Special Ed fourth-grader, little Juanita sneaking into a regular fifth-grade class, sitting in the back row, "pretending to be a real student. I'd pretend like I was learning."
Know this: She battled through Cerritos' curriculum to earn an associate degree. Rather than pursue a difficult pathway through four-year colleges, she turned pro.
No ASU. Santa Barbara TC instead. The USA nationals.
The Olympics. Failing to qualify for this year's heptathlon at the USATF, sights are now set on next year's Olympic Trials.
"I'm looking more at 2024," she said. "If I qualify for the Olympic Trials next year, I'll know I'm on the right path."
The heptathlon, in a sense, is easier. Listen to her mathematical equation:
"They take the top 16 to the Olympic Trials in the heptathlon," she said. "In open events, like the high jump, they only take the top three. I'll have a better chance to get there in the heptathlon than in the open events."
She can soar in the high jump, sizzle in the hurdles and sprints, bust out a good shot put and blast off a decent javelin throw.
"I really wanted to go to Mt. SAC," she said, "but (Cerritos) coach (Chris) Richardson drove two hours to prove to me that he wanted to pick me up. It was a barrier for me to keep pushing.
"It was a different journey that a lot of people don't understand.
"I was treated like no one else. I just wanted to be regular."
Webster-Freeman said she felt neglected and pushed.
"Mt. SAC was so upset, but (Cerritos) was the best fit for me."
She's talking a 3.8 grade-point average to go along with that 25-second, a 2:16, plus that 13.88. It's time to start dropping those times to lift her heptathlon score another 634 points.
It's not a daunting task for Webster-Freeman. The battle continues.
"It's why I chose running as my whole life's structure," she said Webster-Freeman. "Running makes me feel free."