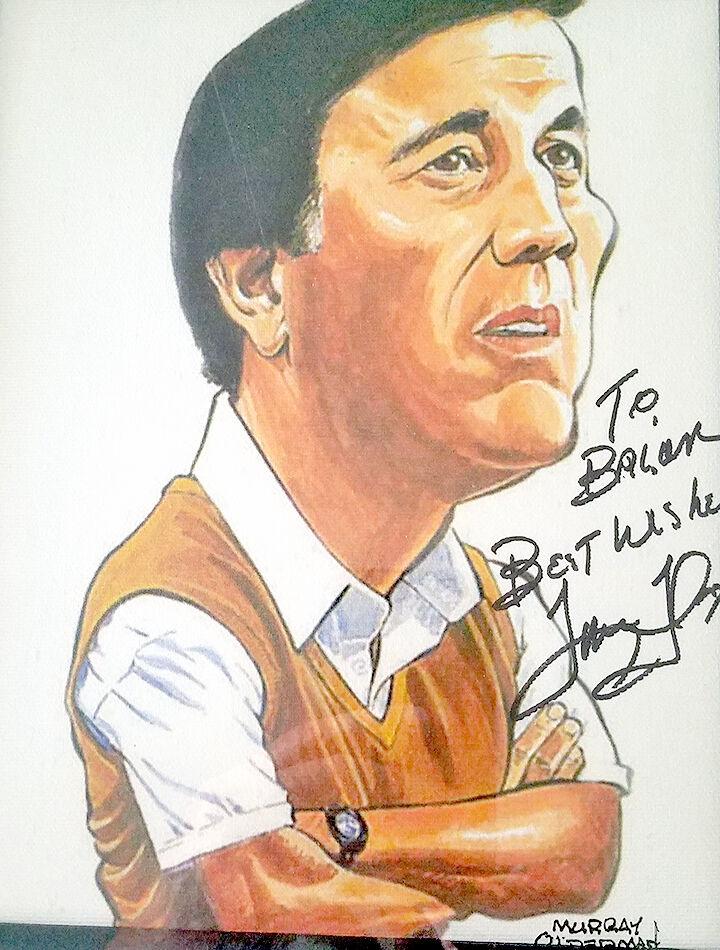 It was Tom Flores' caricature, Murray Olderman's artwork, and it was all signed over to Brian DeRoo.
That trio of men, who once congregated at Ironwood Country Club in nearby Palm Desert during monthly NFL Players Association chapter meetings, formulates a connection to the Pro Football Hall of Fame.
Flores, said DeRoo, "came to every one of our meetings."
Olderman, who was a longtime writer and cartoonist for the Newspaper Enterprise Association (NEA), was part of those same gatherings.
DeRoo, a Redlands product who played five seasons in the NFL, showed up plenty on his own.
Flores, who is best known as being the first Hispanic head coach for the Oakland Raiders, was announced into pro football's Hall of Fame on Feb. 6.
"He's in his 80s," said DeRoo, referring to Flores, noting that Olderman died last year. "He's been coming to the (NFLPA) meetings since they started 15 years ago."
Olderman, who spent a lifetime in sports media as both a writer and cartoonist, might have even showed up at the local university as either a guest lecturer or a guest professor.
"I think it was during Interim," said DeRoo, a University of Redlands graduate referring to a former student offering between fall and spring semesters.
So when Olderman presented DeRoo with a caricature of Flores, "Tom happened to be there. Yeah, I had him sign it."
That Palm Desert chapter, which isn't completely bona fide, has included the likes of Marv Levy and ex-Los Angeles City Councilman Pete Schabarum (49ers), Pete Donovan, onetime publicity man for the Rams.  
Former player Mike McCormick, who was part of the coaching or management for the Cleveland Brown, Seattle Seahawks and helping formulate the startup of the Carolina Panthers, was another NFL part of that chapter.
Flores, too, has a minor connection with Redlands. In the early 1980s, he was a guest speaker during the university's speaker series.
Around the time Flores spoke at Redlands, the Raiders were a hot item in NFL play. The team took home three Super Bowl trophies over a seven-year span.
Flores, who took over as Raiders' head coach from John Madden in 1979, was an assistant in their win over Minnesota but served as head coach in wins over Philadelphia and Washington.
During that speaking engagement at Redlands, Flores spoke of the early days of the old American Football League, part of which came during days he played on the Super Bowl Kansas City Chiefs — part of the elements that led to his Hall of Fame election.
During his Redlands visit, he said, "I remember we were being paged over the intercom at the airport. They said, 'Oklahoma Raiders.' They didn't know if we were truck drivers or pro football players."
It was an example of just how far the old AFL had come before merging to become part of the National Football League in 1970. Flores had his place in all that development, culminating in his Hall of Fame selection.
Olderman, meanwhile, showed up in well over 700 media publications during a career that spanned 35 years. Some of those publications included area newspapers.
In 1954, Olderman founded the NEA All-Pro team, which ran through 1992. It was considered the "Player's All-Pro team," especially since Olderman polled active players to compile the team.
The Jim Thorpe Trophy highlighted the selection process.
As for DeRoo, who was drafted in the fifth-round in 1978 as a wide receiver who went on to play in Canada, rarely saw action with the New York Giants (1978) or the Baltimore Colts (1979-81). He played three seasons in Montreal.
The NFLPA luncheons weren't held this past season for reasons related to COVID-19. Luncheons are similar to service clubs like Rotary or Kiwanis.
DeRoo, who has retired as a high school coach and teacher from Indio, said the luncheons, "are open to anyone that wants to come. Just pay $20 for a meal and hear all the stories."