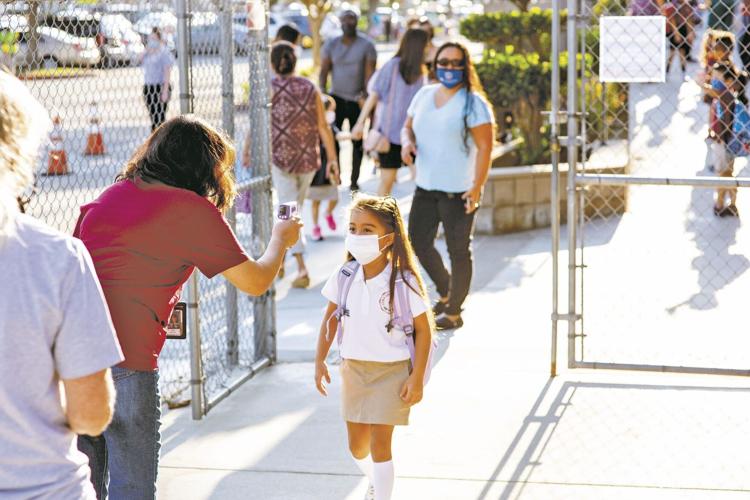 Valley Preparatory School is one of six local private schools that received a waiver to resume on-campus instruction.
"We submitted our request three weeks ago," said John Black, head of school. "We were asked to fill out specific demographics like enrollment, students' ages and include a campus safety plan."
Valley Prep welcomed students back on Tuesday, Sept. 1. According to Black, Valley Prep is smaller than other schools in the area. Each student will have their temperature checked before entering.
"Normally, we have 160 to 170 students with class sizes of about 16 kids," he said. "Some students are continuing distance learning, so we will have around 100 to 110 students coming back to campus with about 12 students in a class."
All of Valley Prep's teachers will be on campus but will be broadcasting live to students who are at home. Black said it is not clear if the state came out with another mandate ordering schools to close if Valley Prep would remain open with their waiver.
"We are having a meeting soon to discuss if we would have to shut down again," said Black. "But as long as no more than 5 percent of the student population contracts the virus, we should be fine to remain open."
Black said Valley Prep is prepared to handle positive cases class by class.
"If someone tests positive, we will shut down that class, get everyone involved tested and wait to return," he said. "We won't shut down the whole school. It will be on a class-to-class basis should someone contract COVID-19."
Loma Linda Academy welcomed K-6 students back to its campus on Thursday, Aug. 27. It is offering both in-person and live distance learning options. The school's health and safety precautions include daily screenings and socially-distanced classrooms.
Redlands Christian Lower School began its first day of on-campus instruction on Monday, Aug. 31.
Redlands Adventist Academy, Hope Christian School and Packing House Christian Academy also had waivers approved.
Redlands Adventist Academy will open for grades K-6. Grades 7-12 will wait until San Bernardino County is off the state monitoring list.
Packing House Christian Academy will welcome K-5 grade students back to campus on Tuesday, Sept. 8. Grades 6-12 will wait until the county is off the state's monitoring list.
Hope Christian School has not announced its reopening date.