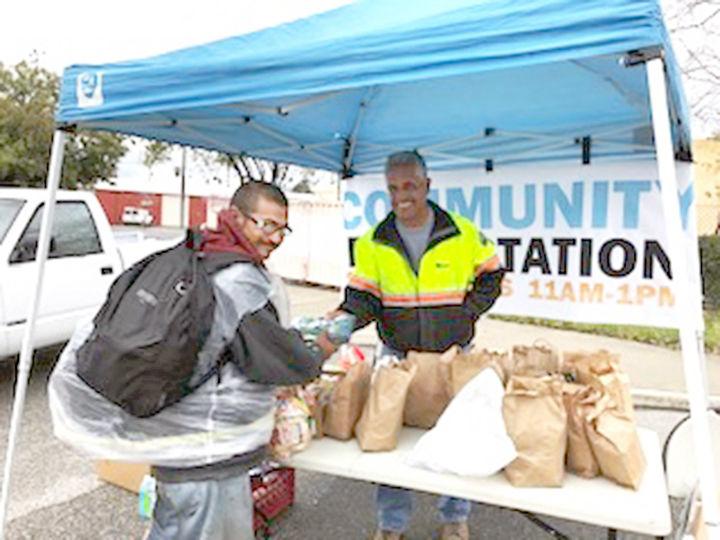 Perhaps you've driven by and seen them. The Community Food Station pop-up booths have been drawing a fair bit of attention and rightly so as they are the only services presently functioning that directly assist the homeless with food. Other services have suspended operations because of the coronavirus.
The key word in all of this is community as is highlighted on a pop-up booth's banner. This is not an effort by a single organization or group of organizations, even though the booths are largely staffed by members from various local charities along with other non-affiliated volunteers. No, this is an effort of concerned citizens showing up daily with food donations.
"The comradery between the volunteers and those in need of these services is a sight to behold and a ray of hope during these stressful times," said one participant.
"We are asking you and any one in your communities to assist in this effort by providing four or five sack lunches to be dropped off at the three sites between 10:30 a.m. and 12:30 p.m. daily," said a text message from the organizers.
"We are hopeful that with everyone doing their part we will be able to provide the basic food items to those living on the streets for the duration of the coronavirus epidemic. We are also asking your assistance for the transitional housing programs in Redlands.  
"They are in dire need of toilet paper. If each person could bring just one roll of toilet paper it would help these programs immensely".
Community Food Station pop-up booths
Hours: 11 a.m. to 1 p.m. daily,
Locations: First United Methodist Church, 1 E. Olive Ave., Redlands. The parking lot behind the church off of Vine Street is the distribution point, Banned Board Shop on northwest corner of Stuart Avenue and Orange Street in the parking lot behind the store and the former Kmart on Redlands Boulevard to the right of the parking lot entrance nearest the Tire Guys.
What kind of food?: Sack lunches consisting of the following items, which should be enough for both a lunch and dinner:
•Two sandwiches, such as baloney and cheese, peanut butter and jelly or tuna.
•Two fresh fruits.
•Two snacks, such as chips, crackers or granola bars.
•Two dessert, such as cookies or candy bars.
•Water and napkins are optional.