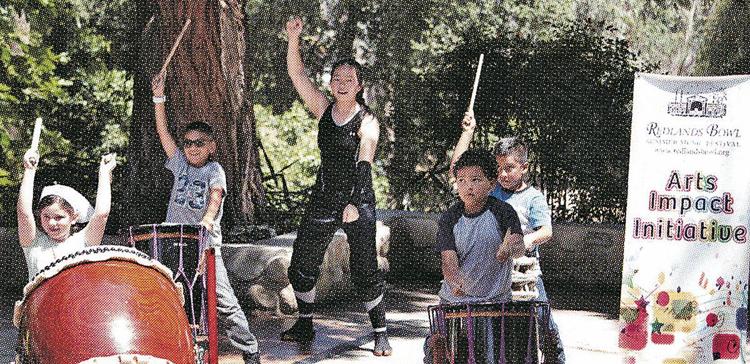 Landmark studies conducted by the National Endowment for the Arts and Americans for the Arts have proven that children who participate in the arts have improved academic performance, lower truancy rates, stronger social interactions and more successful lives.
As part of its ongoing work to bring "Music to Everyone," Redlands Bowl Performing Arts has dramatically expanded its reach to youth in our region.
This year, the RBPA will reach over 30,000 young people through the life-changing power of the arts.
A significant percentage of the young people impacted by RBPA programs are underserved and/or low-income.
As with all Redlands Bowl programming, no admission for any youth programs is ever charged. Eighty-Eight Keys for Youth programs include: Music in the Schools, bringing dynamic, engaging elementary and middle school music education assemblies.
Arts Impact Initiative, bringing enrichment programs to community partners including the Boys & Girls Club of Greater Redlands/-Riverside, Family Service Association, Mansion Memories, Micah House, the North Redlands Community Center and the YMCA.
Children's Festival Workshops, bringing summer arts programming, often presented by Bowl-stage artists, for children ages 4-12 at the Mission Gables Bowl House and the North Redlands Community Center Daylong Musical Theatre Workshops, bringing a dynamic musical theatre experience to children served by the Redlands Community Center's summer lunch program for low-income families.
Donors include City Scholars Foundation, Sylvia Clark Davis, the S.L. Gimbel Foundation Donor Advised Fund at the Community Foundation, Lagunitas Brewing Company, LulaRoe Independent Fashion Consultants, Robert and Beverly Noerr, Marjorie Lewis, Pacific Premier Bank, James Ramos, County of San Bernardino, the Rochford Foundation, San Manuel Band of Mission Indians, Southern California Edison, Southern California Gas Company, U.S. Bank and Neal and Joyce Waner.