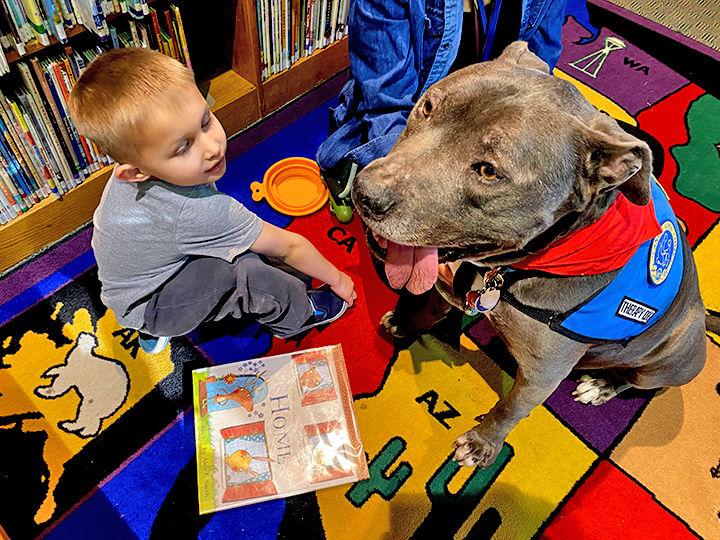 Therapy dogs are helping children practice reading aloud at the A.K. Smiley Public Library.
On Thursday, Feb. 6, the library hosted Tales for Tails. On the first and third Thursday of every month, children can read to therapy dogs in the Young Readers Room.
Kerre Ziprick and her daughter Katie Seheult are members of PJ's Pals, a Reading Education Assistance Dogs group.
The mission of the program is to improve the literacy skills of children through the assistance of registered therapy dogs.
"We find that children who don't like to read come out of their shell," said Seheult. "The handlers also ask questions on behalf of the dogs."
The two stars of the day were Lord Devereaux and Dominic. The dogs had a line of kids waiting to read to them.
"Dominic is a pit bull mix," said Seheult. "He was adopted from the pound and is so sweet." Dominic was adopted by Danna Carter, a member of fellow therapy dog group Love on a Leash.
"Dominic has his own book coming out soon," said Carter. "It will be his story of going from pound dog to therapy dog."
PJ's Pals has been coming to the library for six months, welcoming any child who wants to read.
"It depends on the day, but sometimes we have five to six kids show up, or sometimes we have 15 to 20," said Seheult.
PJ's Pals come with their own books for the children to choose from and eventually take home.
"If a child comes three times, they get to take home a book," said Seheult.
A special treat on this occasion were Valentine's Day goodie bags from the dogs for the kids.
"Our goal is to see the kids succeed," said Seheult. "We want them to love reading."
PJ's Pals goes to schools, libraries, hospitals — anywhere their service is needed. 
"All of us love to see kids grow," said Seheult. "You can see the light on their faces." 
Familiarity with reading is not the only thing the group teaches children. 
"Sometimes, we have kids who have never been around a dog before," said Seheult. "Our dogs help kids become comfortable around animals." 
"For this kind of event, we make sure the dogs we bring are the most relaxed," said Seheult. "If a child is trying to read, it's best if the dog is lying down and listening." 
Dominic and Lord Devereaux had no trouble patiently listening to the children's stories.