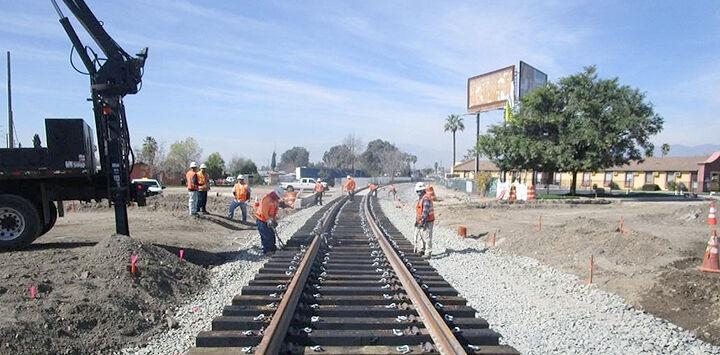 We applaud the work being done by the San Bernardino County Transportation Authority.
We'll admit that roadwork is annoying. Getting across town since the $359.7 million Redlands Rail Project began in June 2019 has been a challenge.
We're thrilled that work has finally begun on $5.8 million worth of improvements to the University Street/Interstate 10 interchange. The off-ramp should be a shining gateway to the University of Redlands, one of the gems of the city. The nine-month project will be annoying, too, but well worth it.
Projections predict the Inland Empire will grow from 4.5 million to 7 million people in the next 30 years. Imagine the parking lot that I-10 could become without this roadwork.
The extent of local transportation projects is staggering. Much of the work is funded by Senate Bill 1, the gas tax increase that went into effect in November 2017. A year later, California voters rejected a ballot initiative to repeal the tax increase.
We don't like higher taxes in general, but this one might be worth it.
The costliest regional freeway project underway? Toll lanes headed toward Redlands, a $929.2 million project that began in spring of 2020. Eighteen bridges will be replaced, widened or improved to accommodate the widening of I-10. The 38 miles of express lanes that began at the Los Angeles County line are expected to reach Ford Street in Redlands by spring of 2023.
We don't like toll roads either, but this does encourage carpooling. Vehicles with three or more passenger ride free along with cars bearing a Clean Vehicle Decal.
The nearly $200 million addition of two new lanes on State Route 210 from Redlands through Highland and the expansion of the Base Line Bridge is also expected to be complete by spring of 2023.
Those who have endured this route in early morning and late afternoon know how important this is. The 6 miles from I-10 to Arden Avenue in San Bernardino are the only part of the freeway without six lanes of 85 miles between Redlands to where SR 210 ends in Santa Clarita at Interstate 5.
Another $15.5 million in improvements to the I-10/Alabama Street interchange is expected to start in September.
Finally, it is great news that the Transportation Authority has approved an $85 million rail tunnel from Rancho Cucamonga to Ontario International Airport to be built by the Boring Co., owned by Tesla founder Elon Musk. By 2025, rail passengers will be able to ride from Redlands to the airport.
We'll do our best to be patient and look forward to a new era of smooth sailing.