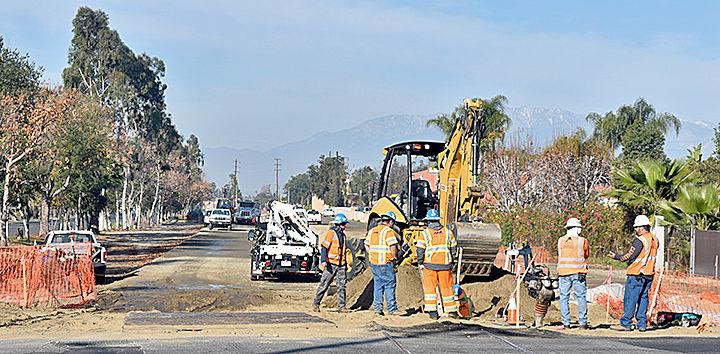 Redlands should take full advantage of the new transportation opportunities coming our way by approving Measure G.
The $355.5 million extension of Metrolink from the historic Santa Fe Depot in San Bernardino to the equally historic Santa Fe Depot in Redlands could be an economic boost to this city, one of the biggest changes in railroads since it started taking oranges around the country more than a century ago. The Redlands depot has not been fully operational since 1938.
After 82 years, won't it be wonderful to once again be a popular destination on a railroad route?
Our hope is that this modest boost in destiny within the transit villages along with smart planning and creative design will help Redlands reach its full potential. The goal to create villages where residents become less dependent on cars and spend more time walking and riding bikes is admirable.
We endorse this measure with some trepidation. It would have been better if it set height limits. But we believe supporters who say the city is not planning skyscrapers, which are extremely expensive. Redlands 2035 General Plan update, adopted in December 2017, projects 10,964 more residents throughout the city at buildout, not nearly enough to justify high-rise investment.
The draft of the Transit Village Specific Plan proposes six zones. The most dense zone would be Urban Center (T5), which would allow an average height of four stories. Up to 30 percent of a project could have five stories — a maximum height of 50 feet — as long as the average height for the overall project is 40 feet.
The current limit is 35 feet, which wouldn't work for a new Redlands Mall.
 The Urban Center zone is proposed for development around the three train stations, including the mall site.
The Downtown zone would allow buildings up to three stories — a maximum of 40 feet — along State Street and Citrus Avenue east of the mall and on the east side of Orange Street up to Park Avenue.  
This fits in with the vision of Jennifer Tilton, associate professor of race and ethnic studies, expressed her presentation on Jan. 25 at the University of Redlands.
"What has been done at other cities is varying the height of buildings so they don't look like giant boxes," she said. "Height shouldn't scare us."
The proposed plan strikes a comfortable balance to revitalize Redlands and maintain the character that residents hold dear.
The projects within the transit villages would not be approved in a vacuum. Redlands residents will have a chance to weigh in on the details of the specific plan before it is approved.
Individual projects would go through the normal reviews by the Planning Commission and the City Council. We've seen that the citizens of Redlands are not shy about expressing their opinions.
If the citizens are not satisfied by a decision, they can use the ultimate power of the ballot box to exercise their will.
We're skeptical of the argument that Measure G will help solve homelessness.
Note that Measure G refers to "attainable" housing, not "affordable."
Even when California's minimum wage reaches $15 an hour in 2022, few workers in that category will be able to live there.
However, it may be paradise for young professionals, such as those who work at Esri.
The New York Station was not part of the original plan for the Redlands Passenger Rail Project. But Esri agreed to pay for it.
There's no guarantee that Measure G will bring the Redlands Mall back to life as a commercial and residential property, but it seems more likely if the transit villages are allowed to reach their full potential.
As Redlands Mayor Paul Foster said at the State of Community on June 21, without the approval of this initiative, the Redlands Mall will most likely remain nothing more than an eyesore, the former McEwan furniture store north of mall could remain a perpetual liquidation sale and the former side of Safety Hall west of the mall could remain a pile of dirt — all significant properties in the heart of downtown. We can't let that happen.
Critics fret about inadequate parking. We share that concern. Few things are more convenient that hopping in the car and just get going.
We respect those who are concerned about Measure G, especially the venerable Bill Cunningham.
However, providing a way to reduce the reliance on automobiles and encourage walking and biking is good for the environment and the health of our citizens.
Vote yes on Measure G.