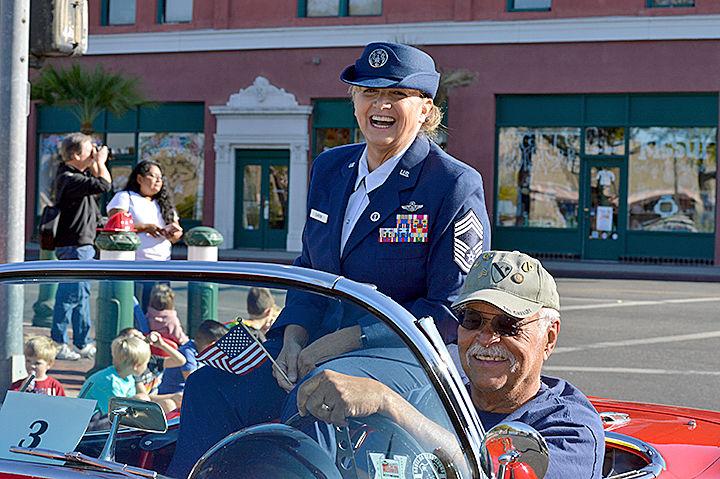 No matter if you were a veteran after four years or 44 years of military service, a veteran will always have our own experiences and our own story to share. Being able to represent fellow veterans as the grand marshal at the seventh annual Redlands Veterans Parade was the icing of my own 44 years of U.S. Air Force/Department of Defense service.  
My heartfelt thanks starts with Robert Edwards at the Norton Air Force Base Museum, who nominated me, as well as retired USAF Squadron Commander and former Redlands City Clerk Sam Irwin, John Fulton of the Redlands Hometown Heroes Foundation, the city of Redlands and the many veterans organizations.   
Mick Gallagher gave me an opportunity to speak to at least six generations of veterans at the Jennie Davis Park. As I looked at the faces of the men and women who "raised" me from an airman to a chief, all I could think of is no matter what uniform we wore or what rank we had on our shoulders or sleeves, we all came from the same supportive (and sometimes dysfunctional) family. We all took the oath to defend our country in a way the military thought would be best based on our experience and knowledge.
Serving our country gave many of us a sense of purpose, a sense of pride, accountability and trust. However, one of the most lasting and lingering impression that stayed with us is that we were "needed" in service to our nation.  Regardless if you were a chow-hall cook, the person who cut the flight orders, the medic who cleared you for flight status or one of the crew members who participated in a battle, we were needed to do our part as a team.  
Years and years later, as we see every Veteran's Day celebration, tears in the eyes of those who at times need to hear those words; "Thank you for your service."  My response to this phrase; "The pleasure was all mine or all ours!"
Even weeks after the parade, the celebration in the park and the Veteran's dinner at the Elk's Lodge, I am still hearing wonderful perceptions and thoughts of how well, how meaningful this annual event is for our hometown and local veterans and their families.  
My daughter, a child born into the military with both parents flying worldwide for weeks on end, viewed her parents' USAF service as just a normal job and that sometimes we missed her school events or other daily activities. At 33, Holli witnessed a moment at the Jennie Davis Park that had her eyes tear up. Following the American Legion Post 650 Honor Guards 21-gun salute, my daughter observed the Honor Guard member pick up her brass shells.  
The U.S. Marine Corps woman Honor Guard member approached me and slowly opened her right white-gloved hand and presented me with the brass shell. At that moment, just two women veterans and one white-gloved hand holding a recently fired shell from a 21-gun salute suddenly showed my daughter the duty, the honor and the respect the veterans have for each other for serving our nation.
Thank you Redlands for giving many of your sons and daughters an opportunity to share their comradery and patriotism with all of you!  
Jacqueline "Jacki" Caron Mortenson, a retired U.S. Air Force chief master sergeant, was the first female grand marshal of the Redlands Veteran's Day Parade.