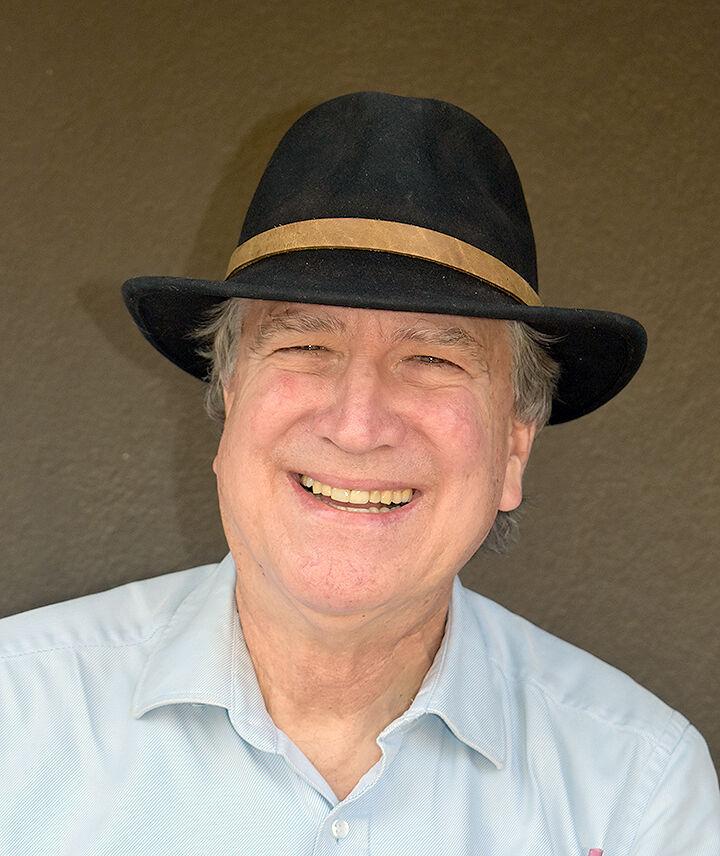 "Suburbs: a place where they cut down the trees and then name streets after them."
— one of Phill's many lapel buttons
I grew up in Corona surrounded by citrus trees. When my family moved there from Fontana in early 1964, there were far more of those than people, and on many of my workout runs I'd head south from my house and into the groves on lightly traveled roads to rack up the miles.
Soon, though, all that changed as Corona's population exploded and some of the richest and most productive agricultural land in the world was swallowed up by sprawling suburbia and strip malls. Since then, on the few occasions when I have driven through my former running routes (which isn't often because it's just too disturbing), I simply can't recognize where I am.
Flash forward to 2021 and my runs these days take me a few minutes from my home near the University of Redlands and into the groves just a mile north between my house and the Santa Ana River wash. It's always a mind-clearing relief to escape into those quiet, tree-lined streets.
But for how long? Yes, we can all be thankful that forward-looking citizens pushed to create what's called "The Emerald Necklace," bucolic areas which includes those trees I run by, but plans continue apace to gobble up other unprotected parts of our verdant jewel. Just this year the City Council approved a 317-house tract on citrus land north of the ironically named Citrus Valley High School, a development that, despite claims to the contrary, will hugely impact traffic in an area that's already bumper-to-bumper every school day.
Sadly, it's the same story throughout Southern California, where our chronically over-crowded and dysfunctional infrastructure turns the term "urban planning" into one of my favorite oxymorons. So, despite the widespread belief that growth means progress, we've also seen growth's unhappy equation: that as the population of an area goes up, the quality of life goes down — along with the trees.
Call me a "tree hugger" if you will, but it's always a relief when I encounter others like Neil Watson, who is in his early 70s and owns property I've run by many times. He bought a 3.5-acre parcel in 2004 near the Santa Ana River bluff on River Bend Drive and, despite some health issues, continues to fight for his land and some 250 citrus trees he would like to leave as a legacy. Neil hopes that he's not alone as well, and that the city will step up to help him and other small growers to both survive and thrive.
Other "tree huggers" I met with earlier this year include members from a passionate coalition of neighbors fighting to preserve a heritage grove on West Palm Avenue that dates to the original Thomas England estate built in the early 1890s by the man behind the creation of Prospect Park.
The home still stands along with some 765 Washington navel orange trees around it, but again — for how long?
After two attempts to buy the property by the Redlands Conservancy, it sold to a developer in 2019, with plans to save the original estate, but remove most of the trees to build 28 small homes on the 8.9-acre spread. Since then, the Redlands City Council has kicked the can (or rather the orange trees) down the road several times.
Its September decision allows more time for comments on the environmental impacts of the project.
For someone like me, who saw what happened to Corona, the comments of concerned neighbor, Stuart Sweet, ring resoundingly true: "If the grove disappears the city will lose something invaluable," he said. "It loses history. It loses something you can't ever replace and that's character."
I couldn't agree more.
Phill Courtney has been a high school English teacher and a Green Party candidate for Congress. His email is: pjcourtney@earthlink.net To weigh in on our area's citrus heritage, follow the Redlands City Council agendas and perhaps attend meetings of the Citrus Preservation Committee, which are open to the public. See the city website for details.
Editor's note: The Redlands City Council approved the housing project Tuesday night.