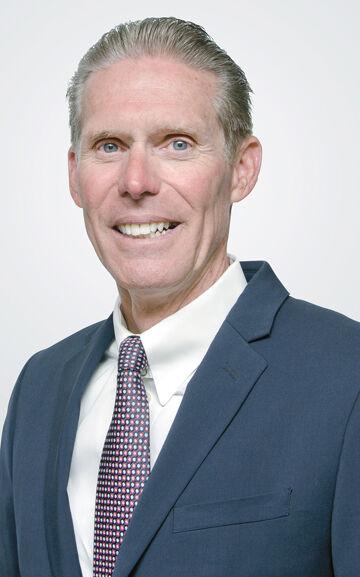 There's a reason San Bernardino County has one of the hottest job markets around.
There are several reasons, actually, starting with a quality of life that's attracting record numbers of workers and businesses to our region. Couple that with affordability, accessibility and available land for businesses to expand, and it should surprise no one that we've emerged as one of the country's most robust population and economic centers.
This past week, numbers released by the California Employment Development Department (EDD) showed just how much San Bernardino County's post-pandemic job market has heated up.
Not only have we reclaimed the 130,000 jobs lost during the early months of the COVID shutdown but for three straight months, the total number of jobs in the county has exceeded 950,000 — a plateau never before reached. Meanwhile, the total labor pool across our country has exceeded 1 million for the third month in a row — including a record 1,008,800 in January.
All of this is great news for our regional economy, for businesses and for job seekers and validate what we've been seeing for years — the emergence of San Bernardino County and the Inland Empire as the place to be in Southern California.
During the first year of the pandemic, the IE saw household growth of 33,000, much of that coming at the expense of Los Angeles and Orange counties as record numbers of families and young professionals migrated inland. That in-migration rate ranked second only to Phoenix among major metropolitan areas in the United States, according to the Wall Street Journal.
As our talent pool grows, our county has become even more attractive to businesses and high-profile industry clusters such as advanced manufacturing, health care and logistics. Today, San Bernardino County and the IE stand as a critical link in the global supply chain and home to some of the most dynamic and innovative companies anywhere.
For our part, the San Bernardino County Workforce Development Board (WDB) is committed to ensuring that growing businesses are able to secure the talent they need.
Through partnerships and programs such as On-The-Job Training, our team of workforce and business services professionals is helping individuals expand their skill sets while providing employers with access to well-trained and highly qualified workers.
We understand that dynamic because we live it — as employers ourselves. Our board is composed of influence leaders in business, education, government and the nonprofit sector — all focused on building an even more robust local economy.
As we do, we're keenly aware that the post-pandemic job market still presents challenges. Even with payrolls swelling to record numbers, many employers continue to report difficulties in filling key positions. There are a variety of reasons for this — from child care issues to a growing number of Baby Boomers cashing out their 401(k)s and home equities and taking early retirement.
Here, too, we appear to be in a better position than most, given the relative youth of our population. The median age in San Bernardino County is three years younger than the state average and five years younger than the U.S. average. Importantly, too, 26% of our population is under the age of 18 — a whole new generation of future workers that we can train to meet the needs of a 21st century economy.
It's here that cross-sector partnerships and the multitude of career pathway programs across our county can have a huge impact on our future — and position us, in a post-COVID world, to be an even bigger economic force.
At WDB, we look forward to seeing this through. As encouraging as the most recent job numbers have been, the best is yet to come.
Phil Cothran is chairman of the San Bernardino County Workforce Development Board. He has worked for WDB for 24 years and is president of the Fontana Chamber of Commerce board.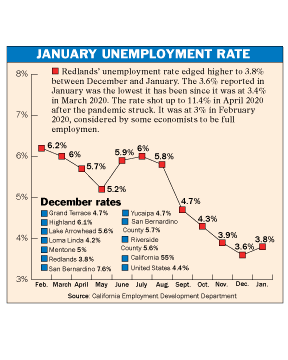 Bullet points from Economic Development Department
• Updated data show that California outpaced the rest of the nation in year-over job gains (January 2021 to January 2022), with the state posting a 7.4% increase in jobs compared to the national job increase of 4.6% for the same time period.
• Benchmarked data show the state's job recovery so far is much stronger than first estimated, now regaining 2,261,100 (about 82%) of the 2,758,900 jobs lost in March and April 2020 due to the COVID-19 pandemic.
• Revised data also show the peak unemployment rate during the pandemic was 16.1% in May 2020 instead of the previous estimate of 16% in April 2020.
• Eight of California's 11 industry sectors gained jobs in January with Trade, Transportation, and Utilities (+26,600) posting the largest gain, primarily within the General Freight Trucking industry subsector.
• Both the Trade, Transportation and Utilities, and Professional and Business Services industry sectors have regained all job losses incurred due to the COVID-19 pandemic.
•The biggest industry sector job losses were in Government (-800), specifically in Local Government Education.