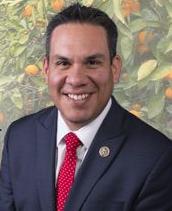 This is a scary time for our community, and our country. The fact is that the spread of the coronavirus is forcing us to face a series of unprecedented challenges, and to make difficult choices each day.
From baseball's opening day to the commencement ceremonies our students have looked forward to for years, many of our greatest traditions have been canceled or postponed in the name of public safety. There is one great American tradition, however, that is alive and well. Americans always rise to a challenge.
The challenges posed by the spread of the coronavirus are unique, and unlike any that most of us have faced in our lifetimes. Americans in nearly every state have been told to stay in their homes indefinitely, hundreds of thousands have lost their jobs and the death toll continues to rise. But in the midst of this uncertainty, we're seeing our fellow citizens step up to protect our communities.
Health-care workers, doctors and nurses are risking their own health and safety to save the lives of others. Our grocery store workers, logistics workers and farm workers have doubled their efforts to make sure Americans still have access to the food, medicine and necessities they need. We're seeing teachers use technology to continue serving their students in creative ways, and restaurants going out of their way to make sure our seniors still have access to meals. We're seeing members of our community rise to meet this new challenge in a familiar way – united.
That same spirit of unity prevailed on March 27, when the House, Senate and White House came to a bipartisan agreement to pass the Coronavirus Aid, Relief and Economic Security (CARES) Act. This bill provides $2 trillion to help our country and communities fight the spread of this virus. The bill establishes direct payments of up to $1,200 for most Americans, provides $350 billion in relief to small business owners, expands unemployment insurance benefits for affected workers, supplies approximately $200 billion to hospitals and health care providers, and grants $150 billion to state and local governments for emergency response.
In our community, we're already seeing the benefits of this bipartisan action. Inland Empire health care providers have received more than $2.6 million in federal funds to aid in their coronavirus response, and local governments in our region have received more than $13 million. This funding will not only help our health-care workers respond to this crisis and provide better care for Inland Empire residents but will also allow our city and county governments to invest in affordable housing and economic growth programs to help keep our region's economy stable.
The bill also included over $375 billion in relief to small businesses, including $349 billion in funding for forgivable loans of up to $10 million to small businesses to keep staff on payrolls and help pay for other expenses like rent, mortgage, and utilities. These loans were created through the Paycheck Protection Program (PPP) and are available to businesses under 500 employees, including nonprofits, independent contractors, self-employed business owners, and veterans' organizations. The application period for this program opened on April 3rd. I know that many businesses in our community have faced challenges in working with lenders to access these loans, that's why I've been advocating that Congress quickly expand the availability of funds available to small businesses through this program.
The CARES Act will not solve every problem created by the spread of this virus, but it is a critical step to help Inland Empire families and small businesses navigate this crisis. As Congress debates the next legislative package to provide relief to Americans, I will continue working with my colleagues on both sides of the aisle to make sure that small businesses, families and medical providers in the Inland Empire have the resources they need to make it through this difficult moment and come out of the other side stronger than ever.
U.S. Rep. Pete Aguilar was mayor of Redlands from 2010 to 2014, when he was elected to Congress. He is vice chairman of the House Appropriations Committee and is a chief deputy whip in the House Democratic Caucus.