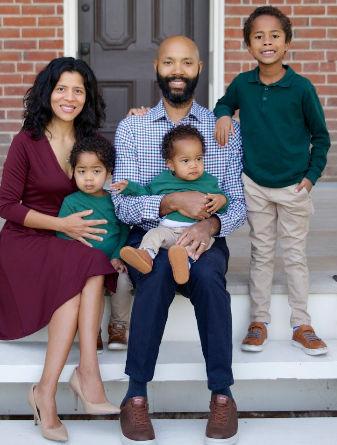 Three years ago, when my husband Damany and I were considering all the school options available in Redlands, homeschooling our oldest son, Zhai, wasn't first on our list.  
In a city with an outstanding public education system that includes several award-winning schools and equally impressive private schools, it didn't have to be.  
We did our research, visited the schools we were interested in and enrolled him in the Spanish immersion program at Redlands Christian School (RCS).  
Then suddenly — or maybe not so suddenly, although it felt that way to many of us — I found myself homeschooling Zhai two weeks ago, after the coronavirus pandemic forced the closure of all schools.  
OK, so I skipped three years of life in there, but you get the point. I should add that within that time frame, we had two more boys. 
Unlike public schools, which were beginning their two-week long spring break when the closures began, RCS was in its last week of school before its scheduled weeklong break.  
In an amazing feat, teachers and administrators scrambled to launch a distance-learning program that would take us to the end of that week unscathed, physically, at least. It was by most accounts a success.  
As a stay-at-home mom of three little boys, dealing with the untimely closures hasn't been as inconvenient as it has been for other working moms and dads who have had to struggle with finding suitable childcare for their children while they report to work. (More on that in a separate story.) 
But it has been demanding nonetheless and not necessarily just because of the academic workload or the technology learning curve or the constant struggle to remember due dates and times even when they are all clearly laid out in a weekly schedule.
It's because all those things and more have joined forces and are conspiring against me all at once.  
To that I must add caring for my 1-year-old and 3-year-old boys while keeping everyone on a schedule that's as close to the norm as is reasonably possible and that includes time for cooking, cleaning, exercising, answering the slew of nonstop questions thrown my way and breaking up the occasional wrestling match that breaks out right in the kitchen or bathroom or on top of my not-pedicured feet.  
One mom I spoke to said that having her boys at home all day has been exhausting. The hardest part for her has been trying to shield them from all the news and explaining why they can't go to restaurants without scaring them.
And that was just the first week. Thank God for that break in between.   
Speaking of God, isn't he gracious and always on time?  
During Zhai's first week home from school, Damany was still working so I was at home juggling all of this alone.  
Since then, he too has been sent home from work because of the pandemic and because God knew I could use the help.   
He also knew that having this time together at home would be beneficial and even fun for all of us.  
Yes, it can be unnerving to read or watch the news. These closures are having profound effects on all areas of our lives. But they don't all have to be negative. 
We've taken this time to create profoundly positive memories with our family by spending quality time together, playing games, cooking, eating and even arguing a little. 
Even the homeschooling has been good. It has allowed me to connect with other parents and learn from them as we all become more familiar with our children's curriculum. And it has exponentially increased my admiration for our teachers, who are putting forth their time and best effort so that our children continue to be active learners during this time.  
I'm trying to keep this in mind as Zhai gets ready to start his second week of online learning, now with Damany at home for support.  
I have given him a thorough overview of what Zhai's home-schooling program is like. We discussed who would help him with what and when, and I even tried to sneak in some time alone for myself.  
I trust that he will do a fine job as a "suddenly homeschooling" dad.  
And when push comes to shove, he will be a much better referee of those breakout wrestling matches.
Maybe then, I can give myself a pedicure. 
Martha Phifer of Redlands is a regular contributor to the Redlands Community News.