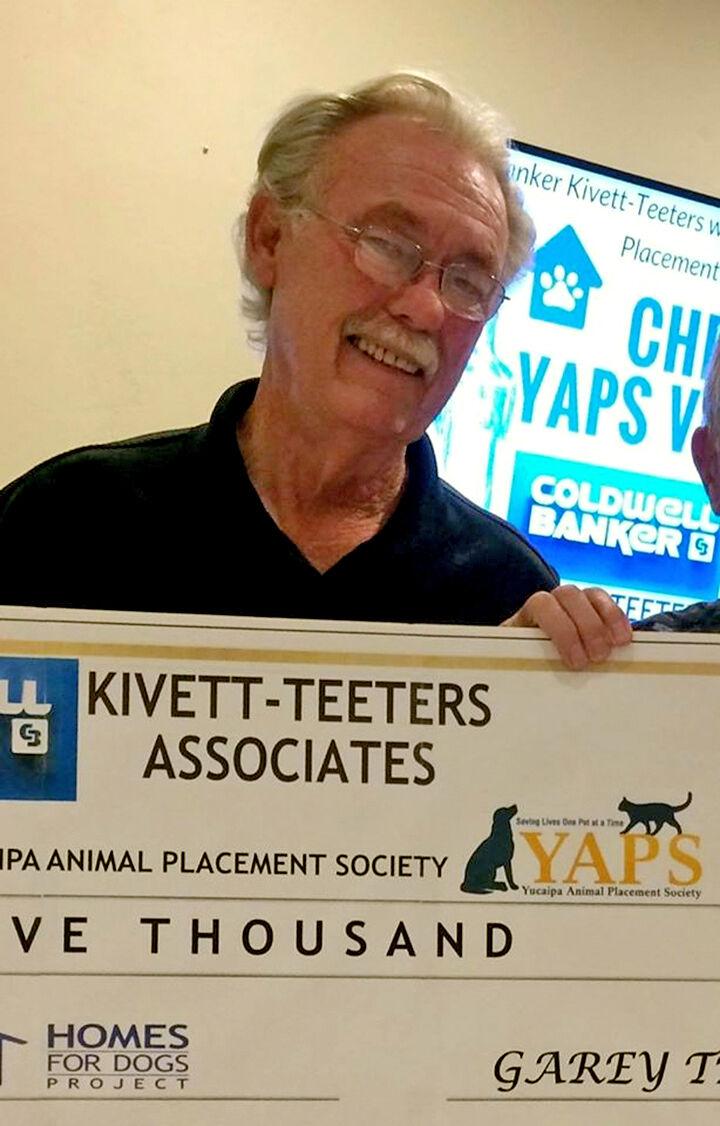 Garey Donald Teeters, a U.S. Navy veteran who became a prominent Realtor and philanthropist based in Yucaipa, died on July 8, 2020, after a weeklong battle with an infection gone septic at Loma Linda Veterans Administration Hospital. He was 75.
Born on Nov. 27, 1944, Dexter, Missouri, Teeters worked in real estate for 46 years and  supported many commissions and nonprofit organizations.
"He was a very good Yucaipa citizen," said Yucaipa Councilman Dick Riddell. "He participated in a lot of things and operated a successful real estate business. Every year he threw together a fundraiser for YAPS (the Yucaipa Animal Placement Society), and I appreciated that. It's a really big loss to Yucaipa."
Throughout the community, Teeters was known affectionately as "boss."
Kevin Gregory, Teeters' son-in-law, said, "To truly measure a man, his actions from the beginning to the end allows one to understand that those actions, hold more power than words may ever measure. Last week, the world lost a man who not only was true to his words, but also exhibited those actions over his lifetime, showing so many that he was a man of men."
A son of share-cropping parents, he would often share stories of how hard his parents would work on the farm to help the family survive.
According to his family, he grew up in a home without running water or electricity. He picked cotton in the fields, helped construct buildings and worked at a general store.
Upon graduation from Dexter High School at 18, Teeters was drafted into the U.S. Navy as a noncommissioned officer in charge with the SeaBees (the U.S. Naval Construction Battalions). He served in Danang, Vietnam. After returning from his deployment, Teeters, his brother Darrell and father Fred, moved to Yucaipa and began framing houses.
A framing accident ended Teeter's construction career and he became involved in real estate.
In 1974, Teeters joined Kivett Realtors, where he soon became the broker and worked to purchase the company. In 1982, Coldwell Banker Kivett-Teeters Associates became the third-ever and longest continually running Coldwell Banker franchise. Teeters remained the active broker until he died. Teeters found his calling of helping people achieve the American Dream of home ownership.
He said he always enjoyed helping to give people the "welcome home" feeling that he did not get as a returning veteran.
He was president of the Yucaipa Valley Board of Realtors in 1982 and 1983. From 1982 to 1992, he served on the San Bernardino County Planning Commission.
He was an active member of the Yucaipa Valley Jaycees, the local Elks lodge and other service organizations.
His family said, he lived by the motto, "Don't just count your blessings, share them."
He quietly donated $10,000 for the completion of Yucaipa High School's football field and paid for a school bus to a local school when he heard they couldn't afford to go on a field trip.
He hosted Thanksgiving dinners to thank first responders.
Teeters is survived by his companion Pat; son James Teeters; daughter Shelley Teeters; daughter Tricia Wirth Gregory and husband Kevin; daughter Donna Wirth Hanks and husband Josh; and his sister-in-law Pat Teeters.
Memorial information will be available later.